Recently, ARMY seems to have gone "crazy" after discovering members Jungkook, J-Hope, V and Jimin of BTS attending Harry Styles concert in Los Angeles, USA.
The appearance of BTS members has attracted the attention of global netizens.
The keyword Jungkook has reached the Top trending (trending) on ​​Twitter when it is ranked 4th worldwide, 3rd in the United States, along with more than 45 countries with more than 1 million mentions (tweets).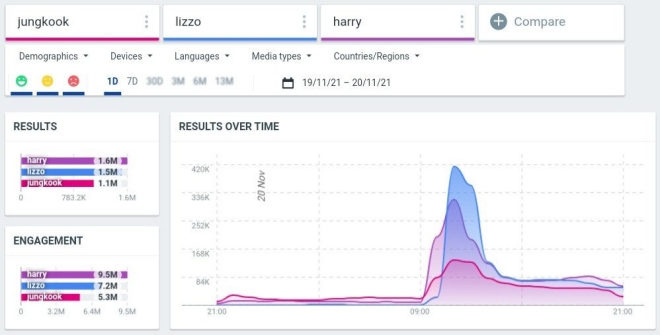 Thereby, Jungkook became the most tweeted artist of the day along with Harry Styles and Lizzo after attending the British male singer's concert.
Not only that, but Jungkook also proved his unparalleled popularity in the US when he became the only BTS member to reach 100 interest on US Google.
To the concert, Jungkook wore a leopard print hoodie and shorts combined with Nike Dunk Low Goldenrod shoes.
During the concert, Jungkook also sang along to the song Falling by Harry Styles, which he covered a few weeks ago.