Netizens laughed out loud after seeing the reason why BTS's Jungkook was dragged away from the microphone while he was saying his winning speech at the 'American Music Awards'.
On November 22, on netizen created a post on an online community forum titled, "The reason why Jeon Jung Kook was dragged away while trying to say his winning speech". Here, the netizen included photos that showed a prompt that read, "Please wrap it up", to which RM and Jin burst into laughter as they dragged Jungkook away from the microphone.
Upon seeing this, many netizens reacted to the hilarious moment experienced by the BTS members.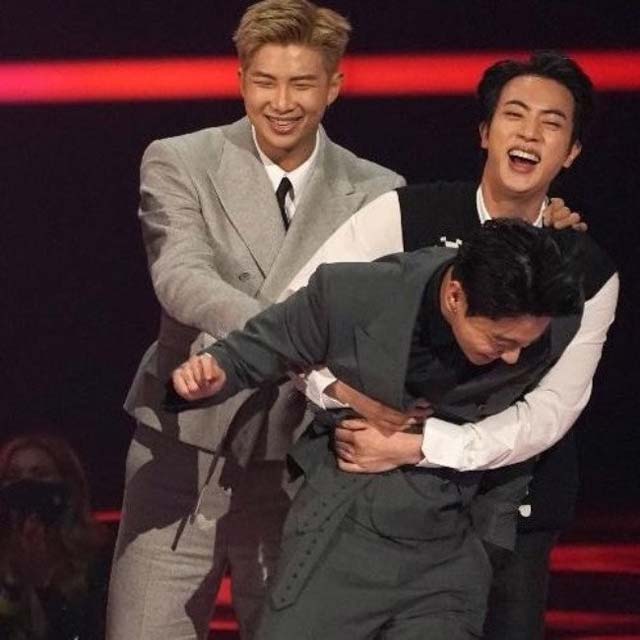 Some of the netizens' comments included:
"Lollll So frickin' cute, BTS who talks a lot Lollll Even at a grand award speech where everyone usually concentrates, BTS just did BTS Lolll."
"I keep rewatching this. It is so addicting Lol."
"It's because during that moment, RM got nervous and spoke for too long Lollllllll Taehyung and Jungkook both have to say their speech too, but they say they couldn't stay still Lolll."
"When Jungkook was being dragged away, hopefully there isn't anyone who wasn't able to hear him go 'Ah-ing' Lollll."
"Taehyung seems to be much more like a fish released into the sea to play well when he goes to America Loll When he pushed Jungkook, he did those American big gestures on purpose Lollll Hollywood action Loll."
"So cute Lolll."
"I saw this and burst into laughter Lolllll."
"Jeon Jung Kook is so cute."
"Lollllllll he is so frickin' cute."