Animal prints give him an allure that drives ARMY wild.
Since BTS's Jungkook got in his twenties, he started radiating sexier, more mature vibes in his performances and photo shoots. Jungkook always gave his 100 percent when evoking a certain mood for his pictorials, as was seen in his recent photo-folio project, Me Myself and Jungkook "Time Difference."
Though Jungkook looks good in any fashion or styling, there's just something that hits differently when he's wearing animal print. Here are nine animal print outfits Jungkook wore that drove ARMY wild for him.
1. The Dolce & Gabbana outfit for the Weverse Interview
Jungkook's perfect body proportions more than did justice to this style. Both the top and pants fit his body nicely.
2. My Time Outfits for Map of the Soul ON: E
When Jungkook said he wanted to do a sexy solo performance, he wasn't kidding. He went all out with the choreography, the mood of the stage, and his outfits and hairstyles for his solo performance of "My Time."
On both days of "Map of the Soul ON: E," he wore animal print shirts; a sheer black zebra print shirt for Day one and another zebra print shirt underneath the red set he wore for Day two. He nailed the performance and got so many ARMYs going feral over both outfits.
3. The Leopard Print coat in Me, Myself, and Jungkook "Time Difference" shoot
Chest exposure alert: Jungkook looks sinful in this coat. It seems too good on Jungkook to be worn only once. He can wear it every day, and fans wouldn't complain. This look is not for the faint of heart.
4. The zebra print shirt in "Fake Love" MV
If someone were to describe Jungkook's styling for one scene in the "Fake Love" MV, no one would imagine it would look this good. Saying that he wore a red sequined jacket over a zebra print shirt may sound tacky but look at how Jungkook makes it work. Lifting the shirt as part of the choreography is a good bonus.
5. The leopard print hoodie worn during the Harry Styles concert
Not everyone can make animal print look good, but Jungkook owns it. The hoodie and shorts set he wore to the Harry Styles concert was a risk worth taking for Jungkook, who used to dress in somber black or gray outfits only. He lately got more adventurous with his wardrobe choices, and this one sure looked great on him.
💘 @Harry_Styles 💝 pic.twitter.com/ncRasBK1uE

— 방탄소년단 (@BTS_twt) November 20, 2021
6. The cheetah print shirt for the "BE" Jacket shoot
The cheetah print shirt with the sheer black inner shirt makes Jungkook look lethal. It's incredible how Jungkook can look cute and hot simultaneously; his duality is crazy.
7. Leopard print shirt for Season's Greetings 2021
Jungkook could give models a run for their money with the way he photographed in this look, which he himself styled.
8. Leopard print coat for Esquire Magazine shoot
The coat, the long hair, the hooded eyes, and multiple earrings put together this brooding persona that Jungkook does so well. He's like a chameleon who can adjust his personality and still deliver the assignment flawlessly.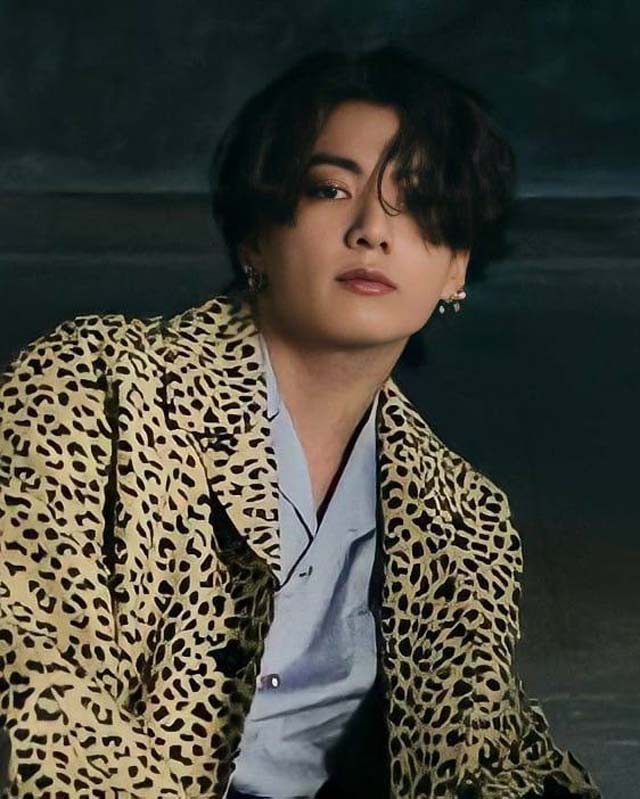 9. Animal print blanket for "Love Yourself Tear" Jacket Shoot
Jungkook looks snugly comfortable in this leopard print blanket with his sleepy eyes and ruffled hair.