It should've just been a normal day in LA!
BTS has literally taken over LA since arriving in America earlier in the month. From making history at the American Music Awards to just chilling at a Harry Styles concert, the group has been living their best life.
Recently, BTS returned to the Late Late Show With James Corden and took part in some segments that made ARMYs smile.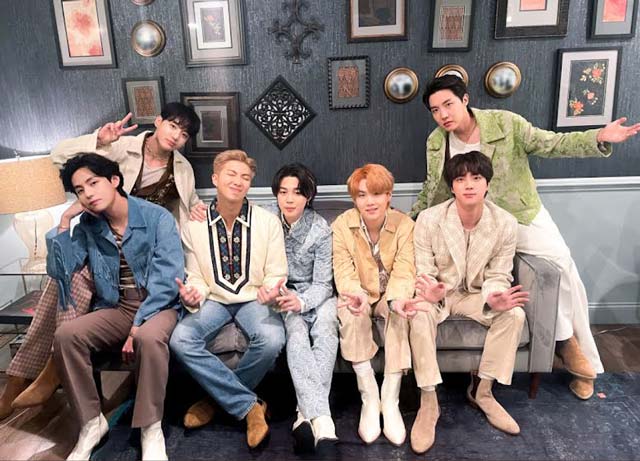 In particular, the group was involved in the famous segment "Crosswalk Concert," where the show stops traffic to allow various artists and celebrities to sing in the middle of the street. As expected, BTS took to it like a fish to water and made everything seem effortless.
The main point of this concept is random cars get stopped so that the artists can do their thing. Well, this time, lucky ARMYs got to be involved, and it was definitely an unexpected treat.
As the segment was being filmed, some ARMYs took to social media sharing their excitement at watching the segment being performed and the fact that many of the cars actually belonged to fans.

In particular, one user caught the attention of fans worldwide after sharing her experience. A video went viral amongst ARMYs after someone shared a TikTok of V reacting to a car and then touching it before walking further away to his spot.
Twitter user and certified ARMY @hamstertatas later went online to share that it was actually her car and apologized to V for it because many fans had called it "dirty."
However, fans in the replies found it hilarious, adding, "I'D NEVER WASH THAT DAMN CAR AGAIN," and "please don't wash the car though." Considering that his fingerprints were on the car, it seems like a reasonable suggestion.
TAES HANDS. SORRY SOEEY SORRY SOREY SORRY SORRY SORRY ITS SO DIRYY THIS IS HUMILIATING pic.twitter.com/NVHsRMXW4Q

— tae's dance partner (@hamstertatas) November 23, 2021
If that wasn't enough, this lucky fan got up close and personal with Jimin while she was being #friendgoals and video chatting with her ARMY friends so they could see all the action. It was so close that a lot of fans even thought that the image was photoshopped!
VIBES 📸🧀 pic.twitter.com/9RaQDBgnIY

— tae's dance partner (@hamstertatas) November 23, 2021
This ARMY is certified iconic, and there is no doubt that the members will remember her! Along with other celebrities and media, she was one of the lucky few who got to witness the segment up close and personal.
Yet, it seems as if LA really is the place for ARMYs to interact with BTS. Since arriving in America, BTS has been on many private and public schedules, and several BTS fans have shared their experiences of meeting or interacting with the group.
From bumping into them at restaurants, being noticed at the Harry Styles' concert, and more, it is enough to make anyone jealous.
After nearly two years without seeing fans due to COVID, BTS is definitely making up for lost time with their fans. You can read more about BTS x ARMY interactions during their trip to LA below.