It will be available in ScreenX and 4DX.
Did you miss all of BTS's recent concerts? Well, now you can have your real concert experience!
It was announced that BTS's Yet to Come in Busan concert will be screened in cinemas globally via CGV Cinemas, the largest multiplex cinema chain in South Korea. CGV revealed that the 103-minute concert movie will be screened in 110 countries worldwide on February 1.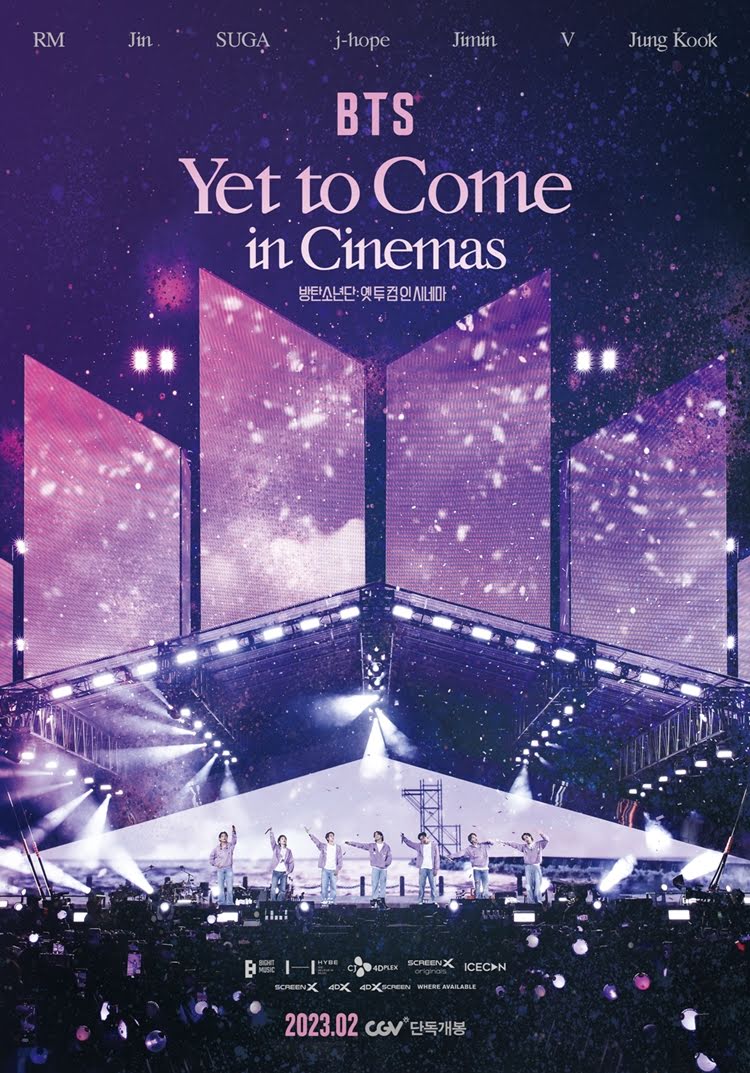 That's not all, though. ARMYs will have the opportunity to watch it in many ways, unlike the typical movie viewing.
Firstly, BTS Yet to Come in Cinemas will be available on ScreenX. CJ 4DPLEX's ScreenX is a multi-projection theater, providing moviegoers with a 270-degree panoramic viewing experience by expanding the movie's screen onto the auditorium's side walls so it is truly immersive.
ScreenX was selected as a 'Shared Growth Support Project for Next Generation Contents' under the Korean government's Ministry of Science and ICT in 2014. It was also selected in January of 2015 in the private and public joint' 'Future Growth Engine Area Flagship Projects' attracting the industry's attention as a new cinematic technology to lead the future film market.
— ScreenX
Likewise, another CJ 4DPLEX-developed moviegoing experience is an option for ARMYs going to see BTS Yet to Come in Cinemas. Multisensensory 4DX operates in 65 countries and gives moviegoers a "real" experience by incorporating motion chair effects, scents, and environmental effects, including air, water, etc.
4DX is a state-of-the-art film technology developed by CJ 4DPLEX which delivers an immersive multi-sensory cinematic experience. 4DX incorporates on-screen visuals with synchronized motion seats and environmental effects such as water, wind, fog, scent, snow and more, to enhance the action on screen. It is the world's first and leading 4D movie technology brand for feature films including Hollywood blockbusters, local films, and alternative content such as concerts and commercials.

— 4DX
We can only imagine what BTS Yet to Come in Cinema will be like in either format.
ugh starts and i get hit by real bullets https://t.co/oCrqYVEVhH

— amb ★ EPIK YOONGI🪞 (@cheeksmygi) December 20, 2022
While many of us missed the concert despite it being free due to it only being performed in Busan, it sounds like international ARMYs will get to truly have their concert experience, thanks to ScreenX and 4DX.
Tickets go on sale on January 10 at 4 PM (PST)/7 PM (EST), but the concert will be screened for a limited time starting February 1.