South Korean authorities have confirmed that at least 149 people have died after a horrific stampede in the capital Seoul.
Yonhap news agency , citing sources from South Korean authorities, reported that at least 149 people were killed and 76 others injured after a terrible stampede during the Halloween festival in the capital Seoul.
Of the dead, at least 46 died at the scene. The remaining 100 people were confirmed not to have survived at the hospital due to their injuries. Most of the victims of this stampede were women, including a 10-year-old girl. The victims' bodies have now been moved from the hospital to a gymnasium for identification.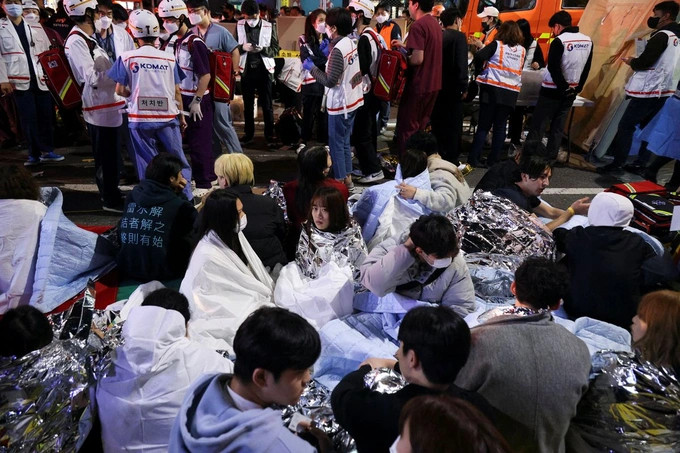 According to eyewitnesses, the tragedy happened when the crowd of Halloween festivalgoers was cornered on a narrow slope in the crowded Itaewon neighborhood. A few people were tripped, but the crowd continued to move forward, causing a stampede.
South Korean President Yoon Suk-yeol immediately convened an emergency meeting and set out many solutions to deal with the tragedy in Seoul.
"The top priority right now is to get the victims out of the crowd and give first aid immediately," President Yoon said during the meeting.
Authorities in Seoul also sent messages to residents and asked them to stay away from the scene to create favorable conditions for rescue work. Firefighters and hundreds of ambulances were dispatched to the area where the stampede occurred. Seoul Mayor Oh Se-hoon canceled a business trip to Europe and immediately returned to the city.
Medical staff and firefighters are urgently providing first aid to victims of the stampede (Photo: Yonhap).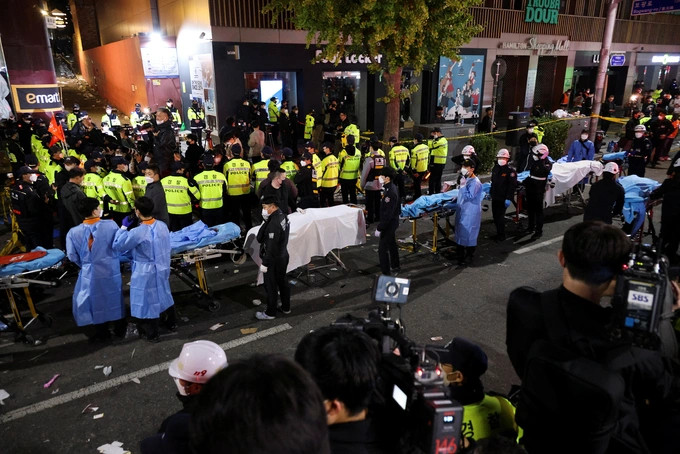 Stretchers are prepared to take the victims to the hospital (Photo: Reuters).
South Korean authorities have not yet announced the cause of the stampede tragedy. The death toll is also expected to rise as doctors confirm many victims have suffered serious injuries.