Happy 27th Birthday, V! 🎂
BTS's V just turned 27 years old (international age), and in celebration, BIGHIT MUSIC released 20 new HD photos in honor of the group's second youngest member.
The talented singer, songwriter, dancer, actor, and beloved BTS member has had many special and unforgettable moments over the past few years.
Check out the 20 new photos of some of V's most precious moments in 2021 and 2022 below!
1. Backstage at "M! Countdown"
BTS's V knows exactly how to pose for the camera ahead of BTS's "Yet to Come" comeback on M! Countdown.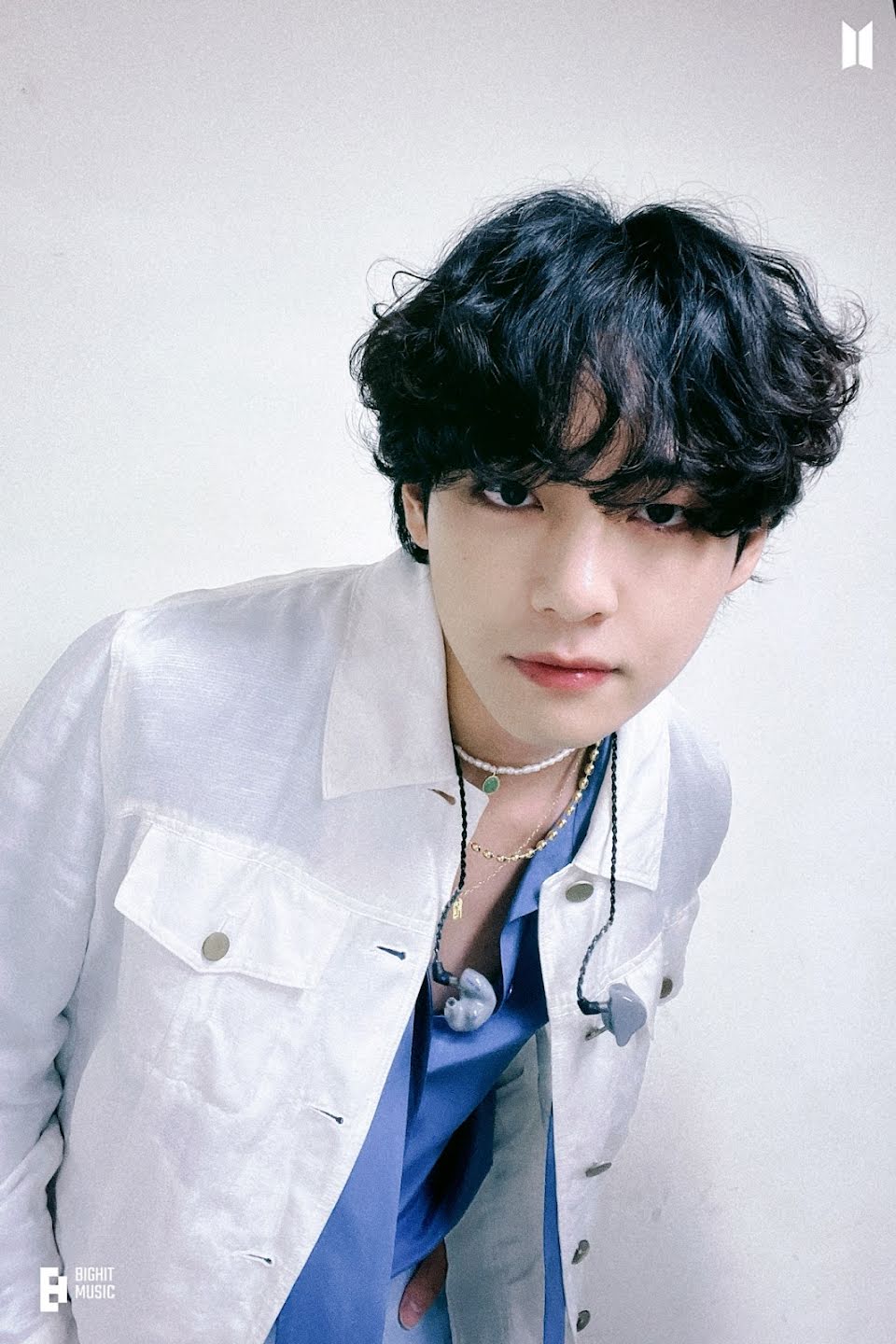 2. Posing with the roses specially prepared for ARMYs
During the group's 9th-anniversary music show promotions, they prepared special gifts for ARMYs who attended and posed for commemorative photos with the flowers backstage.
3. Backstage at SBS's "Inkigayo"
V looks handsome in the nautical-themed looks BTS wore during their "Yet To Come" comeback on SBS's Inkigayo.
4. On set preparing for BTS's virtual concert event: "PROOF Live"
V not letting the scorching temperatures in the Las Vegas desert keep him from rocking a suit.
5. Taking in "borahaegas"
V stole fans' hearts when he took photos in front of the Bellagio Fountains in a three-piece suit. V, J-Hope, and Jungkook took in the temporary purple lights across the Las Vegas strip as the city honored BTS by shining in the group's signature hue.
6. BTS V's iconic leather fit at "Yet To Come in Busan"
BTS's V was fashion-forward in this iconic leather outfit at the group's Yet To Come In Busan concert.
7. "Yet To Come In Busan" Rehearsals
V was laid-back and effortlessly fashionable in a casual designer outfit during Yet To Come In Busan rehearsals.
8. His favorite cargo pants
BTS's V wears his favorite green cargo pants with his Venice Beach shirt and Chanel cardigan in a relaxing moment for the globetrotting star.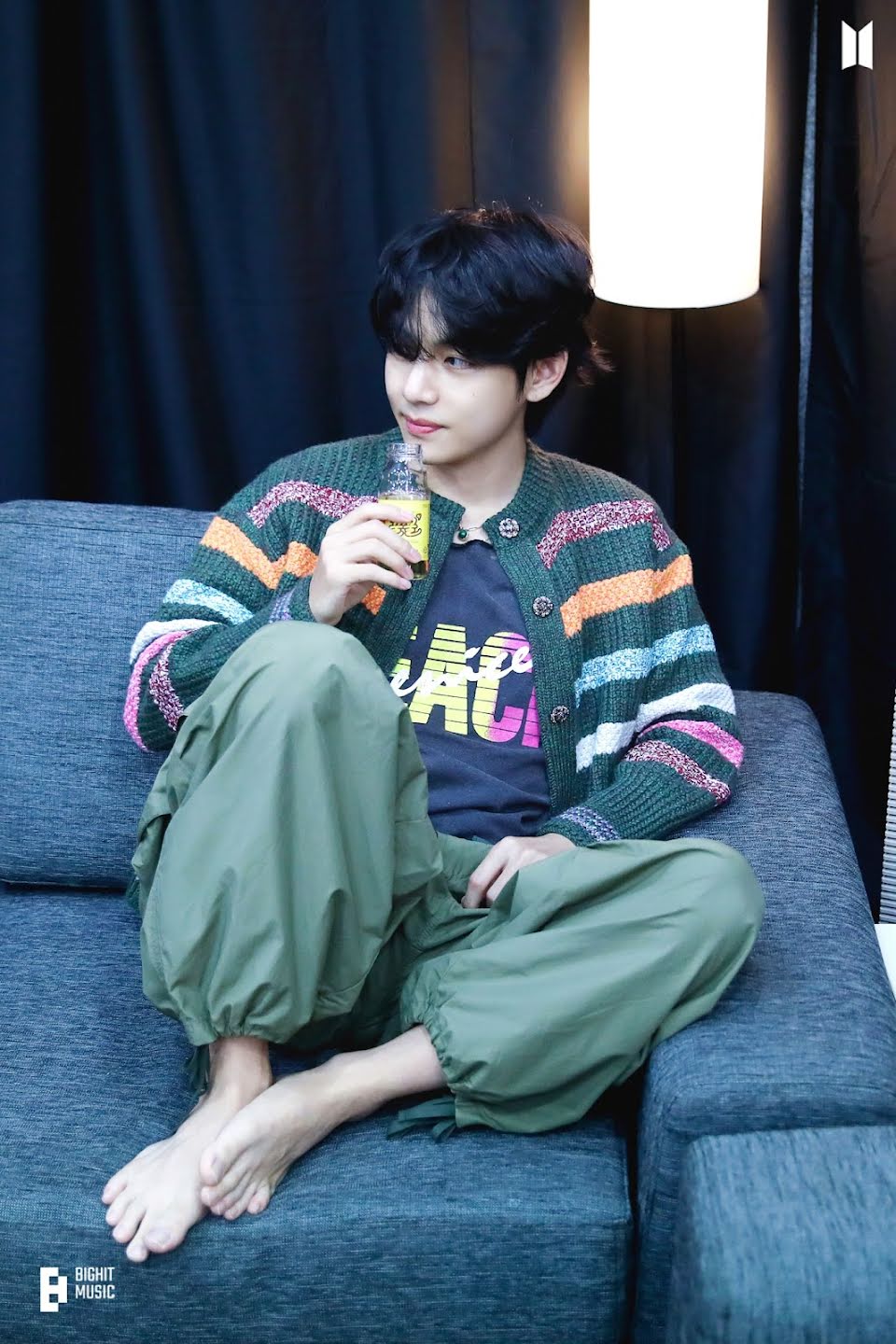 9. V is the king of rehearsal outfits
V was born to be on stage and never misses a moment to turn rehearsals into his own personal runway.
10. Showing support for J-Hope at the "Jack In The Box" launch party
The BTS members consistently show up for each other and warm ARMYs' hearts every time they do.
11. Having fun learning about aerial yoga for an episode of "Run BTS!"
After Jungkook's suggestion, the BTS members participated in aerial yoga for a hilarious and impressive episode of Run BTS!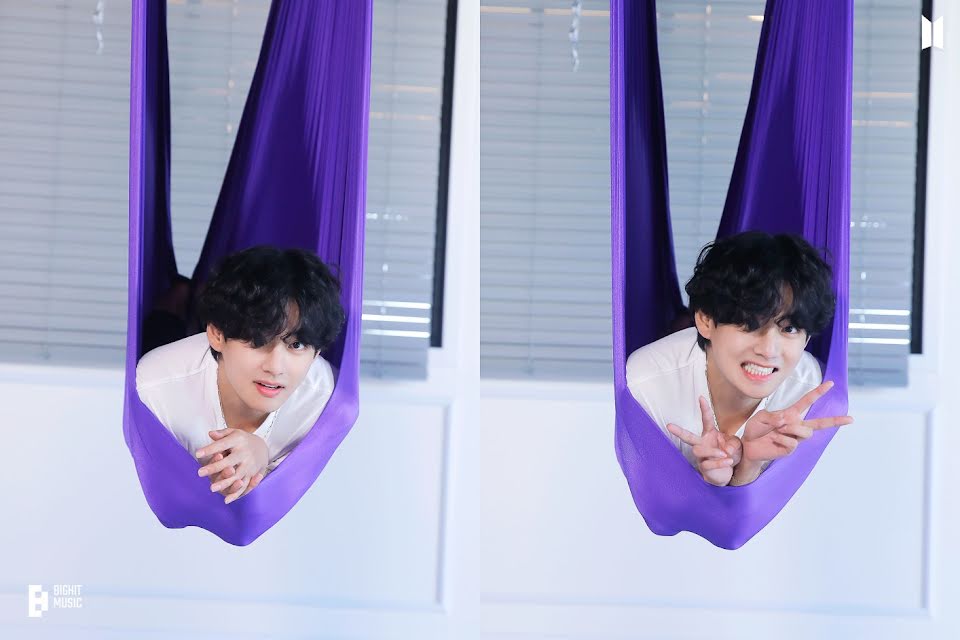 12. Adding "special radio host" to his résumé with his guest DJ appearance on the "Starry Night" radio show
V joined his bestie, veteran singer Park Hyo Shin, to host two days of Kim Eana's popular radio show Starry Night while the famous Korean lyricist was on vacation.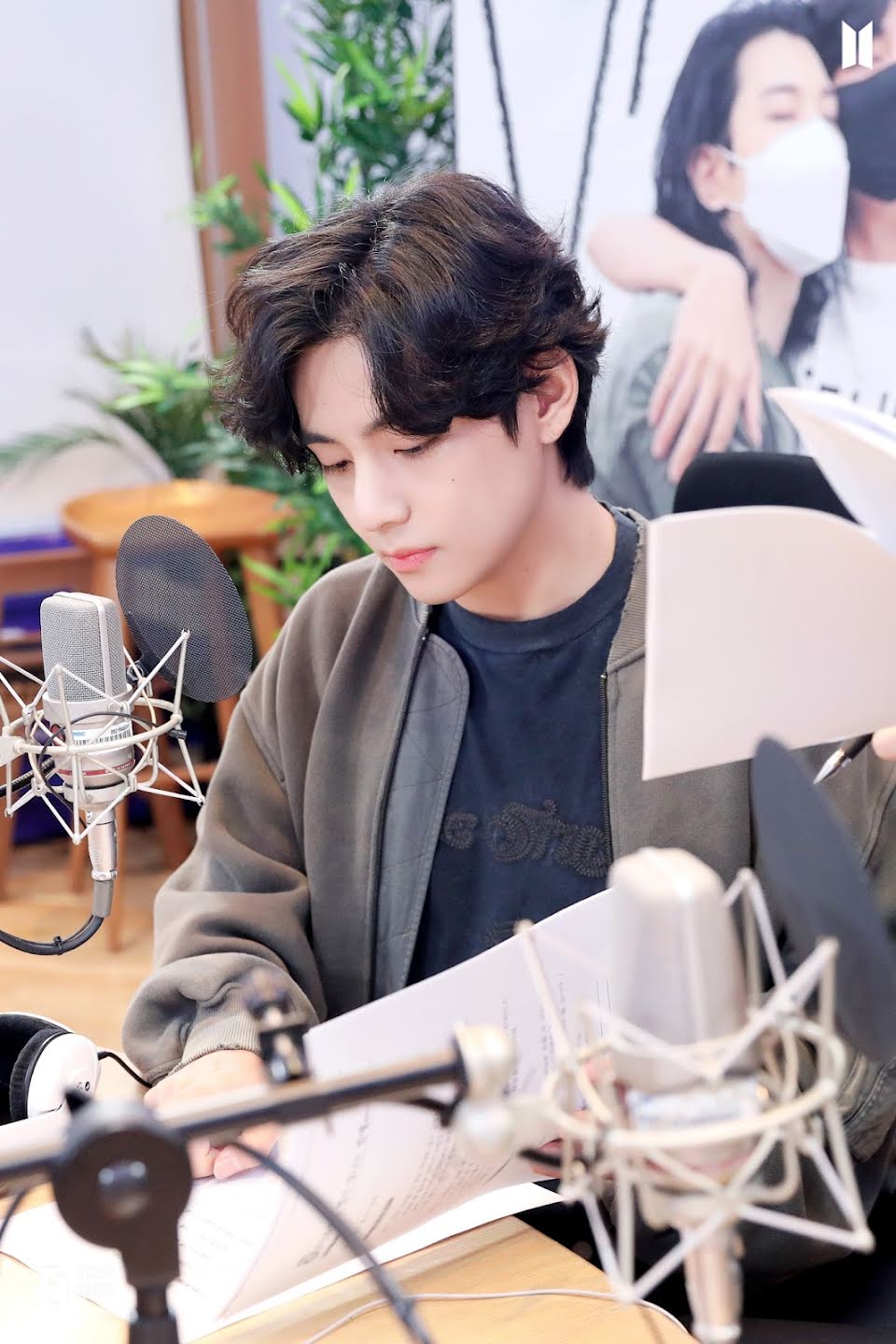 13. His first day as a special guest host on "Starry Night"
V's charming and lovable personality, along with his handsome visuals, even stole the hearts of the Starry Night staff.
14. Wearing his favorite Hawaiian shirt
V has been seen frequently rocking this legendary Hawaiian shirt, including when he spoiled an unreleased solo song for ARMYs while he drove around in a convertible.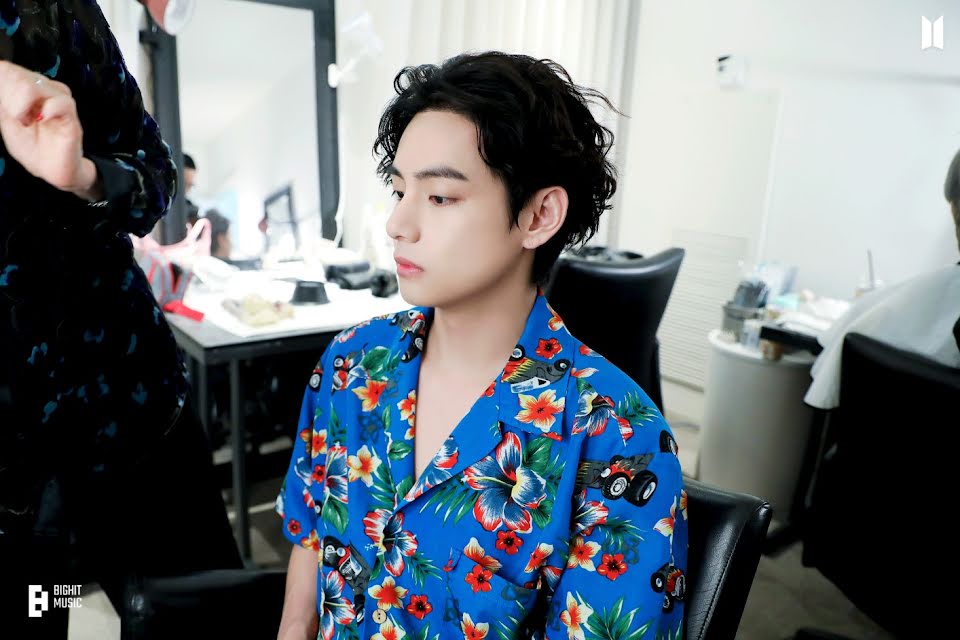 15. Rehearsing at the Millennium Dance Complex in Las Vegas
Ahead of their PERMISSION TO DANCE ON STAGE in Los Angeles show, BTS practiced with a live band at the famous Millenium Dance Complex in Las Vegas while V captured the experience on video for fans.
16. "PERMISSION TO DANCE ON STAGE" in Las Vegas soundcheck
V looked dashing in his formal attire ahead of their concert in Las Vegas.
17. Iconic red and white PTD tour outfits
V's gaze and iconic PERMISSION TO DANCE ON STAGE tour outfit are both mesmerizing.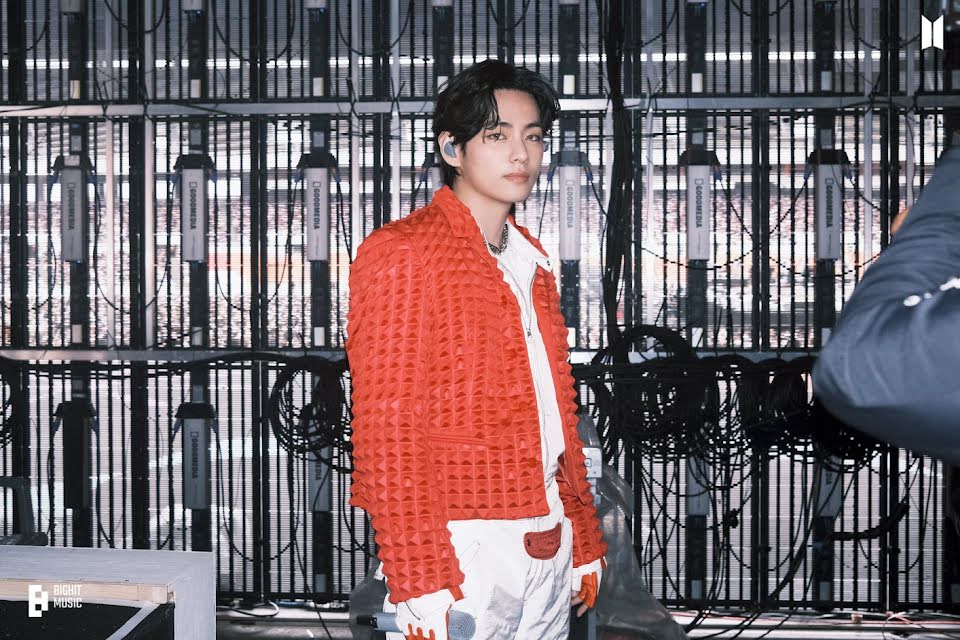 18. Happy 27th Birthday to V!
Happy 27th Birthday to the second youngest BTS member who has grown up in front of ARMYs' eyes over the last nine years! We hope this is the best one yet.