Jimin, a member of the group BTS, revealed the vivid work of his first solo album 'FACE'.
On October 23, Jimin presented 'Jimin's Production Diary' through Weverse, a global fan communication platform.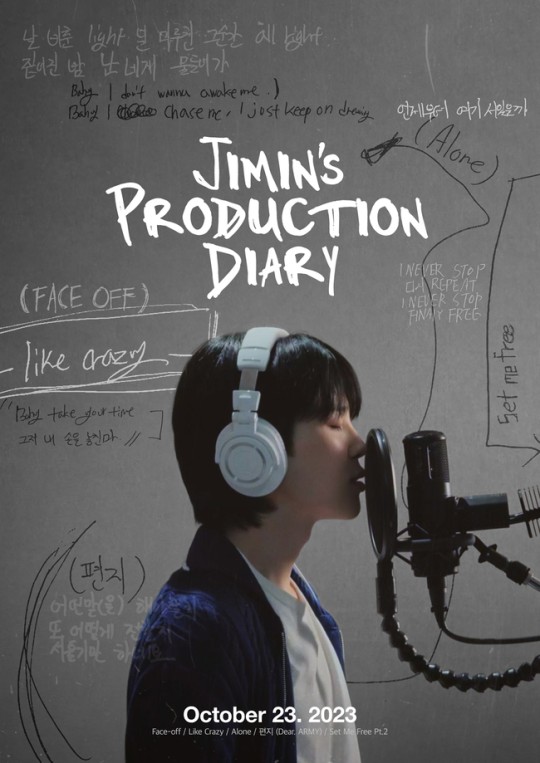 'Jimin's Production Diary' is a Hive original documentary that covers the process from Jimin's full-fledged work on his solo album 'FACE' last year until the album's release on March 24th. It contains the story of Jimin going through big and small upheavals while focusing on collaborating with fellow producers such as Pdogg, and ultimately overcoming them through music.
'FACE', which led to the production of the documentary, is the first official solo album released under his own name by Jimin, who debuted as a member of BTS in June 2013, in 10 years. Starting with the trap soul genre 'Face-off', 'Interlude: Dive' with a dreamy instrumental sound, the synth pop genre title song 'Like Crazy', and a pop ballad. A total of 7 songs are included, including 'Alone', the hip-hop genre's pre-released song 'Set Me Free Pt.2', the English version of 'Like Crazy', and the hidden track 'Letter'. Jimin touched the hearts of listeners across various genres based on his unique sweet and appealing voice.
Jimin, who successfully completed his album promotions, met with the producers who created this album together, saying, "Should I start by telling you why I made this album?" Pdog recalled that Jimin came to see him in early May 2022 and said, "(Jimin) first said he wanted to work on it and asked if he could send me some tracks. I decided I should join in and work on it, so it started."
According to his fellow producers, Jimin wrote down his feelings as melodies and lyrics in a free atmosphere without setting a specific method. Pdog explained, "Jimin also just pressed the keys (worked). There was a narrative and it was built up one by one. The work flowed well according to the narrative."
'FACE' was an impressive album with Jimin's unique and honest message. Jimin unfolds his various sides befitting the album name 'FACE', which has the ambiguous meaning of 'face' and 'face', while also untangling the ups and downs of the emotions he felt while fully facing himself during the past two years of the pandemic. paid it He did not stop at confessing the dark shadows such as emptiness, loneliness, helplessness, and fear that had overtaken him, but openly expressed his resolute will to move forward.
Regarding the song 'Face-off', which was written based on the feeling of rebellion due to betrayal, Jimin said, "There was an opportunity. 'Originally, I didn't trust people, but I made a mistake. But it's okay. My position remains intact, and you are the only ones who lost me. "It's a mess. I'm okay (containing the emotion)," he explained.
The title song 'Like Crazy' is a song inspired by Jimin's favorite movie of the same name, 'Like Crazy'. Just like the movie, it sings about the loss and pain after a breakup, and the emotions of the moment when you turn away from reality and escape to forget the pain. Jimin, who walked around the studio in a circle while working on the song, said, "I do that every day, even when I'm home alone. I also circle when I'm on the phone."
The song 'Alone' reflects Jimin's days of becoming more helpless day by day amid the COVID-19 pandemic. Jimin, who confessed that working on 'Alone' was the most difficult, said, "I wrote down the story that it was easier to avoid it anyway."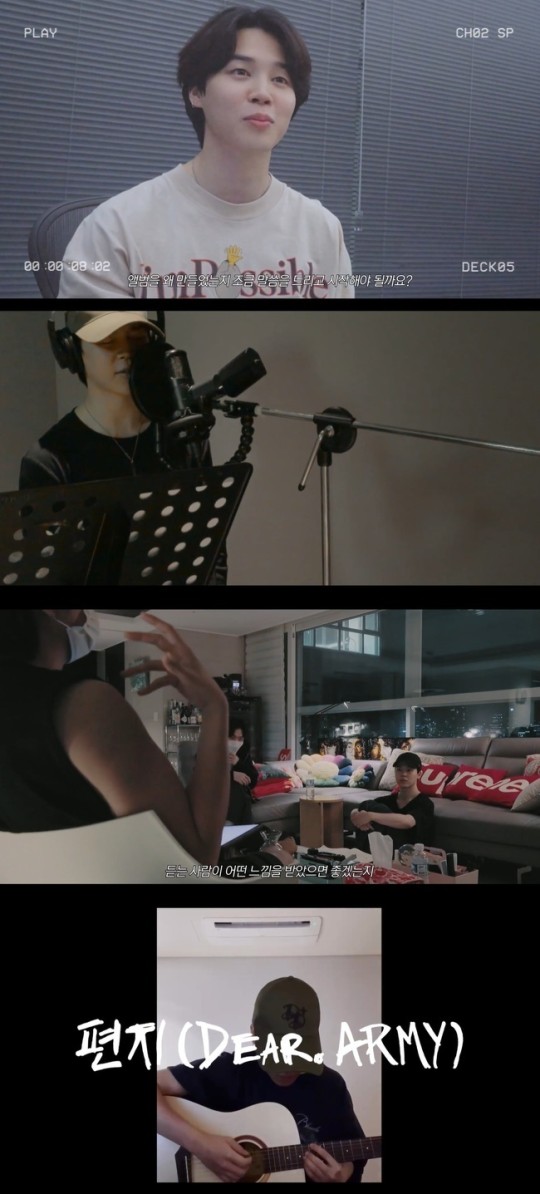 A hidden track on track 7 (a song that can only be heard through the physical version of the album) and a tribute song to ARMY (BTS's official fan club name), 'Letter', was also released. Jimin, who broke through the shadow and became stronger, said, "I'm not good at what to say or how to say it. I know it's obvious, but I'll tell you this so that it won't be taken lightly." "Don't leave. Just stay by my side. You looked at me big when I was small." I can only convey as much as I received from you. I can keep the words I said. Don't worry. Just stay by your side. I'm scared because I don't know what kind of day awaits me, but I'm scared, but don't forget to always say that we'll be together," expressing sincerity to the fans through lyrics such as " reported.
'Letter' is a song that began with Jimin's sincere desire to deeply express his love for his fans. Jimin said, "I posted this on Weverse this time, but I feel like something isn't being conveyed. Now I feel like it might feel like a lie. I say the same thing every day. Thank you. Thank you. There are so many things I want to say. "It's difficult to convey, but I think it would be good to make it into a song," he explained. "The hidden track 'Letter' has nothing to do with the narrative of the (album) and is a song just for fans."
He then expressed satisfaction with the song title 'Letter', saying, "I think it's good because it's not cool. It's a bit like me. It's not flashy. It's very simple."
In this documentary, the close friendship between BTS members also shined. Leader RM gave Jimin advice on writing lyrics, and member Jungkook provided support by taking on the chorus of 'Letter'.
Jimin said to Jungkook when they reunited in the recording studio, "I made a fan song, and I thought it would be great if Jungkook sang the chorus," and "I would appreciate it if you could help me because if Jungkook's voice and my voice are combined, it can become a completely alive song." "he said. Jimin watched Jungkook recording and exclaimed, "Ah, I'm killing it. It's over."
Jimin, who has entered his 11th year since his debut, is still a singer who knows how to wait for his new music, work hard for his fans who are looking forward to it, and start over. This mindset is in line with the b-side song 'Set Me Free Pt.2', which was like a declaration to save oneself and move forward freely by shaking off inner emotions such as pain, sadness, and emptiness.
Jimin said, "I was in a really bad mood when I came to Korea after contacting PD (Pdog). When I was exhausted, I came to talk a little and say, 'Please listen to my story.' As I wrote the lyrics, I got deeper. Last year. "I hated it because I had to organize everything that happened and feel that way again. Since it's my story, it gradually became more organized, and it was all fun. I'm grateful. I think it helped me become clearer about what I should do in the future," he said.
He continued, "Originally, an album was not something to think about simply. I talked about this a lot with Hoseok (J-Hope). 'Once you try it, you will clearly see where you need to start working again.' "We talked about it, and I thought about that a lot. I wonder if there's more I want to do. That's how I felt," he added.
Meanwhile, Jimin ranked first on the US Billboard main single chart 'Hot 100' (chart as of April 8) with 'FACE' title song 'Like Crazy'. Jimin, along with the members of BTS, became the first Korean singer to occupy the 'Hot 100' spot, and became the first Korean solo singer to reach #1 on the 'Hot 100', setting a significant milestone in the history of popular music.
In addition, Jimin ranked 2nd on Billboard's main album chart 'Billboard 200' and became the first K-pop solo singer to become an 'initial first million seller' (an artist who sold more than 1 million copies of a single album in the first week of album release, exceeding 1.45 million copies), and sold 111 albums around the world. It achieved feats such as sweeping the iTunes Top Song Chart in each country and region, taking No. 1 on Japan's Oricon Daily Digital Singles Ranking, and No. 8 on the UK's Official Singles Chart.