The BTS members have been in the spotlight ever since they started being recognized for their music and talent.
In particular, the 7 BTS boys have received loads of love from fans thanks to their lovely personalities and interactions with each other.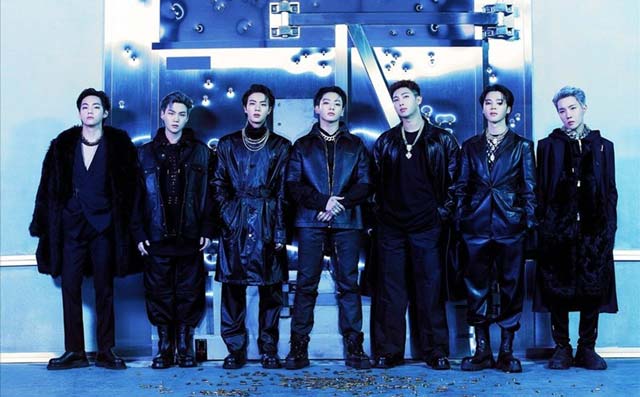 Above all, BTS members have always been known to be humble people who do not lose their core principles and continue to live true to who they are.
Thus, the 7 boys became famous around the world, setting many records that no other K-pop artist had ever achieved before.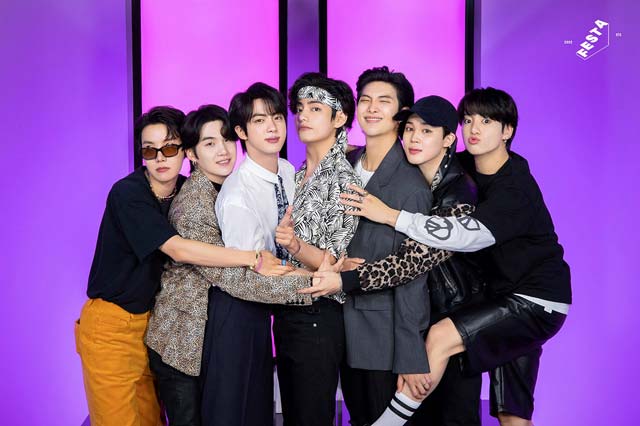 Recently, an employee working at an advertising agency shared his account, thereby revealing the sincerity of the members.
It is worth noting that this staff member shared that the members have not changed even when they are famous worldwide.
The employee is known to have shared his account, which outlines his history of working with other celebrities and talks about working with BTS before and after they became world stars.
She shared, "First time filming when they were becoming Hallyu stars. All the members seem bright and full of energy.
They are full of good energy. They seem to be happiest when it's time to eat. I still don't know each member."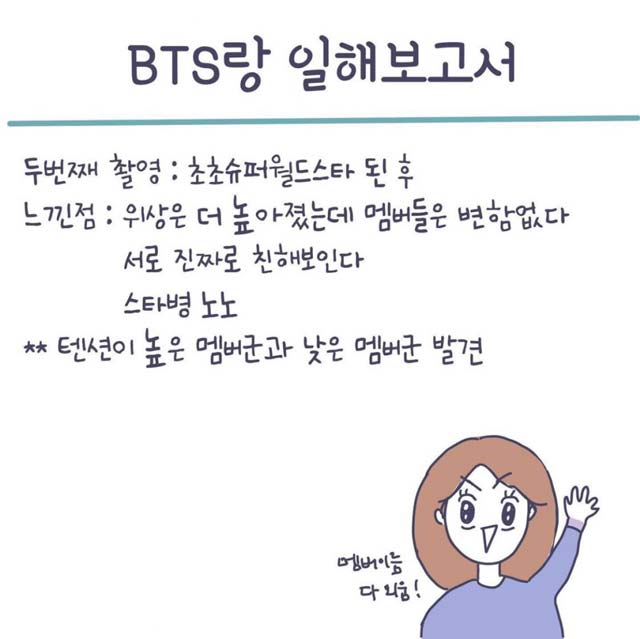 She then shared her second encounter with BTS after they became world celebrities.
She explained, "The second shoot was after they became world superstars. What I feel is that the members remain unchanged even though they have a higher status.
They really seem close to each other. They don't have a 'celebrity illness' thing.
I discovered that some members are more energetic than others.
She continued to share what she feels about each member, starting with RM. First, she shows the picture she has of the members before meeting them and then shares what they really are like.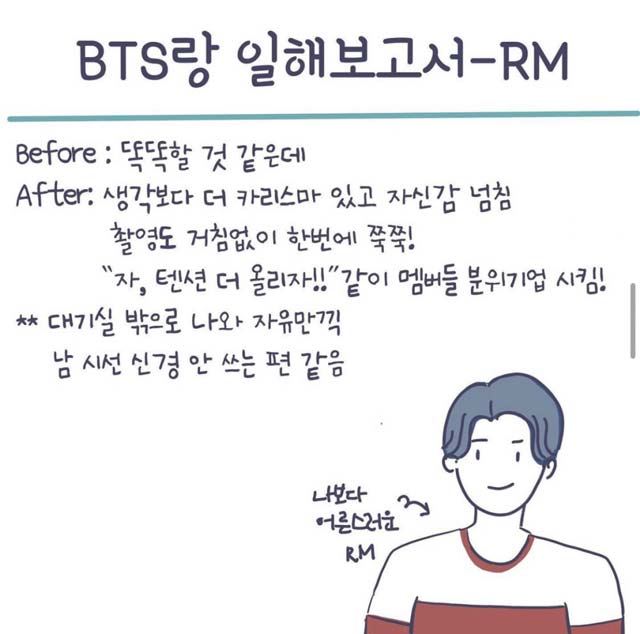 She wrote about RM: "Before: RM seems smart. After: You're more charismatic than I thought and full of confidence.
RM passed the filming without hesitation in one go. He also gives energy to the members by saying 'Let's go with energy'.
RM also seems free-spirited and doesn't seem to care what other people think."
To Jimin, she wrote: "First: seems nice. After: you are kind. Kind. Kind. Kind. Kind. Kind. Got a good and kind response. Kind. Kind. Jimin's kindness. Your smile is so beautiful."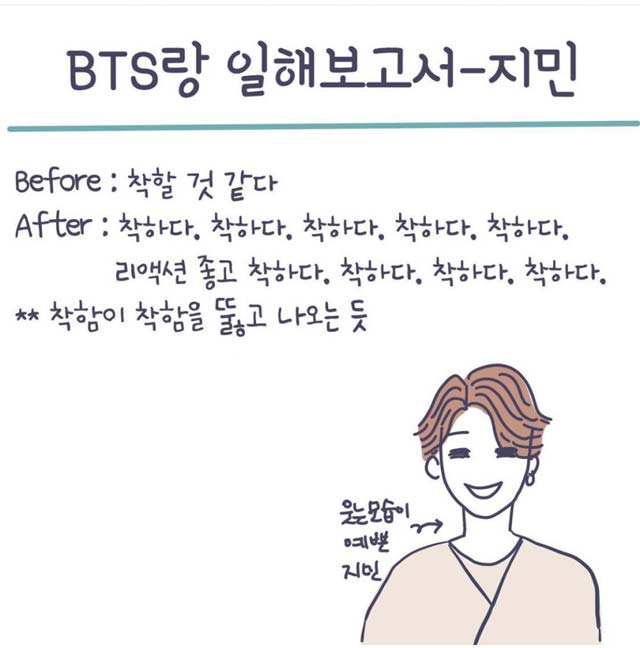 To J-Hope, she wrote: "Before: seems like a super insider. After: you are bright and have a good personality but why do you seem a bit sad? It's because J-Hope seems like a sensitive, kind, and gentle person. If I choose one person to be your friend, I want to be your friend."
As for Suga, she wrote: "First: it seems cold and it seems that he is also sharp. After: He is definitely kind and seems very gentle.
Suga didn't even complain that he was the last to act. He didn't seem full of energy so thought he might be in a bad mood but when it came time to shoot his scene, Suga was extremely passionate. Suga's personality can be read after 10 times."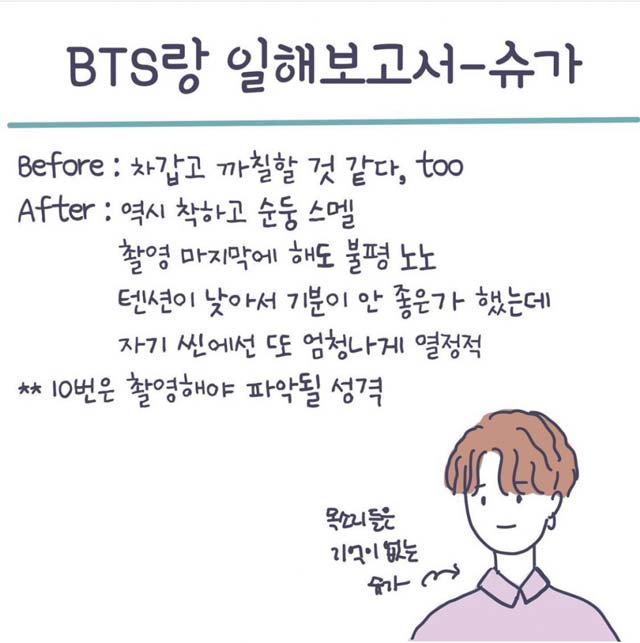 For Jungkook, she wrote: "First: seems to be the type that girls like.
After: Jungkook is super gentle, super cute maybe because he's the youngest. Jungkook bowed 90 degrees to the staff before leaving.
He seems like a very polite and caring person. Jungkook is the most different member from what I thought before."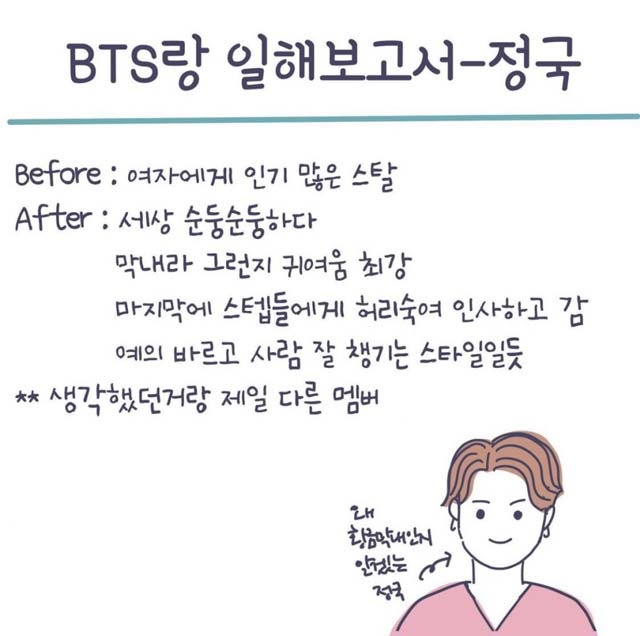 As for Jin, she wrote: "I think Jin is serious and cold. After: handsome 😳 he is a prime example of hard work.
Jin wants to be funny and a little clumsy. He's also a different member from what I thought he was."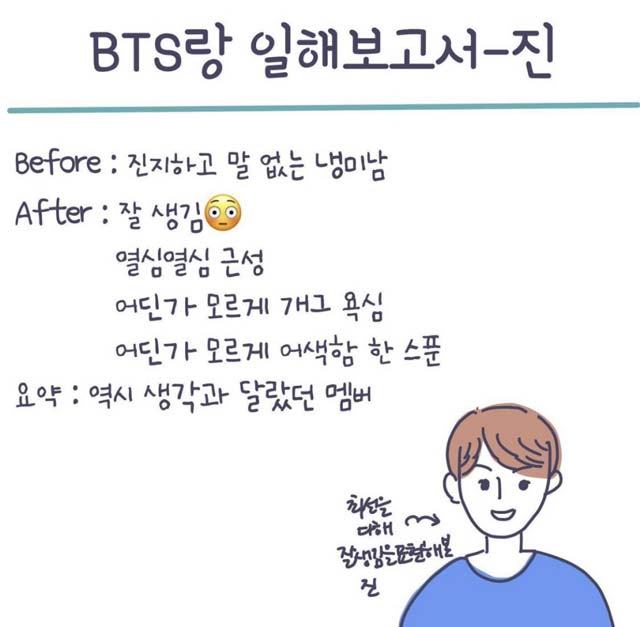 Finally, she wrote to V: "In the past, thought that V would be cold and sharp. After: you are so handsome. V surreal. Are you more shy? He's not intimidating at all and seems approachable."
She further explained that she doesn't know them too well and is only sharing what she feels.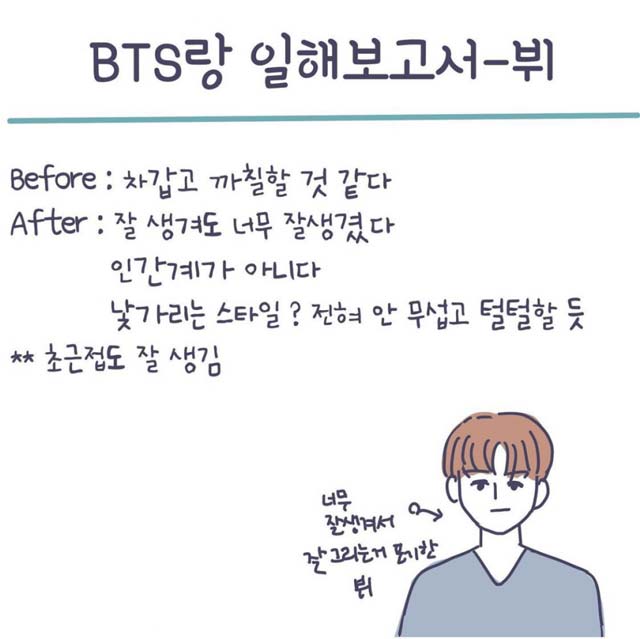 Netizens and fans love to see the boys in the eyes of an employee who works with them and commented:
"They seem to be happiest when it's time to eat, it's our boys."
"I love how they are still themselves. Although they are famous all over the world."
"There are other staff members who say that the members are really close."
Jessi even shared that she worked 14 hours with them but "all have a good relationship with each other and seem like real friends" and "Love them so much".