However, a netizen who flew on the same flight as BTS made an Instagram post about this experience and said that only Jimin sat in business class while the other boys of BTS sat in first class.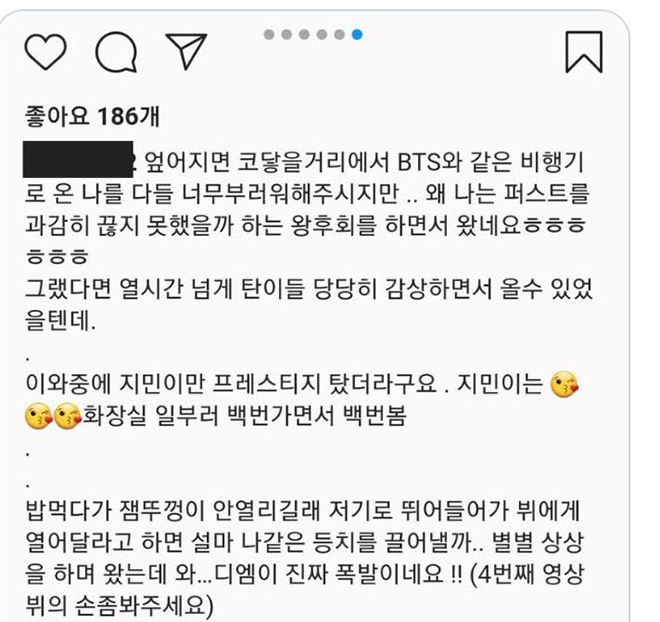 "Although many of you might be jealous that I flew on a plane with BTS and was able to reach them…
I am currently regretting my choice not to buy a first class ticket. If it was, I would have been able to see the members during the full 11-hour flight.
However, I noticed that Jimin was in business class (Prestige) and I purposely entered the "bathroom" a hundred times just to see him.
I thought about going to first class to ask V to open the lid for jam and about how the guards might not be able to drag me away…".
With this post, the social network began to stir with speculations and keyword generation as to why HYBE let Jimin sit in business class while the other members sat in first class.
Some also wondered why performance director Son Sung Deuk was in first class while Jimin was in business class.
Why is Jimin in business class while Son Sung Deuk is in first class??? – @parkseren_jm asked the question.
Not long after, the original poster posted an apology regarding the matter.
"I am ashamed of my thoughts and actions and want to sincerely apologize. I'm honored to meet BTS on the same plane and I think I want to show it off because I'm so happy.
Of course, filming and taking hidden photos is my childish work. But at the same time, when in my life will I be able to see V right in front of me like that?
So I filmed him landing before the guards arrived. But I knew that posting this was a mistake so I deleted it immediately.
And go to the bathroom a hundred times? No way… it was just one time and I happened to see Jimin.
I didn't want him to feel uncomfortable so I walked quickly past and I didn't see anyone beside him because all I saw was Jimin (does this make any sense?).
I heard that after what I posted this story has been discussed a lot. I feel that it's best to explain everything exactly as I went through and apologize."
Fans are currently waiting for an official explanation from the company HYBE.