We expected nothing less from the chaotic icons.
BTS might be one of the most successful and famous groups in the world, but ARMY are well aware of their immense humility and the way the group never takes themselves seriously, especially at awards shows. BTS recently attended the 2022 THE FACT MUSIC AWARDS (also known as FMAs), and the group continually reminded ARMY why they love them so much.
Not only were their speeches full of BTS's love for their fans…
🐰 This is BTS! is it coming out well? Artist of the Year: it's a really deep & meaningful award. Including ARMY you all, because of the ARMYs who are far out there, we got to receive another priceless award so I feel really great & thank you once again.
+pic.twitter.com/9DfgvZ5JGN

— Sel⁷ (@BTStranslation_) October 8, 2022
But, as always, the members had fun being goofy, like how Jin and V went viral for their actions during Jimin's speech. And BTS further showed off their chaotic side when Jin received an individual award, the "FAN N STAR Individual Choice" award.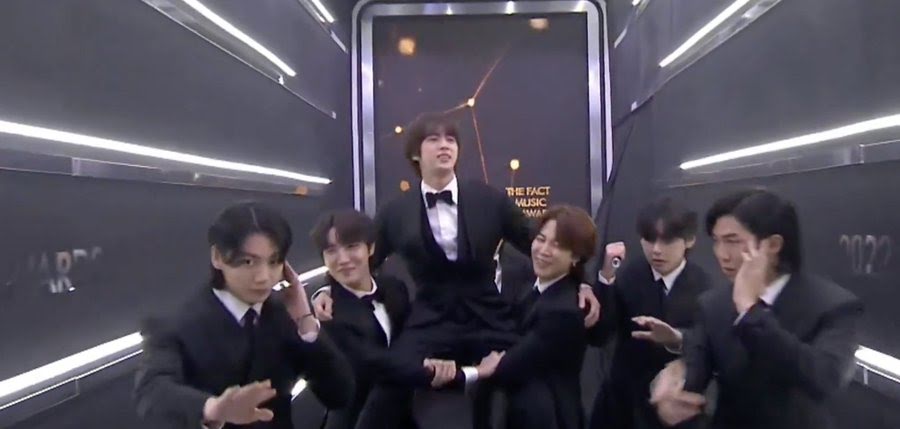 .@BTS_twt Jin has won the Individual FAN N STAR CHOICE Award for The Fact Music Awards 2022!

JIN FIRST TMA AWARD#TMAChoiceWinnerJin pic.twitter.com/oRb1YXyQRj

— All for Jin D-452 (@jinnieslamp) October 8, 2022
Of course, fans were incredibly proud of Jin for receiving such a well-deserved award, loudly cheering for him during his acceptance speech.
Congrats Jin 😭💜
"JIN FIRST TMA AWARD" pic.twitter.com/BS2DquXGuI

— BTS Charts Daily⁷ (@btschartsdailys) October 8, 2022
🐹 Hello, this is BTS Jin! Even seeing days like this as I live… those people have so much popularity, I'm getting an award like this—
💜 kim seokjin! kim seokjin!
🐹 ah thank you so much our ARMYs + pic.twitter.com/UZaqYgIq2i

— Sel⁷ (@BTStranslation_) October 8, 2022
And BTS were, of course, proud too, as they took the opportunity to give Jin a grand entrance to the stage, acting as his bodyguards as they literally carried him like the king he is.
| THE FACT/YouTube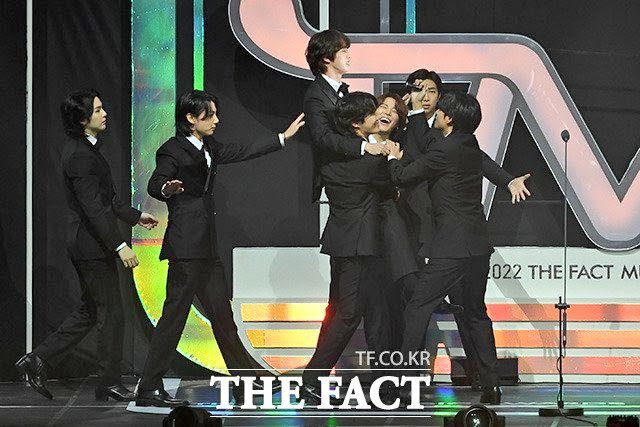 "Bangtan Sonyeondan Jin, worldwide handsome" while bts is carrying jin on their arms sitting like a king, this is what you call an iconic entry!

— rae (@supremethv) October 8, 2022
THEY BROUGHT JIN ON STAGE pic.twitter.com/vha7OHMEwG

— lau⁷ (@jvnggkuk) October 8, 2022
And ensured he got the spotlight he deserves.
the flashlight right on jin's face pic.twitter.com/7cBxMRSDsa

— random seokjin things (@randomksj) October 8, 2022
No matter the venue, BTS will always support each other in the most chaotic and endearing way.
You can read more here.