The popularity of BTS' Jimin is considered a separate tournament. It's not everyday that an artist who is part of a group with no official solo debut can make a name and stand out like Jimin.
Jimin's impact has been felt in all sectors and across different demographics across the globe, and he is undoubtedly among the most famous individuals in the world.
Once again, Jimin's influence is proven by the number of times Korean and international media cover him on various topics.
In the US, The LA Times recently ran a story about the rise of Korean pop culture and Jimin was mentioned in this publication.
No other individual idol names have been released and this shows just how widely known Jimin is.
When one thinks of Korea and K-pop, Jimin's name is likely to pop up even for those who don't know much about the music scene.
Jimin dolls recorded explosive sales on the first day of sale, "sold out" on various e-commerce platforms.
Such high demand for Jimin dolls also proves his immense popularity.
In another case, K-media reported that one of Korea's main broadcasters, JTBC mentioned Jimin on their talk show 'Talk Pawon' while discussing how more and more Celebrities consider him as their idol.
Again, even when the media in Korea talks about celebrities, Jimin's name comes out first because of his unmatched popularity and influence.
Notably, Jimin holds the title of the most popular idol in Korea according to the Brand Reputation ranking and he has held the No. 1 spot for a total of 39 months up to March 2022.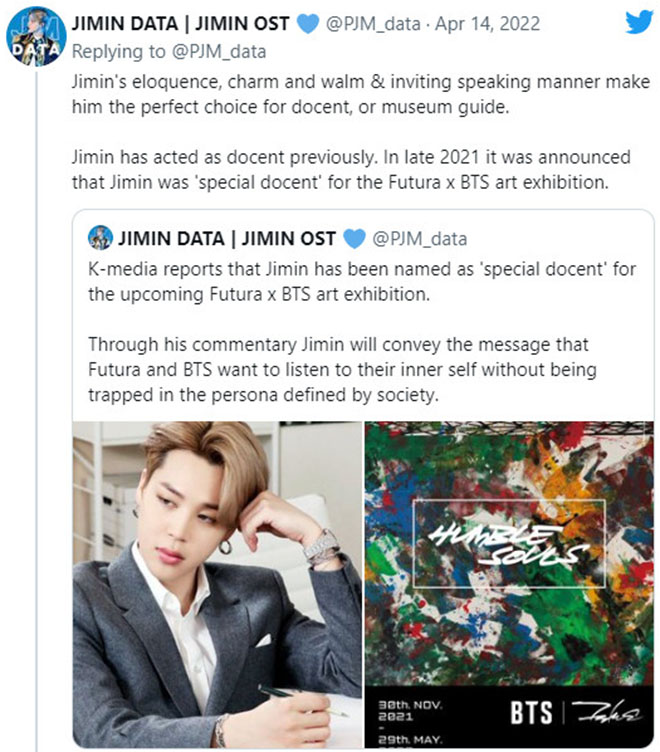 He is also the only male idol to have ranked first for two consecutive years (2018 and 2019) in the survey "Korea's Most Favorite Idol" conducted by 
Gallup
 .
Regardless of the criteria to determine popularity, Jimin always emerges at the top. So it's not surprising that the media always mentions his name at the top.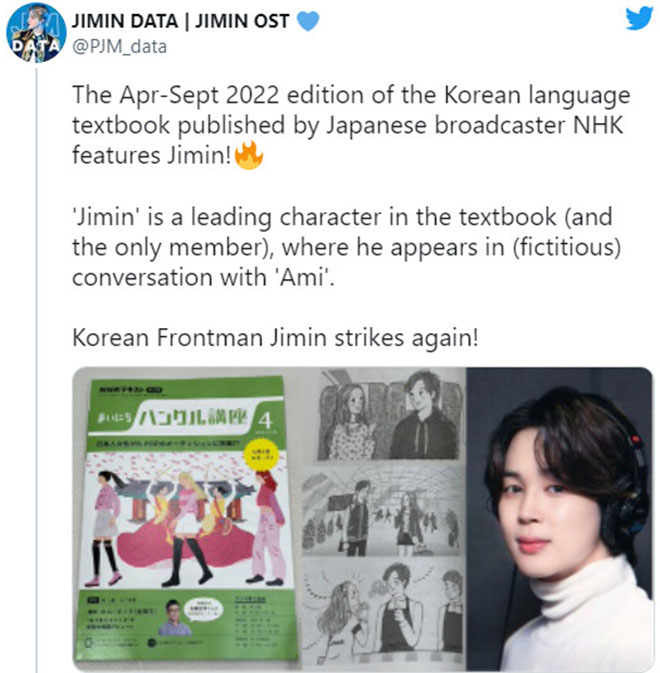 As previously reported, Jimin was chosen as the character for the Futura x BTS art exhibition because of his eloquence, charm, and mesmerizing way of speaking, all of which made more people fall in love with him and Thanks to that, Jimin has a support network of fans around the world.
Before that, Jimin was also an artist of the art project "Connect, BTS".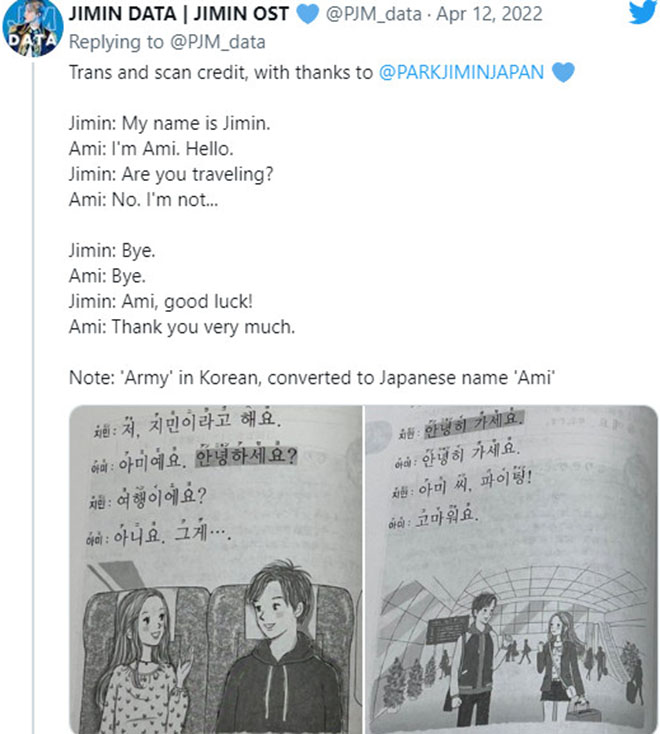 Jimin's popularity in Japan was also a hot topic for a while. Earlier, Korean news media Channel A reported on the reputation of Korean pop culture in Japan and specifically mentioned Jimin, saying that his name appeared in part of a textbook. Department of Korean is published in Japan.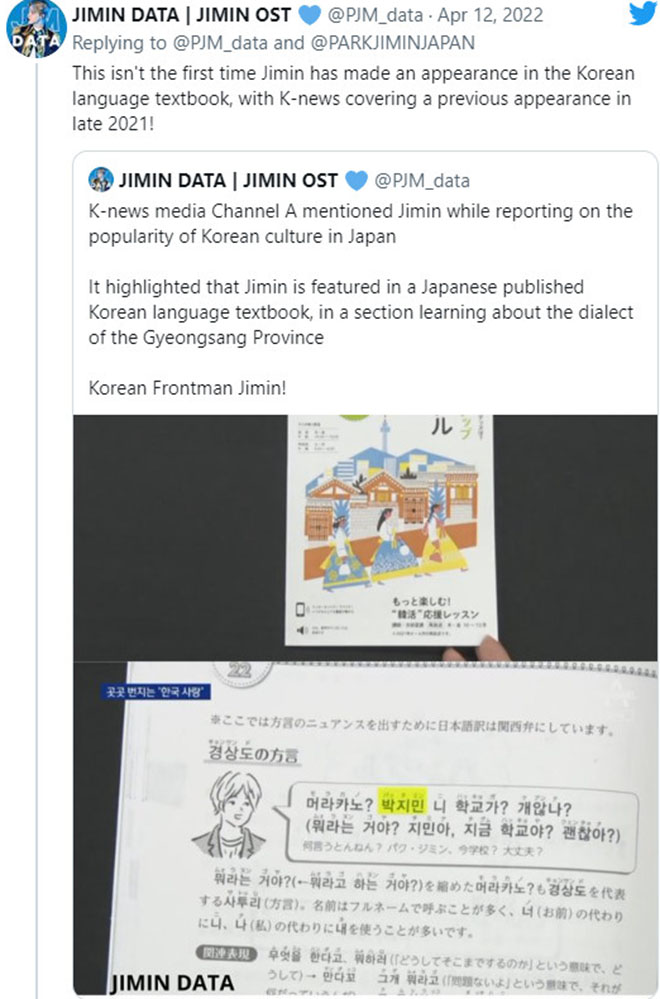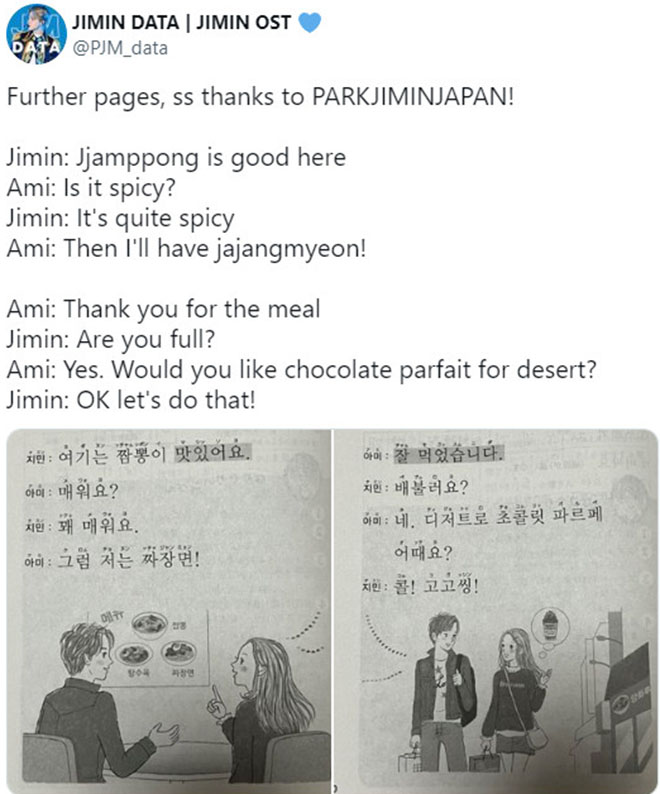 A new edition of another textbook published in Japan also features Jimin.
Japanese broadcaster NHK recently published the April-September 2022 edition of the Korean textbook and exclusively featured Jimin again.
In this publication, Jimin is the main character appearing in the fictional conversations in the book and is the only member mentioned.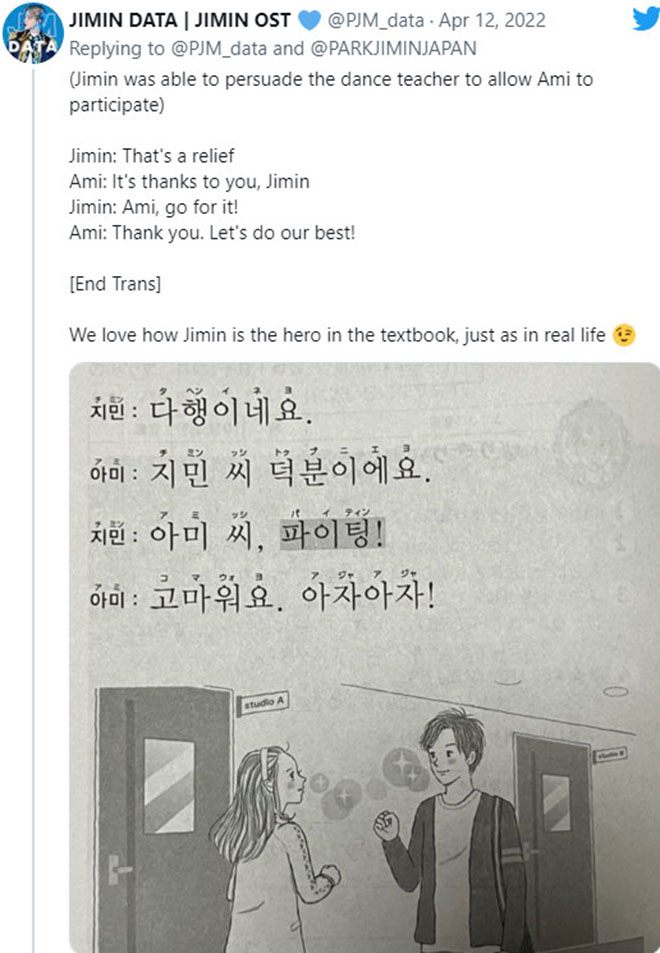 Jimin has already established his name as Korea's global IT guy for these reasons and his popularity will only continue to soar as he embarks on solo activities.
For example, his much-anticipated OST for K-drama Our Blues airs on tvN.