This performance will go down in Grammy history for many reasons! ARMYs can totally be proud of the boys.
BTS recently performed at the 64th Grammy Awards, receiving enthusiastic cheers from the audience with the new version of Butter , which was super eye-catching.
In particular, they changed the dance break for the Grammy version, creating a new sexy secret service vibe!
Right at the Grammys! With a suit! Unreal!
Even the Recording Academy was impressed.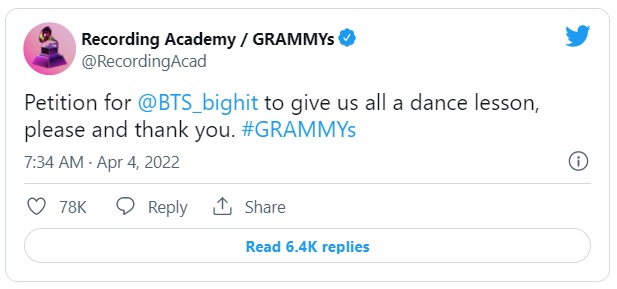 Although Jin was unable to participate due to an arm injury, he still made the audience roar with his excellent acting skills.
And we have the golden maknae Jungkook taking on Jin's part!
ARMYs don't know how proud of BTS anymore:
– I cried watching it. Unbelievable!
– BTS' ideas are endless and unpredictable. They constantly do things that no one dares to think let alone do!
– Proud ARMY! BTS rule the world!
Check out the comparison to Butter 's original break dance :