An analysis shows that an economic impact of up to 12.2 trillion won ($9.9 billion) can be expected if BTS performs 10 times a year in South Korea.
On April 20, the Korean Institute of Culture and Tourism announced on the 20th that "If BTS normally holds a concert in Korea in the post-Covid-19 era, the economic ripple effect will reach from 677.6 billion won ($550 million) to 1.22 trillion won ($989 million) for one performance."
This estimate is the result of the Cultural Tourism Research Center's analysis of the economic impact of concert tickets and planned product sales, tourist consumer spending, and more. schedule, transportation costs and accommodation costs of foreign tourists.
To reflect the consumption situation after Covid-19 ended, the Cultural Tourism Research Institute presented the economic ripple effects for each scenario according to the proportion of foreign tourists.
If the percentage of foreign tourists increases to 50%, the demand for each BTS performance will be 742.2 billion won ($600 million), product consumption will be 1.22 trillion won ($989 million). ) and the value added effect is 570.6 billion won ($463 million) and the number of staff for these concerts is 18,815 people.
For analysis, the Institute of Culture and Tourism mentioned BTS' concert in Los Angeles at the end of 2021 and the concert in Seoul in March 2022.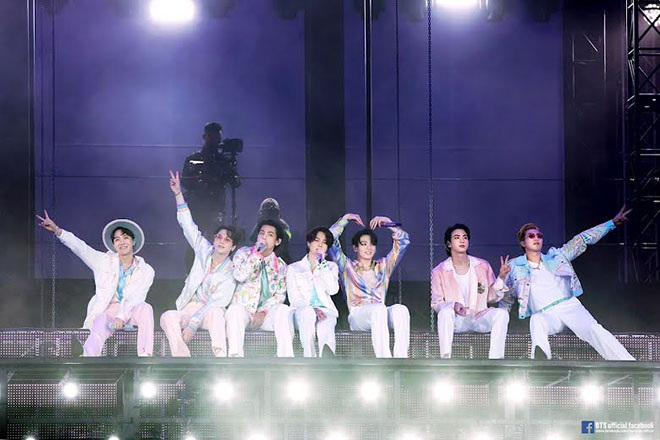 The Cultural Tourism Research Institute explains: "The range of changes in the proportion of inbound tourists based on internal company data shows that more than 70% of people attended BTS concerts in LA last year. from other states. California or abroad".
In the case of BTS holding a concert in Seoul, considering that only 15,000 spectators attend each day due to quarantine measures, the number of spectators is calculated based on 65,000 people.
"This analysis used BTS concerts as an example, but it shows that holding K-pop concerts can have a huge impact on South Korea's economy," the team said. Country.
So I hope that we will be able to get through the Covid-19 pandemic more quickly by improving related areas like culture and tourism, starting with the popular music performance industry."