Their positive impact is inspiring!
From airports around the world tweeting their lyrics to the city of Las Vegas temporarily naming themselves "Borahaegas" in the group's honor, BTS is always trending.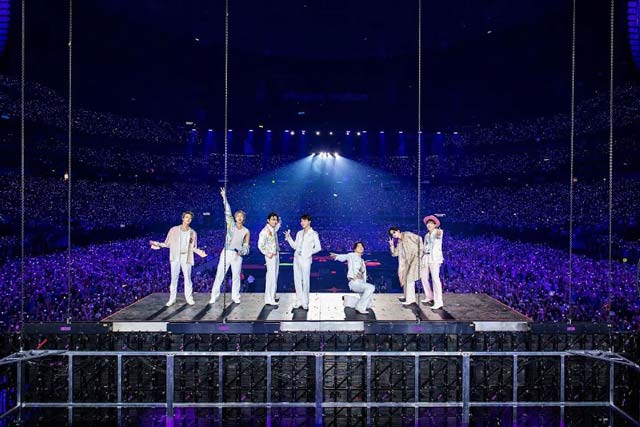 The global superstars have inspired millions with their climb to fame and the messages they choose to convey with their platform. Their international reach is undeniable and goes beyond just worldwide love for their music. The members have always advocated for youth and continued their mission by partnering with UNICEF in 2017 for their global LOVE MYSELF campaign with the hope of ending violence. UNICEF reported in a 2021 article that BTS has raised $3.6 million USD in their partnership with them.
BTS launched the "Love Myself" campaign with UNICEF, building on our belief that 'true love first begins with loving myself.' We have been partnering with UNICEF's #ENDviolence program to protect children and young people all over the world from violence.
— Kim Namjoon (RM of BTS)
BTS appeared in a UNICEF video during the height the COVID-19 pandemic in 2020 to deliver an encouraging message to fans and viewers around the world in a time where feelings of isolation and loneliness were strong.
The group also spoke at the United Nations National Assembly in 2021 as special presidential envoys to relay stories of people in their teens and 20s who shared about their past and how they view the world today. BTS took this opportunity to share with the world that the members have received their COVID-19 vaccinations.
Today, their global influence was once again apparent when UNICEF tweeted about the message BTS shared at the National Assembly. UNICEF also shared that for every like and retweet, UNICEF partners will unlock $1 for their lifesaving vaccine programmes up to $10 million USD.
Remember when @BTS_twt shared this important message on COVID-19 vaccines at UNGA? #FlashbackFriday

For every like and RT, UNICEF partners will unlock $1 for our lifesaving vaccine programmes up to $10M. #LongLifeForAll pic.twitter.com/VqYfnJyxx1

— UNICEF (@UNICEF) April 29, 2022
ARMYs are rallying to share the tweet and love for their favorite group. BTS's influence is continuing to impact the world positively and is inspiring future generations, just as the group set out to do.