Jin holds the true power! 😂
When it comes to BTS, it seems like a day doesn't go by where a member doesn't cement their status as the "Sold Out Kings" in K-Pop. Whether it is a drink, an outfit, or something small, if the members have it, ARMYs want it.
Recently, BTS's Jin caught the attention of fans for making an unusual product become sold out!
During the past week, Jin has been extremely active on Instagram, sharing the things he's been doing during his extended vacation. In particular, he caught the attention of fans after he visited his uncle's strawberry farm and took some adorable pictures with the fruit.
ARMYs weren't the only ones who had their attention caught by Jin and his strawberries. J-Hope seemed upset, commenting, "Strawberries? Without seeing me?"
Luckily, Jin seemed to realize just how J-Hope must be missing the members and replied in a way that ARMYs believed was flirty, adding, "Jwe-Hope, come take some strawberries."

In the end, it all worked out for the better as the two members reunited when Jin brought over the special strawberries, and J-Hope shared the box on Instagram.
It seemed like the strawberries became a gift for Jin to give as he gave some to his sister-in-law, who is pregnant. Jin's brother revealed that his pregnant wife, Ah Reum was craving strawberries. So, being a thoughtful brother-in-law, Jin delivered them himself, thus curing his sister-in-law's craving.
Because the pregnant woman wanted to eat these, a very precious person personally delivered the strawberries themselves. So freaking delicious!!
— Kim Seok Jung
Xem bài viết này trên Instagram
Well, it seems like all that promotion meant that the demand for strawberries in Korea skyrockets, especially the particular ones Jin picked, which are known as "Durihyang Strawberries."
According to netizens, the difference is that these are sweeter tare specifically grown in the area where Seokjin's uncle's strawberry farm is located.
The "Durihyang Strawberry" was sold out due to sudden flood of orders from this shop since Jin gave this type of strawberries to Hobi. They are sweeter than normal strawberries and are grown in the area where Seokjin's uncle's strawberry farm is located. #SuperTuna_Jin #Jin https://t.co/AWEodndTsC

— Seokjinism – THE ASTRONAUT JIN 🧑‍🚀 (@seokjinism1) January 16, 2022
According to one shop in the area that sells these kinds of strawberries, they all became sold out after a flurry of orders all wanting this specific kind of fruit. After the announcement, the news spread and even made the headlines of Korean news outlets.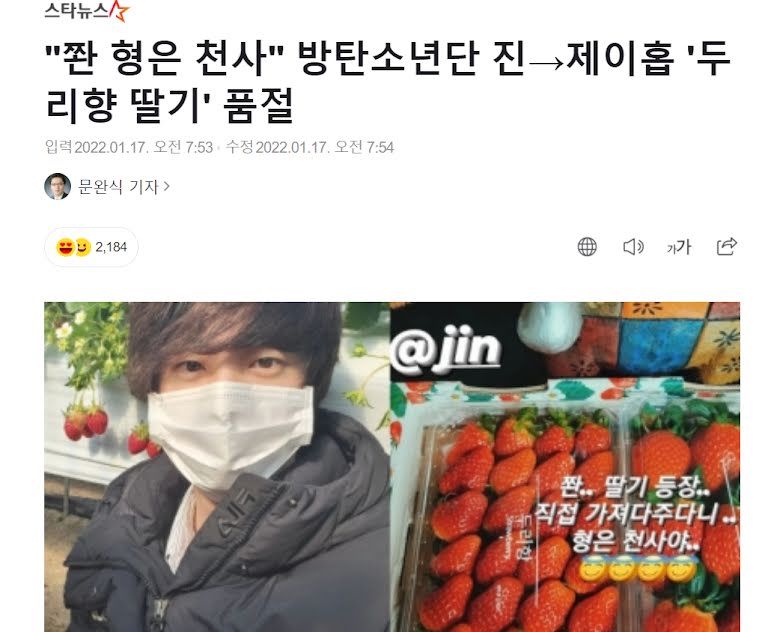 Of course, when the news was shared, fans couldn't get over the fact that Jin had made the world obsessed with this one type of strawberry to the extent that it had actually sold out in the region. Many others worldwide shared that they also went to buy strawberries in their country because of "Worldwide Handsome."


There is no doubt that BTS has a crazy amount of influence that can change the lives of small businesses around the world. Hopefully, the strawberries will come back soon, and fans will become healthier because of Jin.
You can read more about Jin and the strawberry saga below.