Recently, a video of BTS doing an interview for the upcoming Season's Greetings 2022 has been released. While talking with each other about absolutely anything, the members also shared a list of celebrities that are role models/idols for them. Remarkably, only one person on the list was an actual close friend of the idol he is a role model of. It's Jin's role model Kim Namgil!
Jin has named the actor his role model and shared a story about meeting him at the restroom. We also could see their interaction at the Golden Disk Awards 2021 in January.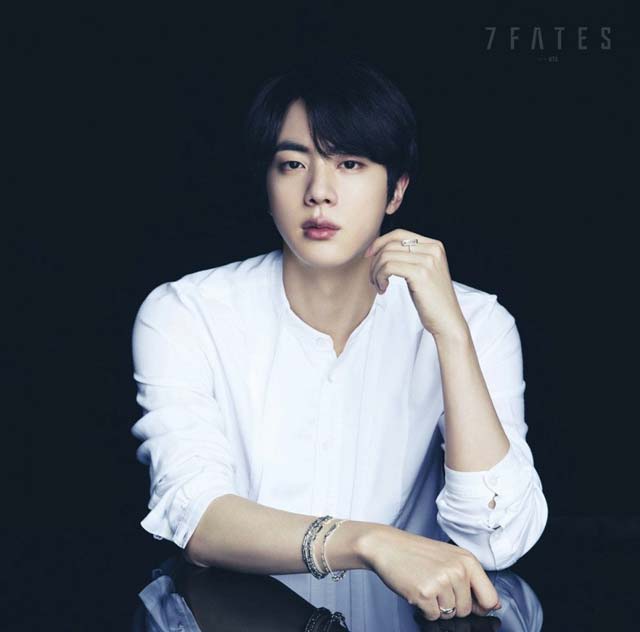 "Among the actors I call 'Hyungnim, there is Kim Nam-Gil. I met him at the restroom. I was very glad meeting him. He told me that he searched for interviews and things like that.I was very pleased meeting him. I could experience acting and be picked up by Big Hit Entertainment as a trainee, thanks to him. He is a person who changed my life a lot, isn't he?"
Jin calls Kim Namgil his "hyung" instead of "sunbaenim" due to them being close and talking to each other from time to time.
Actor Kim Nam-Gil, who made Seokjin change his viewpoints and life:
🐹Among the actors I call 'Hyungnim, there is Kim Nam-Gil. I met him at the restroom. I was very glad meeting him.
🐱He knew that you said about that and he said"Oh! You are Jin!"#SuperTuna https://t.co/tEPwAWFxM1

— SEOKJIN Heart (진하트뿅뿅) 💕 #The Astronaut 🧑‍🚀🌍🌕 (@lovelyjin124) December 11, 2021
Kim Namgil is a South Korean actor, producer, director, singer, and philanthropist. He was placed 17th in the Top 40 Most Powerful Stars in Korea 2020 by Forbes. He also owns his own acting agency Gilstory. His role in the drama "Queen Seondeok" became a turning point for the teen Jin.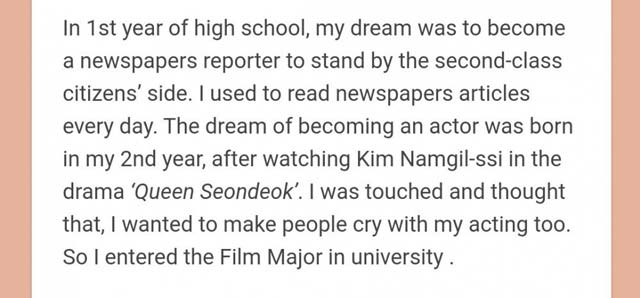 Let's go through the events that made the meeting of Jin and Kim Namgil possible.
After being inspired by the actor, he started going to an acting academy and became one of the best students of it. He was the first student to enroll into the prestigious acting university Konkuk (on an early admission with a 201:1 ratio and ten students quota).
The rest of the students of all ages in his acting academy were coming to the third floor to see the guy who did it personally. He was scouted by BigHit Ent while taking a bus to his university and auditioned as an actor-singer.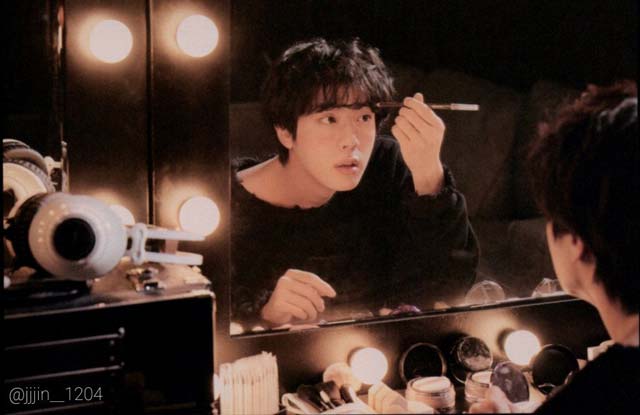 Even after all these years, Kim Nam-gil remained a significant person in Jin's life. However, he didn't remain just a role model for an idol. In early 2020 Kim Namgil mentioned that he knew about BTS's Jin looking up to him and even referred to him as "Our Jinnie" (Jin is known among many senior and young actors in the industry).
The actor was very much willing to get to know Jin in person which was also stated in another interview done by him.
January 2020, Kim Namgil had a Vlive show where he mentioned Seokjin saying

"I have to see our Jinnie but I could not see him at GDA." pic.twitter.com/7p4PTX1mVi

— JIN PRINT — THE ASTRONAUT⁵¹ 🧑‍🚀 (@theJINPRlNT) December 10, 2021
A little bit later, he got invited by Dispatch to do a review of Jin's Dicon magazine. Kim Namgil said that he definitely sees an actor in Jin: in the way he is modeling, can change the expression with his eyes and noted that he has the face of an actor.
Luckily, they both were able to meet at the Golden Disk Awards in 2021. Jin is talking about it in his recent interview as well. They greeted each other and exchanged numbers.
And in December 2020, Kim Namgil is the celebrity who unboxed Seokjin's D'icon magazine where he said

"This guy is an idol but he has the face of an actor. I think Jin will do great if he become an actor too." pic.twitter.com/i4Rq7Dht6M

— JIN PRINT — THE ASTRONAUT⁵¹ 🧑‍🚀 (@theJINPRlNT) December 10, 2021
In March 2021, Kim Namgil confessed that out of BTS members, he is interested in Jin the most because he sees an actor in him (as a professional actor and the founder of an acting agency). Kim Namgil looks forward to supporting Jin in his acting career.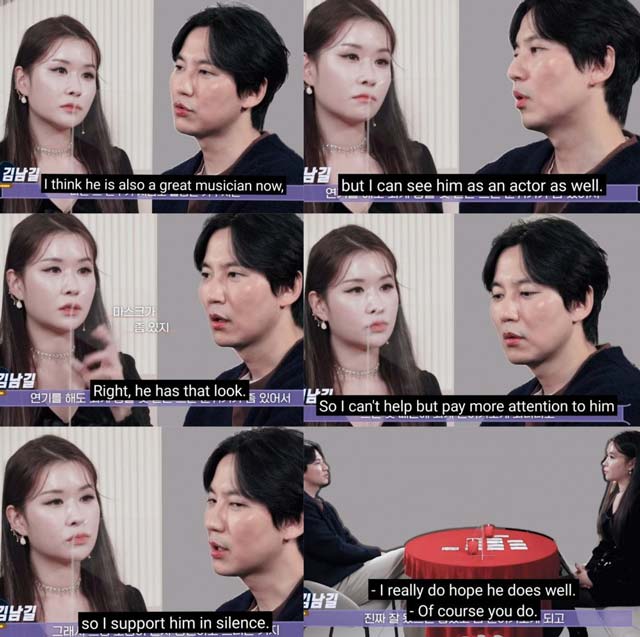 "Also the fact that I got to meet him and say 'Hi', it was very impressive, so I support him even more now." pic.twitter.com/4rgIxGXt2P

— JIN PRINT — THE ASTRONAUT⁵¹ 🧑‍🚀 (@theJINPRlNT) December 10, 2021
It's touching how Jin still thinks that Kim Namgil is a very important person in his life after all these years.
Fans are wondering, since Jin's desired collaboration with Coldplay came true this year, maybe he will be able to get into one drama with Kim Namgil someday too?
https://twitter.com/seokjinnieahhh2/status/1469619280509427714?ref_src=twsrc%5Etfw%7Ctwcamp%5Etweetembed%7Ctwterm%5E1469619280509427714%7Ctwgr%5E%7Ctwcon%5Es1_&ref_url=https%3A%2F%2Fwww.allkpop.com%2Farticle%2F2021%2F12%2Fbtss-jin-reveals-being-close-with-the-popular-actor-kim-nam-gil