Almost all BTS fans are aware of Jungkook's ability to memorize all the lyrics to practically all of the group's songs. Frequently, members are seen turning to Jungkook to ask about the lyrics that they forgot. That is why Jungkook is given another nickname, 'Lyric bot,' since he can recall the lyrics to any part of the song anytime and anywhere.
Even the rap line members RM and SUGA are seen confirming with Jungkook if their lyrics are correct.
윤기 가사 잘 기억안나하니까 정국이가 코러스 넣어주네  ꒰◍ˊ◡ˋ꒱ pic.twitter.com/RMhiw5GUqQ

— 개굴 (@7DopeBTS) June 18, 2020
Recently, Jungkook revealed the reason he is able to recall almost all the lyrics, even the rap parts. Jungkook personally explained it is because he records all the chorus parts to most BTS songs. The chorus part refers to the harmonic part that is added to a song to increase the depth.
In the case of other singers, the main vocal or music experts take on this part. However, BTS is one of the few in which the member does the chorus for the majority of the group's songs.
정구기 가사봇썰 ㅋㅋㅋㅋ pic.twitter.com/9BAeODONZb

— 망개토끼 🇫 🇦 🇨 🇪🍍🍎 (@km5813love) August 20, 2022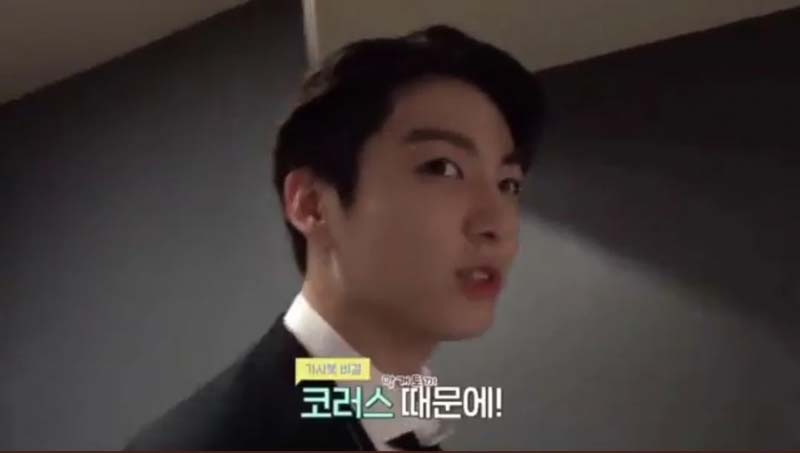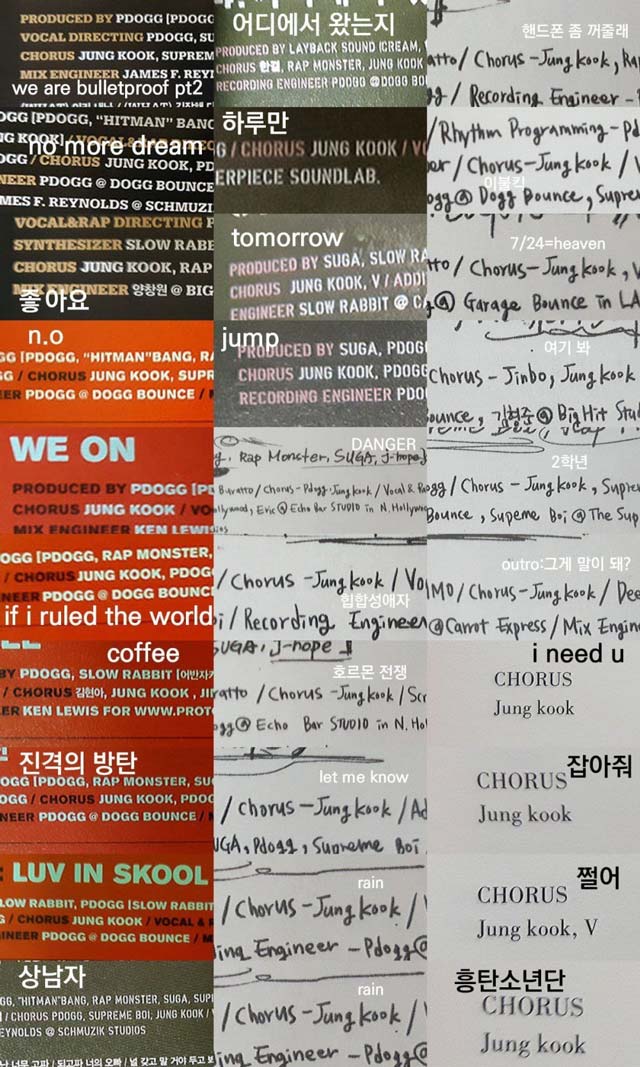 리허설로 부를때랑 진짜 녹음 들어갔을때랑 창법 완전 다른거봐 ㅠㅠㅠㅠㅠㅠㅠㅠㅠㅠ 아악 정국아ㅠㅠㅠㅠㅠ
코러스 쌓고 만족했다곸ㅋㅋㅋㅋㅋㅋㅋㅋㅋ pic.twitter.com/wmoH3OtIOX

— 꾸달🐰🐥 (@Peaches_BTS) November 29, 2019
The chorus part is only possible by singers who have the ability to harmonize impromptu and ad-lib freely.
Jungkook has already shown his exceptional singing and harmonizing skills as J-Hope asked him to harmonize his part during their performance. The singer was seen even adding harmonization while singing and interacting with fans through live broadcasts.
화음 넣어달라는 호비형 말에 즉석화음 넣는거 진짜 코러스,백보컬 다하는 메보의 역량👍 개쩜

I vote @BTS_twt's #JungKook #AudacyAOTSpic.twitter.com/CSUoGJ0mPq

— 🐰졍국잔트가르.97 (@Btsluvjk901) August 27, 2022
즉석에서 바로 화음 넣어버리는 천재강아지 정국이ㅠㅠㅠㅠㅠ#정국 #JUNGKOOK #BTS pic.twitter.com/YTXO3EOJaO

— 국정전🥰 (@jk2_euphoria) August 31, 2021
That is why Jungkook has automatically become the group's go-to chorus singer. While recording the track for 'In the SOOP,' SUGA said to the members, "We just need to get the main (melody), Jungkook will do the chorus part."
🐱 메인만 따면 돼
🐱 메인만 쭉 따고 나머지 코러스는 정국이가 할 거니까 걱정하지 마시고
🐰 🤣🤣

어짜피 코러스는 전정국‼️ #정국 pic.twitter.com/yzMvgGLmN5

— 꾹첼🐰 (@97JK_ee) October 7, 2020
Jungkook's Chorus parts:
Magic Shop 믹싱과정 공개됐는데 정국이 4겹으로 촘촘하게 화음 쌓은 거 너무 대단하고 천재같아 ㅠㅠ ㅠㅠ ㅠㅠㅠ 정국아 너 본업 '겁나' 잘한다 ㅠㅠㅠ ㅠ ㅠㅠ pic.twitter.com/d2oUdD6GIZ

— 초 🐰 (@_cho97) November 27, 2020
https://twitter.com/JK_VOICE_/status/1363818706166419460?ref_src=twsrc%5Etfw%7Ctwcamp%5Etweetembed%7Ctwterm%5E1363818706166419460%7Ctwgr%5Ece82f304d8bba95facb18b1a179da5acebb8962b%7Ctwcon%5Es1_&ref_url=https%3A%2F%2Fwww.allkpop.com%2Farticle%2F2022%2F09%2Fbtss-jungkook-reveals-the-reason-he-remembers-all-the-lyrics-even-for-other-members-parts
https://twitter.com/JK_VOICE_/status/1363818706166419460?ref_src=twsrc%5Etfw%7Ctwcamp%5Etweetembed%7Ctwterm%5E1363818706166419460%7Ctwgr%5Ece82f304d8bba95facb18b1a179da5acebb8962b%7Ctwcon%5Es1_&ref_url=https%3A%2F%2Fwww.allkpop.com%2Farticle%2F2022%2F09%2Fbtss-jungkook-reveals-the-reason-he-remembers-all-the-lyrics-even-for-other-members-parts
https://twitter.com/JK_VOICE_/status/1355914769966845956?ref_src=twsrc%5Etfw%7Ctwcamp%5Etweetembed%7Ctwterm%5E1355914769966845956%7Ctwgr%5Ece82f304d8bba95facb18b1a179da5acebb8962b%7Ctwcon%5Es1_&ref_url=https%3A%2F%2Fwww.allkpop.com%2Farticle%2F2022%2F09%2Fbtss-jungkook-reveals-the-reason-he-remembers-all-the-lyrics-even-for-other-members-parts
https://twitter.com/JK_VOICE_/status/1395635680231915523?ref_src=twsrc%5Etfw%7Ctwcamp%5Etweetembed%7Ctwterm%5E1395635680231915523%7Ctwgr%5Ece82f304d8bba95facb18b1a179da5acebb8962b%7Ctwcon%5Es1_&ref_url=https%3A%2F%2Fwww.allkpop.com%2Farticle%2F2022%2F09%2Fbtss-jungkook-reveals-the-reason-he-remembers-all-the-lyrics-even-for-other-members-parts
Many K-netizens were impressed with Jungkooks work and talent. They gathered in an online community to comment, "Jungkook is so talented," "That is very impressive," "It's so cool how Jungkook added harmony on the spot to J-Hope's part when they were performing," "I love how good at he is with his job," "He's a real genius," "That's so crazy how many choruses he did for BTS," "I never knew he did all that chorus work," and "He's really the golden maknae."