His reaction during "Fake Love" was priceless!
March 13 marked the final day that ARMYs worldwide joined together (KST) to watch BTS perform their last PERMISSION TO DANCE ON STAGE – SEOUL show at the Olympic Stadium. While few were lucky enough to watch it live in person, thousands of ARMYs watched it from the comfort of their own homes.
Like the rest of the days, the members had a wide variety of outfits that had ARMYs on the edge of their seats, which included a lot of mesh…
풍성머리칼+씨스루 ㅁ쳣나봐ㅠㅠㅜㅜ
나 진짜 기절해…pic.twitter.com/b5qJkMUrAX

— ♡ (@xjmlvx) March 10, 2022
hoseok 🤝 jimin
being naked pic.twitter.com/PXMCmLLtsD

— ✩🪞 (@2jihope) March 10, 2022
Even when the group performed last year, one outfit that always stood out to fans was worn during tracks, including "Fake Love." All of the members looked stunning. Jungkook was no different. The idol wore a cropped jacket and a very deep V-neck along with a body chain.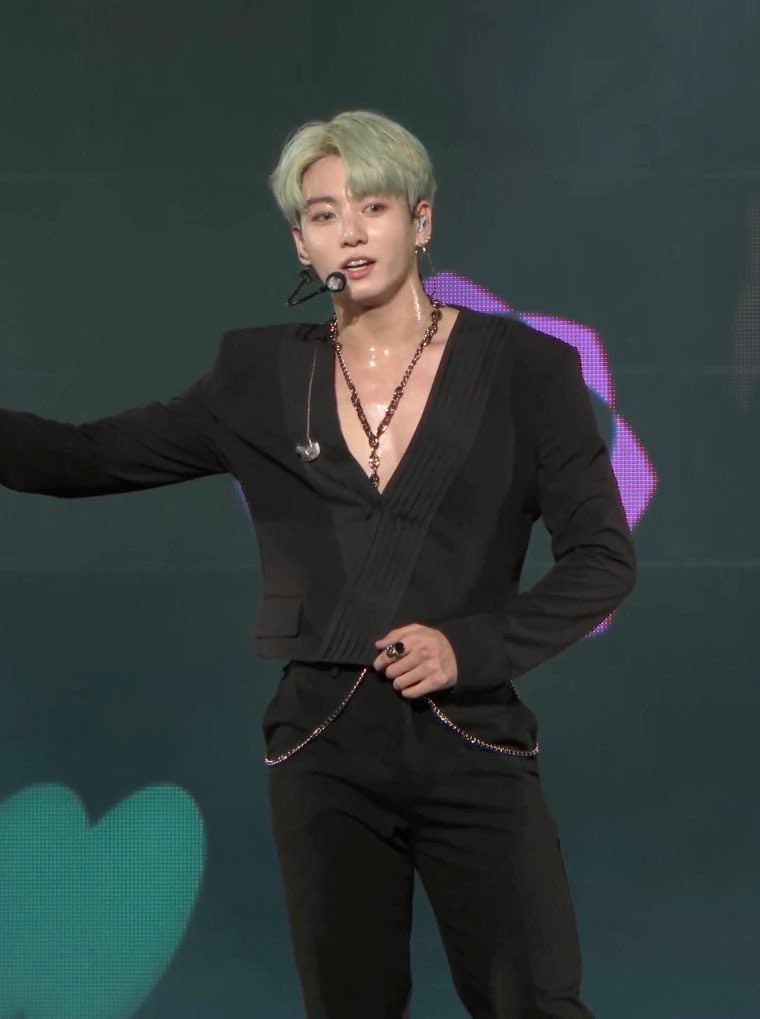 Well, it seems like it was just as effective this time, but Jungkook was so in the zone during "Fake Love" that the outfit couldn't even hold out as much as it tried.
During the song, Jungkook was so immersed in the song and was performing so powerful that his buttons couldn't keep up… and eventually started to unbutton.
— jk vids 🎥 bu (@jjklvearchive) March 13, 2022
At first, although Jungkook seemed so focused on the performance that he didn't seem to realize what happened, he eventually noticed. Yet, rather than panic, he had the funniest reaction as a huge smile erupted on his face as he quickly tried to pull the jacket back together.
OH MY GOD?!!!! JEON JUNGKOOK!! 😭😭😭 pic.twitter.com/iujrMOcNvw

— jungkook pics (@kookpiics) March 13, 2022
Even in the images shared by ARMYs, it was impossible to miss the hilarious reaction on Jungkook's face after it happened.
Of course, the internet quickly went into meltdown after the clips were shared.
i can't stop laughing at how jungkook buttoned up his blazer after it tore open the first time just for it to tear open again a second time, that button really just gave up 😭

— ℘ (@archiveforJK) March 13, 2022
https://twitter.com/TAEONYSUS_7/status/1502954001171566593?ref_src=twsrc%5Etfw%7Ctwcamp%5Etweetembed%7Ctwterm%5E1502954001171566593%7Ctwgr%5E%7Ctwcon%5Es1_&ref_url=https%3A%2F%2Fwww.koreaboo.com%2Fnews%2Fbts-jungkook-permission-dance-seoul-shirtless-army-shook%2F
nothing funnier than seeing jungkook trying to button his shirt back on stage like HE'S JUST AS PANICKED AS WE ARE LMFAOO

— joons uparupa (@420JOON) March 13, 2022
In particular, a number of different phrases related to the incident started trending in Korea and worldwide, including "Jeon Jungkook button" and many more.
In South Korea,
정구기 단추 Jungkookie button
전정국 단추 Jeon Jungkook button
단추 하나 button one
우리 정국 our Jungkook
단추 파업 button strike
are trending in real-time pic.twitter.com/U0C3x7yzFs

— 정국 한국팀 ( FAN ACCOUNT) (@JKTEAM_KOR) March 13, 2022
TRENDS | JUNGKOOK is trending at #1 in U.S, #1 in South Korea, #1 Worldwide with multiple trends at the Day 3 of PTD On Stage Seoul pic.twitter.com/VPf7Ydd05K

— Jungkook SNS✨️ (@Jungkook_SNS) March 13, 2022
Yet, it isn't the first time this particular outfit has caused some malfunctions that have had ARMYs screaming at the top of their lungs. During the PERMISSION TO DANCE ON STAGE shows in LA, a similar thing happened when the outfit just couldn't handle Jungkook's dancing and showed more than he intended to.
JUNGKOOK???????? pic.twitter.com/al7W5Uu67h

— juls 🪞 (@jikookheart) November 28, 2021
Although this might be the last show in Korea, there are still shows set for Las Vegas next month. It will be interesting to see whether the jacket needs a fix in the design or just let Jungkook continue to steal the hearts of fans with the outfit.
You can read more about iconic moments from the concert below.