Everything was gone in a blink of an eye!
BTS has been releasing their "Artist-Made Collections" for the past few weeks now, and ARMYs have been trying their best to get their hands on one of the members' merch items.
But when the items sell out in a matter of seconds, being successful in buying the merch seemed almost as impossible as getting tickets to one of BTS's concerts.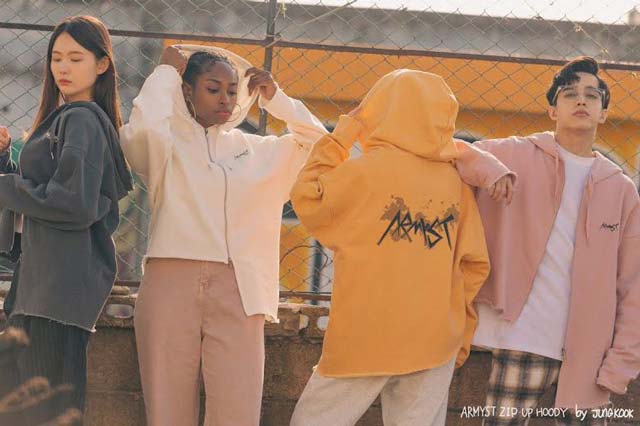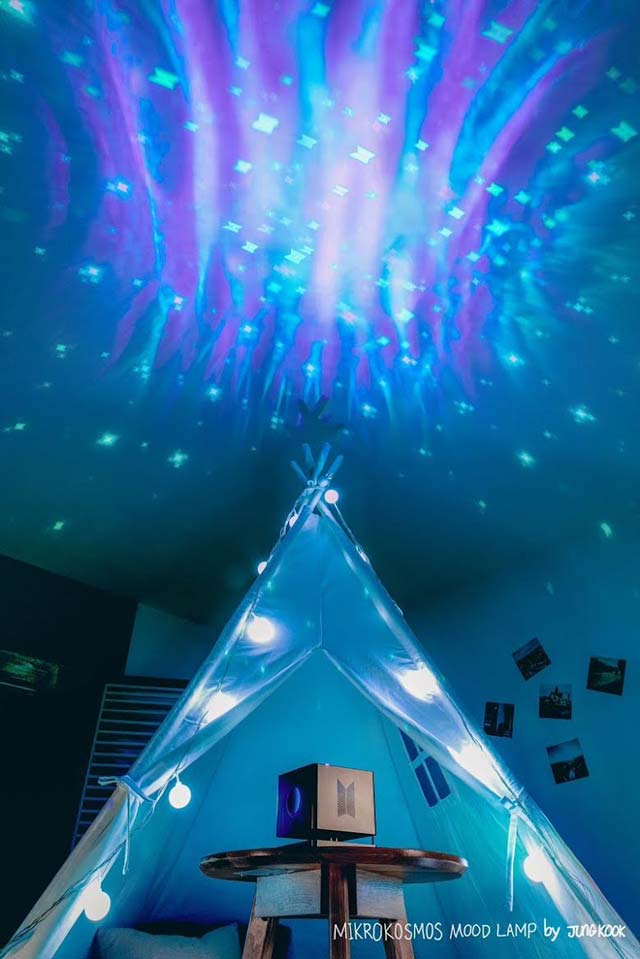 Now, we only have youngest member Jungkook left to sell his self-designed merch.
With the previous members' drops all selling out, ARMYs were desperate for a Weverse Shop restock.
Prayer circle 🙏💜☺️

🕯 🕯
🕯 🕯
BTS
🕯 Member 🕯
WeVerse Items
🕯 Restock 🕯
🕯 🕯

— PJM1 FACE⁷ 💜🐳 BTSCupsleeveUSA (@BTSCupsleeveUSA) January 18, 2022
And it looks like some actually got their wish as Weverse restocked some of the members' merchandise yesterday.
SO WEVERSE SHOP DID A SURPRISE RESTOCK??????? #Butter_BTS pic.twitter.com/u6KYAAnmO7

— vingukiehope (@vingukie) January 21, 2022
The kicker? It was in secret, with no notifications sent out, and the ARMYs who missed out were definitely in tears.
how tf did I just miss the artist-made collection by bts restock 😭

— trinh ⁷ ⟭⟬ (@trinhers) January 21, 2022
Anyways bitches be missing BTS merch restocks because they were trying to stay off their phone for like an hour in order to be a good life partner and actually pay attention to their spouse for once

It's me, bitches pic.twitter.com/UHguDSTJNY

— jasmine⁷ 🪞🦋 (@yoongisfavecat) January 21, 2022
So you're telling me that tadi merch by bts ada restock? Without any announcement? And dah sold out lagi?

*SEOKJINNNAAAAAAAA 😭😭😭* pic.twitter.com/RC7ISMhClB

— Niseok⁷ 'SMOKE SPRITE' 'FACE' 'ON THE STREET' (@Nisnazman___) January 21, 2022
Some ARMYs did some digging, and found out that the restocked items were probably due to some cancelled orders and extra stock.
Weverse Shop rarely updates on restocks unless it's a new pre-order. It doesn't matter if you have notifications turned on. There are no notifications

— BTS ⟭⟬ Merch⁷⟬⟭ (@BTSMerchUpdates) January 21, 2022
Weverse Shop's Customer Support also shared that any official restocks in the future will be announced.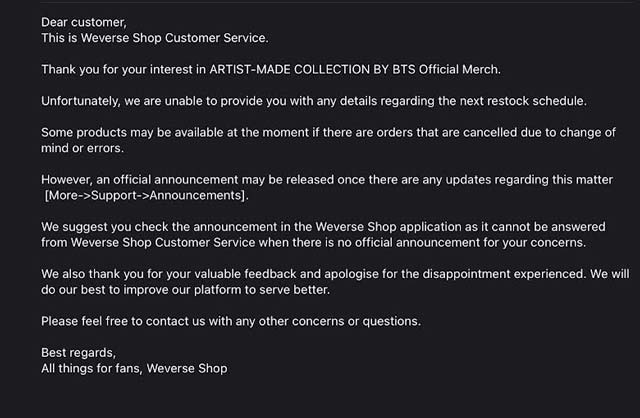 Me refreshing my Weverse shop app to see if it restocks again like pic.twitter.com/zRPmGaONW7

— paks⁷ ⟭⟬ 💜 AFBF (@Pakouchu) January 21, 2022
ARMYs noted how quickly the restocked items sold out.
WEVERSE RESTOCK OF BTS MERCH: pic.twitter.com/Ug1XHYEbrp

— Poli | HYBE INTERN 🪞 (@Poli_Pol1) January 21, 2022
artist-made collection by bts restock 220120:

— trinh ⁷ ⟭⟬ (@trinhers) January 21, 2022
It seems like the only ones who were fine were the lucky ones who got their hands on the merch of their choice. The others? Reeling from how quickly the restock happened.
Just woke up to see there was a restock??? I'm fine…..really….. pic.twitter.com/JCMfQP0Tz7

— Tay⁷~the best is yet to come💜 (@sope_withlove) January 21, 2022
Because of this, ARMYs set up a future game plan to always check Weverse Shop in case of another surprise restock.
BUTTER BELIEVE IT i'm checking weverse every 12noon KST starting tomorrow because they apparently dropped merch restock without any notif but everything were sold out again within minutes

Listen to Song of the Year #BTS_Butter by #BTS @BTS_twt pic.twitter.com/KKxySR3vbn

— jowjow⁷ 🐙💜 (@j0wj0w_) January 21, 2022
Were you able to get some merch? Make sure to check out Jungkook's merch line below: