"Are we interrupting something…?"
In the K-Pop and entertainment industry, there is nothing that fans love more when their favorites interact with each other. One truly iconic friendship group is the Wooga Squad which includes BTS's V, Park Hyung Sik, Park Seo Joon, Choi Woo Shik, and Peakboy.
Throughout the years, netizens have been treated to amazing interactions between them…
Recently, the group has gained attention after some adorable and hilarious interactions between two members: V and Choi Woo Shik!
On January 7, Choi Woo Shik posted an image on his Instagram with the caption, "Come quickly Monday," and it showed the actor looking absolutely adorable…
Well, it seemed as if netizens weren't the only ones who couldn't get enough of Choi Woo Shik. Bestie V made use of his Instagram account and replied, "(Your) facial expression kekeke…wow."
What was even funnier was Choi Woo Shik's reply, who obviously thought V was being his adorable and charming self. He replied, "Don't like me too much."
V wasn't going to let his friend have the last word. He then commented, "I got the perm first," referring to the curly hairstyle that fans love seeing the BTS member with. As always, V showcases just how much he loves using Instagram to interact with those he's closest to
Of course, when it comes to any form of interactions between the Wooga Squad, netizens were on hand to share their reactions. They all loved the playful friendship between the two, and it isn't hard to see why.



Yet, it isn't the first time fans have shared their love for the duo and their interactions. Throughout the years, they have treated fans to wholesome content…
Even after V finished his quarantine, Choi Woo Shik was one of the first people he met up with on a cute art date.
It isn't the first time V's interactions with Wooga Squad have taken the internet by storm. After BTS's V released his OST for the K-Drama staring Choi Woo Sik, Park Hyung Sik shared a snippet from the new drama, highlighting V's voice. In the captions, he wrote, "Our beloved summer…with V."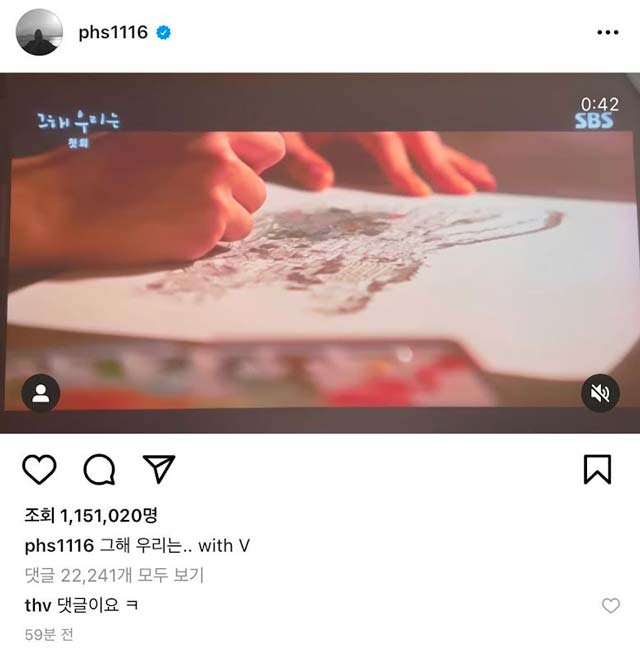 After seeing the post, V showed that he was definitely still finding joy in using Instagram, writing, "Commenting heh."
Park Hyung Sik then joined in on the fun and replied cutely, "Commenting on your comment, heh." The two seemed to be on the same wavelength with their humor, which was adorable AF.
BTS creating their Instagram accounts has given fans amazing content. Hopefully, it will continue, and there will be more interactions between the Wooga Squad.
You can read more about V and Choi Woo Sik's adorable friendship below.