It's only obviously V once you know.
One of the most iconic friendship groups in K-Pop is, of course, the Wooga Squad. The Wooga Squad includes BTS's V and actors Park Hyung Sik, Park Seo Joon, Choi Woo Shik, and singer Peakboy.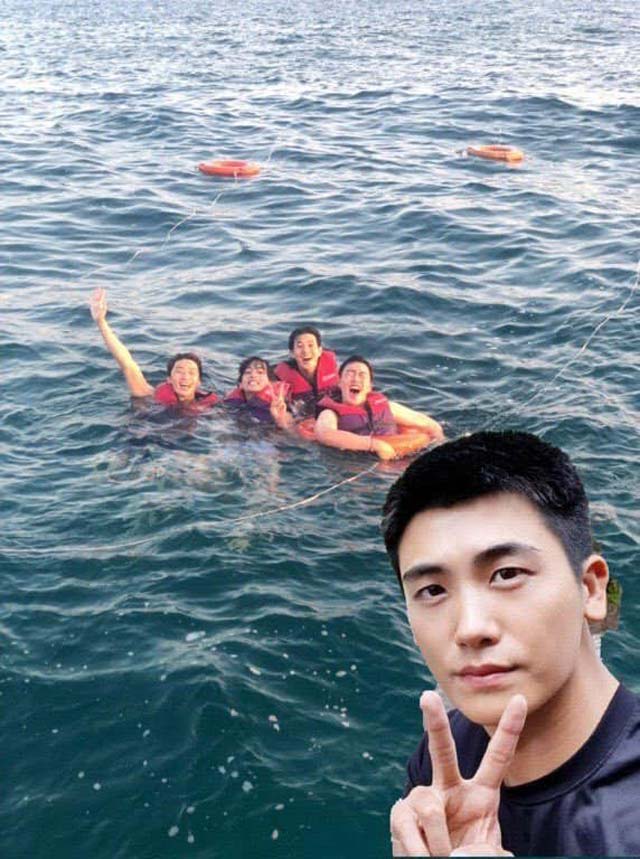 (left to right) Wooga Squad's Park Seo Joon, BTS's V, Choi Woo Sik, Peakboy, and Park Hyung Sik (photoshopped in) | @BTS_twt/Twitter
The group is incredibly close and always cheering each other on and spending time together.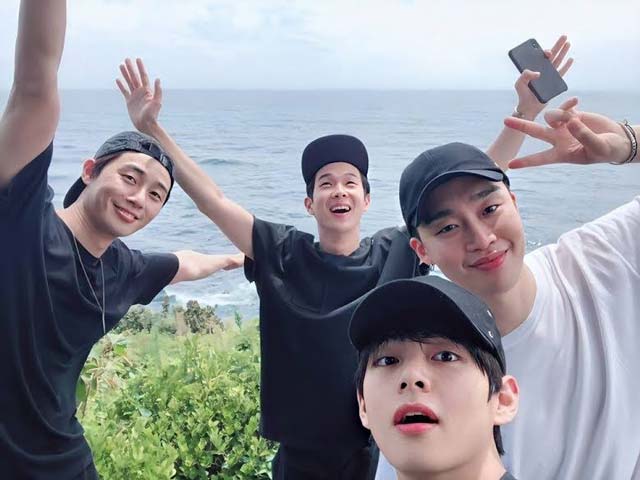 BTS's V taking a selfie of (left to right) Park Seo Joon, Choi Woo Shik, and Peakboy | @realpeakboy/ Instagram
But recently, fans have been especially entertained by the bond between two of the squad members, V and Choi Woo Shik.
When V got out of quarantine, he celebrated by hanging out with Choi Woo Shik. The two went to an art museum together, and V shared a bunch of pictures of their hangout on his Instagram.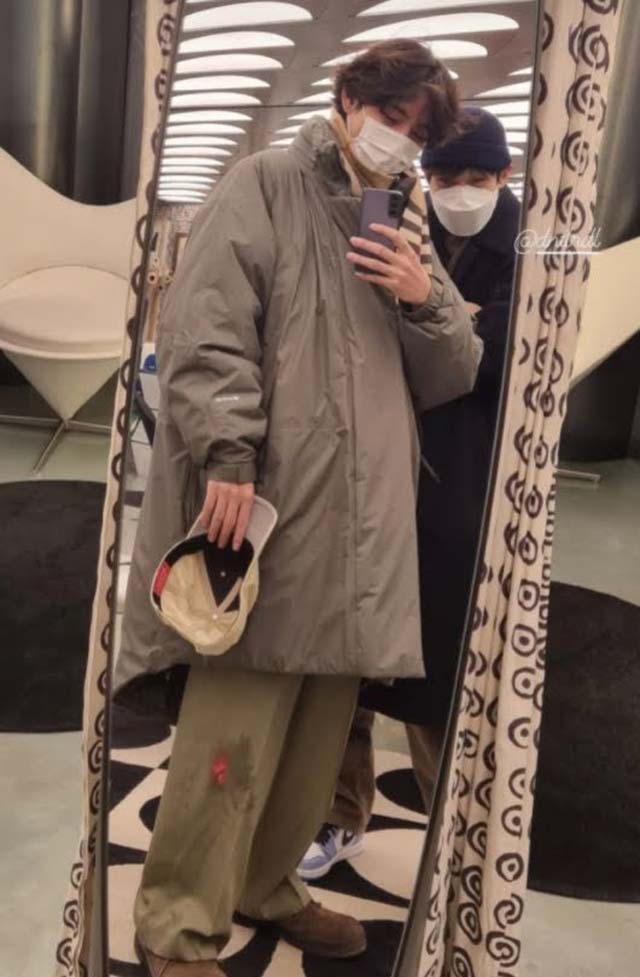 BTS's V and Choi Woo Shik | @thv/ Instagram
The two even playfully flirted on a post Choi Woo Shik shared to Instagram.
V hyped his friend up by commenting, "(Your) facial expression kekeke…wow."
To which Choi Woo Shik teasingly replied by warning the idol, responding, "Don't like me too much."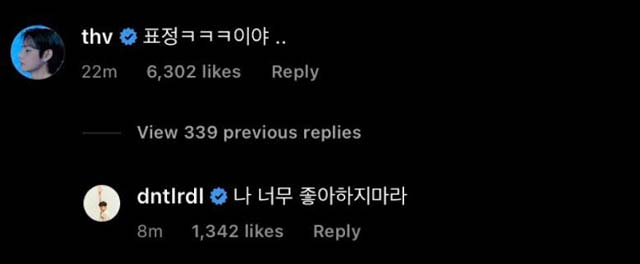 And perhaps most notably, V recently recorded an OST "Christmas Tree" for Choi Woo Shik's latest drama, Our Beloved Summer.
The song was incredibly soothing and beautiful, breaking numerous records as soon as it was released. And it suited the romantic comedy-drama perfectly.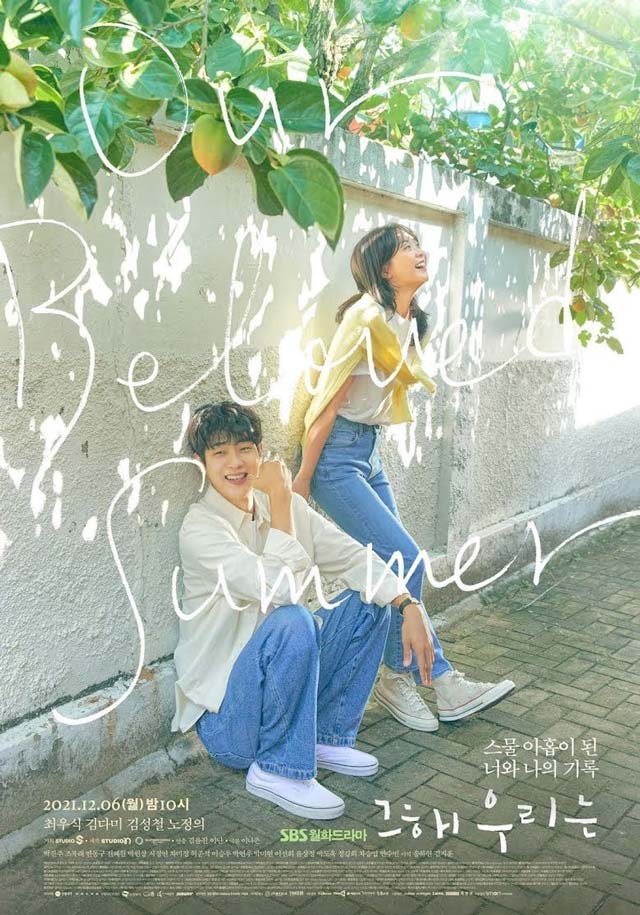 Choi Woo Shik later even commented on the OST, saying that he thought it was "meaningful that [he] was able to do this with [his] friend on a project that [he] will remember forever."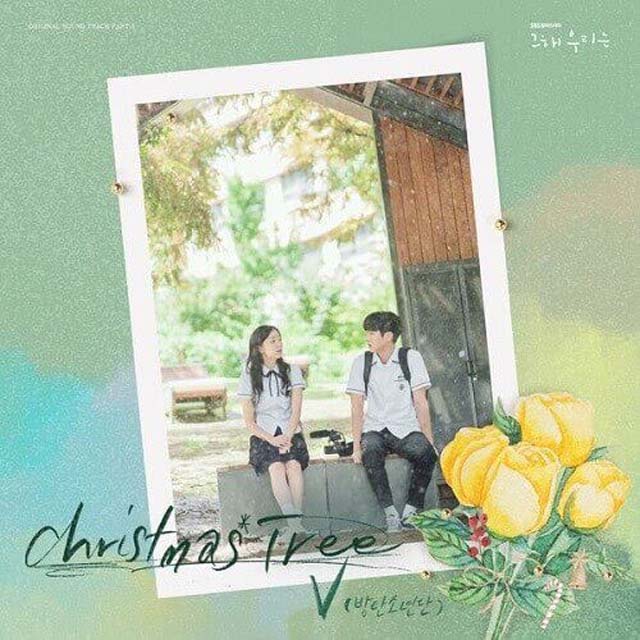 And in turn, V teased his friend. Showing himself watching the drama on his Instagram, but in a way that jokingly clowned one of Choi Woo Shik's scenes.
BTS V's Instagram Stories update of Choi Woo Shik in Our Beloved Summer. | @thv/Instagram
But with V's latest Instagram update, fans are realizing that the idol did more than simply record the OST for his friend's drama. In fact, he actually showed up in person to cheer him on.
In an uploaded vlog showing the behind the scenes of filming Our Beloved Summer, fans hadn't paid any particular attention to someone standing, his back facing the camera, in a small handful of moments.
So we are clueless, that's taehyung being captured on behind-the-scene of Our Beloved Summer 😭🖤 pic.twitter.com/2ki7xo62xD

— Elysha | TAEHYUNG ON JINNYS KITCHEN (@myonlyTAEger) January 29, 2022
Once you know it is V, it is easy to see the resemblance, but it is easy to simply overlook him as a staff member until you are aware.
And almost as if to tease fans for not having realized it was him, V took to his Instagram story to upload a short video of him clapping a slate on set while "Christmas Tree" plays in the background.
AHHH TAEHYUNG IN THE OUR BELOVED SUMMER SET WITH WOOSHIK AND KIM DAMI 😭😭😭😭😭
pic.twitter.com/HziIAlsY9o

— 𝓂 (@taehyungtannah) January 29, 2022
omg kim taehyung was on 'our beloved summer' set on his birthday 🥺 pic.twitter.com/Je78GBURQP

— .·͙☽ rest (@taeteland) January 29, 2022
Of course, fans love this latest addition to the Wooga Squad interactions.
Most are equating it to how V also supported Park Seo Joon on the set of Itaewon Class.
taehyung visited 'itaewon class' and 'our beloved summer' set to support his friends 🥺 pic.twitter.com/yphbnkZNmp

— xia (@vantends) January 29, 2022
As not only did he visit both sets, but he also recorded OSTs for both dramas.
https://twitter.com/seokjinmylabsss/status/1487345798296006657?ref_src=twsrc%5Etfw%7Ctwcamp%5Etweetembed%7Ctwterm%5E1487345798296006657%7Ctwgr%5E%7Ctwcon%5Es1_&ref_url=https%3A%2F%2Fwww.koreaboo.com%2Fnews%2Fbts-v-support-choi-woo-shik-fans-believe-missed%2F
And some are commenting on how supportive the group is as a whole. From the entire Wooga Squad hyping up BTS's album, MAP OF THE SOUL : PERSONA, to sending each other food trucks and showing up to support at shoots, screenings, and even fan meets.
look how taehyung so supportive to his wooga squad member 🥺 from visiting set of itaewon class and our beloved summer to attending movie premiere to being a cameo on MV to sending foodtrucks, he also posted watching their dramas and listening to their songs 🤧 pic.twitter.com/ZWvgzEQShm

— Elysha | TAEHYUNG ON JINNYS KITCHEN (@myonlyTAEger) January 29, 2022
Some fans even pointed out how V's support goes beyond simply his besties, as he gave a signed copy of BTS's album to the writer of Our Beloved Summer with a personalized note complimenting her work.
First,taehyung gave two signed butter albums for actress ko soyoung's kids and now, he gave a signed album with cheering message to the our beloved summer's writer, lee naeun.He wrote that the writer write it so well and doing a great job😭 taetae is so kind and sweetest. pic.twitter.com/hza918zoTc

— THV🎄 (@Taehyungimpact) January 29, 2022
With all their support and encouragement of one another, the Wooga Squad is undoubtedly the kind of friend group everyone wants to be a part of.
Taehyung is included in Behind-the-scenes of Our Beloved Summer but only his back was seen 😆pic.twitter.com/8KP8TlYNfv

— ◡̈ (@taebokkiii) January 29, 2022