V's Mural Street, a birthday project by China Baidu VBar, has become a popular tourist attraction in Daegu since its installation in December 2021. Now the local government has decided to increase their support for it.
On May 13, the Daegu Seo-gu office re-cooperated with China Baidu Vbar to carry out an extension project that will add 25 meters to the mural wall. This would turn the original 33-meter-long panorama mural into a 58-meter super-large mural.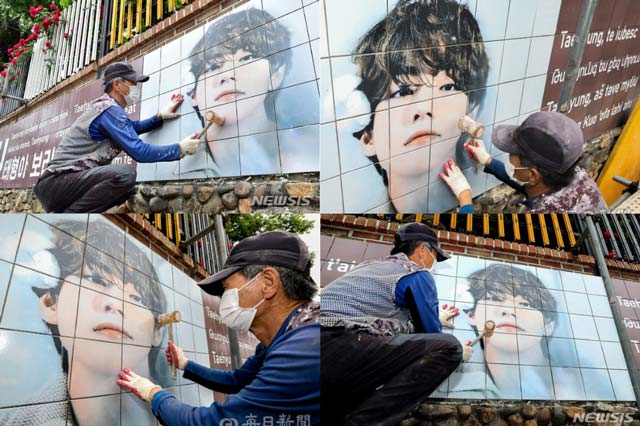 Tile work is underway outside Daesung Elementary School, V's alma mater located in Bisan-dong, Seo-gu. The project is scheduled to be completed by the end of this month.
The mural street has become a sacred place among BTS fans, attracting visitors from inside and outside South Korea.
V's Mural Street is also a focus of Daegu City's promotion of Hallyu tourism content around Kyushu, Japan. The Hallyu campaign event is ongoing until May 29 and is expected to increase tourism exchange between Japan and South Korea.
Seo-gu office is also expecting an increase in tourists after the recent opening of Seodae Station allows more accessibility to V's Mural Street. The extension is the beginning of a larger plan to reorganize and develop the nearby Dalsung Toseong Village and Seobu Omigami Street into resources for tourism.
[UCC] YTN News reports on BTS's V 33-meter-long mural street becoming a major tourist attraction in Daegu https://t.co/UaBCqqSep4

— allkpop (@allkpop) January 3, 2022