All of the members showed their immense love for their fans.
BLACKPINK recently held an offline fan meeting for their recent comeback, BORN PINK, getting the opportunity to interact closely with fans for the first time in a while.
#ROSÉ looks so excited here! It's been a while since they last did a fansign event — you can see here that her energy really brightens up when she gets to meet her fans.

— nia (@loverose_rosie) September 25, 2022
The fan meeting was filled with adorable interactions between BLACKPINK and their fans, like when Lisa spoiled part of the group's upcoming world tour.
Lisa
Or when Jennie gave adorable fanservice despite not entirely understanding what fans were asking for.
Jennie
All of BLACKPINK showed their immense love for their fans, with the members finding a way to speak to their fans without the screen barrier (a precaution that has often been taken since the COVID-19 pandemic).
#BLACKPINK vs. ACRYLIC BARRIER on 'fan meeting'#ROSÉ: PUSHED IT ASIDE#LISA: MADE AN EFFORT VIA SMALL HOLE#JISOO: ASKED SOMEONE TO REMOVE IT#JENNIE: REMOVED IT HERSELF

I love how much they really wanted to interact with their fans. I'm so jealous of K-blinks! 🥹 pic.twitter.com/YQL553xThA

— ∀⁴ | 𝘽𝙊𝙍𝙉𝙋𝙄𝙉𝙆 𝙀𝙍𝘼 (@saletrang_A) September 25, 2022
Fans were especially endeared by Jisoo, who was the first member to ask staff to remove her screen.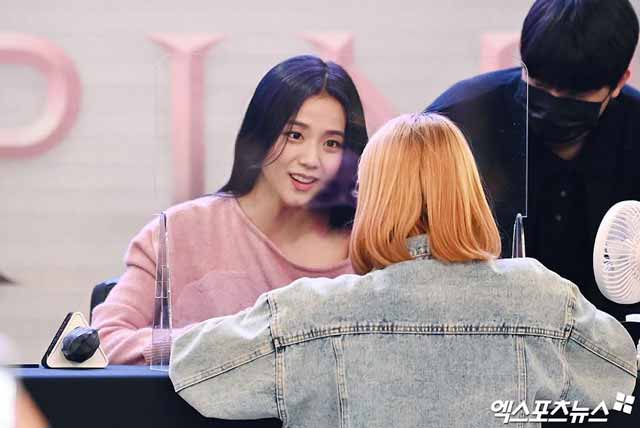 Jisoo
Fans were really touched by the kindness Jisoo showed in making sure she would be better able to communicate with fans.
Aww. Jisoo really wanted to make sure she was able to communicate with the fans better after a long time & the barrier was really making it difficult to hear especially since the fans are wearing masks. 🫶🏻 https://t.co/yVMnYQ9Uxa

— N 💟 (@keenimod1) September 26, 2022
jisoo truly adores her fans. will never regret idolizing a woman like her 😭💙 https://t.co/fEghNnGb6A

— n 🦋 (@taysoo_) September 26, 2022
BLACKPINK fans are certainly proud to support a group of idols who genuinely care about them.
they all remove the barriers. blackpink best girls

— kaérr | janenélla (@lisafantasy_) September 25, 2022
You can watch the full clip here.
So it was really Jisoo's idea to remove the glass divider. pic.twitter.com/zpzsaU3QyK

— xxxjisoo (@jisoodominates) September 25, 2022