Kim Taehyung, aka V of BTS, recently returned to South Korea after his four-day trip to Paris, France, for a mystery project, and he received an enthusiastic welcome at Incheon International Airport.
[UCC] Kim Taehyung arrives to a crazy crowd of fans and reporters at Incheon International Airport ✈️ https://t.co/HkSUCPUUWX

— allkpop (@allkpop) November 20, 2022
After Taehyung departed Paris, a French K-pop media outlet by the name of "KPop in Paris" revealed they were offered information about Taehyung's private schedule for a price by a staff member from his entourage.
"Now that Taehyung left, we can speak," the post starts, and it says they were offered confidential information regarding the places he was going and the specific time for $350 by a staff member who was with him.
so someone who was part of taehyung's schedule in paris tried to sell his schedule for $350.. this is sick bighit need to do something about this cause this is getting out of hand https://t.co/8OhoHHmZ78

— dee the astronaut (@zonequal) November 20, 2022
I need and demand that @BIGHIT_MUSIC @HYBEOFFICIALtwt protect Taehyung, if this continues and you do nothing about it, you will be the only ones guilty and accomplices if something bad happens to him in the future. https://t.co/Mv7XXpq5TU

— Taehyung – Perú 🇵🇪 👨‍🍳🍜 (@thvperu) November 20, 2022
As Taehyung's label and parent company, both Big Hit Music and HYBE are responsible for his safety and security. The news that the people working with Taehyung are the ones endangering him is extremely disturbing.
ARMYs criticized HYBE because if the information fell into the wrong hands, Taehyung's safety could have been at serious risk. Some also noted how private information leaks by the staff may have occurred in the past but were only exposed now.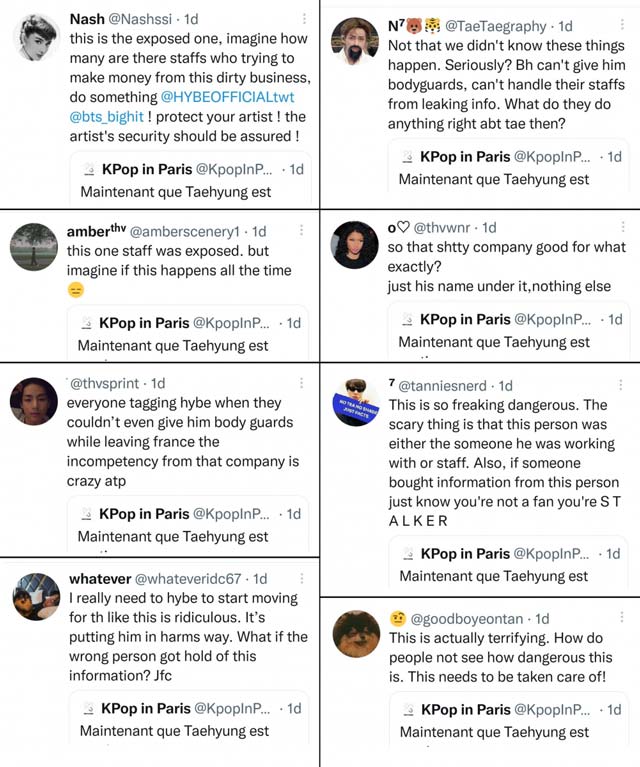 It is not the first time HYBE has received criticism for their actions.
Last October, The Korean Intellectual Property Office revealed that they have declined HYBE's attempt to trademark "Borahae," a term Taehyung created in 2016.
"Borahae" or "I Purple You" has become synonymous with BTS's brand and image, and HYBE tried to legally own the term without giving credit to its creator.
The story was covered by prominent media outlets, like Billboard and NME, who highlighted that the trademark should be filed under Taehyung, the rightful owner.
The Korean Intellectual Property Office suggested that BTS' V would be the rightful trademark owner as the person who came up with the phrase https://t.co/j5hwKDprwx

— NME (@NME) October 12, 2022
South Korea's Intellectual Property Office has blocked #BTS' label HYBE's attempt to trademark V's 'I Purple You' phrase. https://t.co/TFnolP5Kxt

— billboard (@billboard) October 13, 2022
As HYBE owes its global success to BTS, and as a member of the group, it is only fair that they treat Taehyung with respect, prioritize his welfare, and give him due credit for his work and contributions.