Have you ever wondered what Jungkook smells like? Well, wait no longer!
BTS's Jungkook recently gained attention after he performed at the World Cup opening ceremony and released his song "Dreamers." Throughout his time in Qatar, the idol gained attention for his visuals and talent.
Yet, it also seems like those who worked with Jungkook don't have enough kind words to say about the idol.
In October, Jungkook went to Qatar to film the music video, and lucky ARMYs shared pictures from the shooting.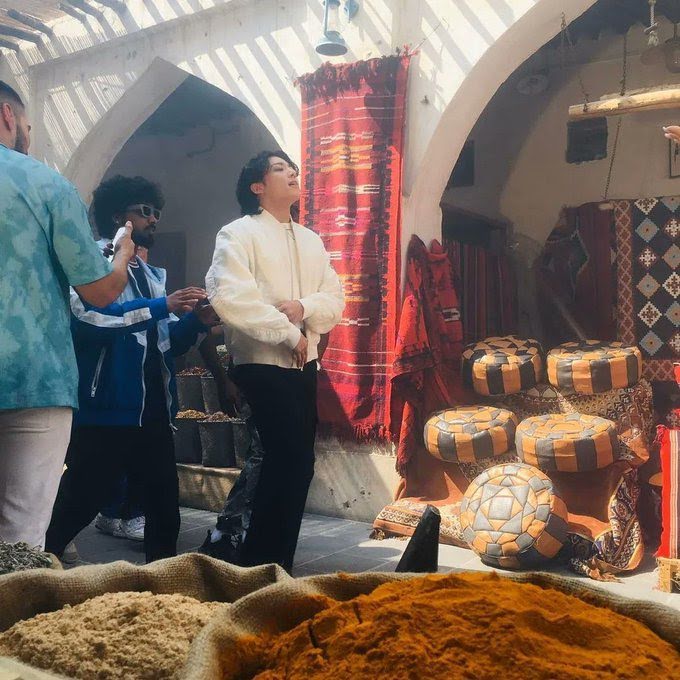 BTS in Qatar in October | @jkcavi/Twitter
Of course, the video itself was flawless, and netizens loved seeing Jungkook shine.
Recently, a dancer who was involved in the music video shared his experiences working with the idol.
In the interview, Filipino dancer Allen Charles Saguion had nothing but kind words to say about the idol. From the very first day of shooting, Jungkook made sure to interact with everyone around him.
I still remember the first time I saw him on the first day of shoot. Everyone on set was excited. We were ready to do the first rehearsal and then he walked in with his team. I looked at him straight in the eye and he was smiling. He greeted every dancer on set.

— Allen Charles Saguion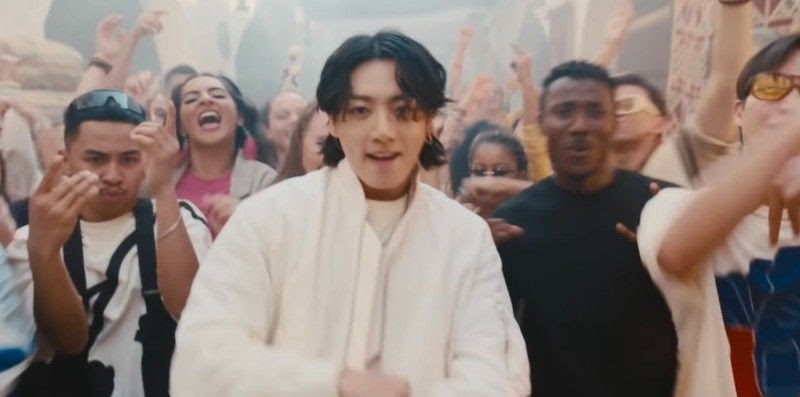 The dancer then revealed that it was more than just a smile that they appreciated. Saguion explained that he would always come and interact with the dancers, making sure they were okay and ensuring they didn't feel ignored.
He always says thank you. He spoke Korean and sometimes English. Jungkook was always checking on us to see if everyone was okay or tired. He was bowing every time we finished a take. He was super kind. He never ignored us.

— Allen Charles Saguion
Although Jungkook is one of BTS's vocalists, the backing dancer couldn't stop praising the idol's dancing.
There was a part where he danced with two of us. Simple footwork, but his dancing skills were amazing. Like he literally owned it. It was such an experience working with Jungkook.

— Allen Charles Saguion

Jungkook has always been praised for his dancing, impressing at the opening ceremony | BANGTANTV/YouTube

Of course, although many people have shared about Jungkook's personality and talent, Saguion also gave ARMYs some TMI about the idol's visuals… and smell!

Unsurprisingly, the dancer had nothing but praise, using contrasting adjectives to perfectly describe the idol.

The first time I saw Jungkook, I noticed how tall he is. He's like 6ft tall. Jungkook's face was like a baby's. I remember his scent was the most memorable scent in my entire life. Like, I still remember every time I watch the music video. His perfume was like a manly smell with a mix of baby scent.

— Allen Charles Saguion
It isn't surprising that a lot of people have preconceptions about idols and celebrities, yet Jungkook proved this wrong as Saguion couldn't stop praising the group. He even revealed that it made him listen to BTS and that he listened to every song and watched every video.
I never really knew until I worked with Jungkook, like, he changed something in me because I always thought that big artists like him would ignore people or snub us just because they are really famous. But Jungkook made me change that thought because he showed us love and kindness with simple gesture and words. He was different.
— Allen Charles Saguion
As always, Jungkook proved that, despite his global fame, the idol is still humble and makes sure to treat everyone equally.
You can read more about people that worked with Jungkook in Qatar who can't stop praising him below.