The statement was released on Telegram.
Recently, photos have been released alleging that BTS's V and BLACKPINK's Jennie are a couple. They have all been "leaked" by a Twitter and Telegram user known as Gurumi Haribo (@gurumiharibo).
At the end of September, BIGHIT MUSIC made a statement regarding the violation of the artists' rights. Although it made no reference to Gurumi Haribo, many believed it was on the topic, although the user refuted it, adding they hadn't received any notice.
We have recently filed additional criminal complaints against postings with personal attacks and defamation using new information provided by fans as well as collected through our monitoring initiatives.
We have found multiple defamation postings containing false information about the artists on platforms in and outside of Korea.
We also have found that a specific poster has been spreading the same ill-intentioned rumor in multiple platforms and filed a criminal complaint against the poster after gathering all of the repetitively uploaded postings.
— BIGHIT MUSIC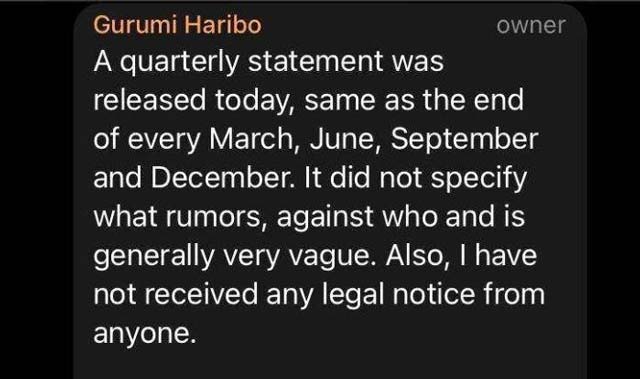 At the start of October, YG Entertainment also released a statement but this time directly taking legal action against the individual who originally spread Jennie's personal photographs.
Recently, Gurumi Haribo released a new statement answering questions that had allegedly been asked by members of the group chat. In the statement, the user explained that they had not been arrested or contacted by either HYBE or YG regarding the issues.
The user then explained the state of the rumors in Korea and the consensus towards them. Gurumi Haribo then explained that they would not be posting any more pictures of the duo until the police investigation is done, adding that the last update from the duo was alleged during the recent 2022 Video Music Awards.
Although Gurumi Haribo has had their Twitter suspended, they are still communicating through their Telegram.
You can read more about Gurumi Haribo's response to BIGHIT MUSIC's statement below.