In the K-Pop world, despite all the "obvious" competition between artists, the reality is that idols love to interact with each other.
Netizens love nothing more than when idols show that they are just normal people who like to be friendly with everyone in the industry.
One female idol who seems to be loved by everyone in the K-pop industry is literally solo artist IU.
Whether it's a senior or a junior, IU has a way of making everyone feel comfortable and constantly amazes netizens with her demeanor and charisma.
It was exactly the same when she attended the 2022 Golden Disc Awards.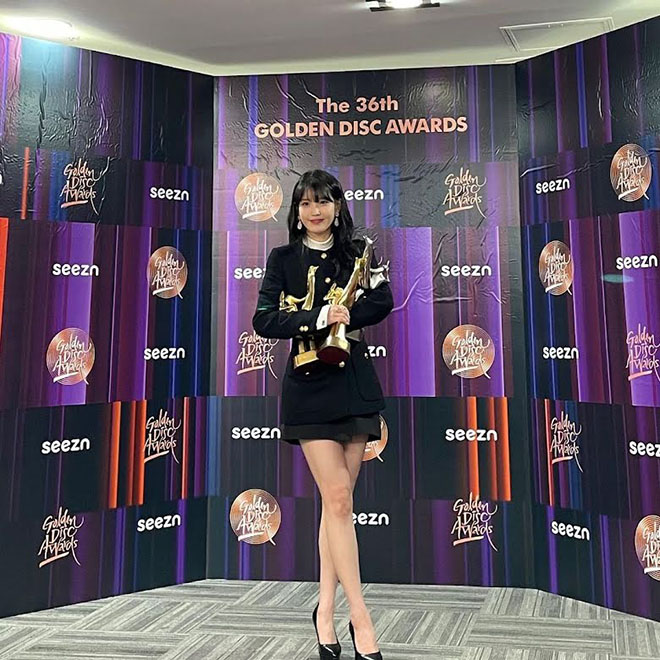 Recently, IU posted several behind-the-scenes clips from the event, from her preparation, to winning an award, and even an explanation of the so-called "mistake".
However, there was one moment in particular that caught the attention of netizens, which was the indirect interaction with none other than BTS.
At one point in the video, IU waits backstage before accepting the award, thinking about what to say for her speech.
And the group that received the award before she spoke was none other than BTS. The guy who gained attention is V after writing a wonderful poem with the word "Daesang".
This part of the speech can be heard in IU's video, and just like the netizens who watched it all over the world, she couldn't understand the poem enough and started laughing adorably.
V's poem inspired IU to make her own phonics for the word "Daesang".
Although IU was worried that she couldn't do it, she definitely proved that she is good at everything.
Of course, when the tweet was shared online, fans couldn't help but wonder at the fact that they saw the extremely cute interaction between IU and BTS so early in 2022.

In particular, considering that they are K-Pop's "golden" artists, this interaction becomes even cuter.
Obviously, this isn't the first time fans have fallen in love with the two artists' interactions.
From IU's song Eight , produced and featuring Suga…
Or Jungkook's adorable reaction when sitting next to IU at an awards ceremony…
Even though it wasn't a face-to-face interaction, it was still adorable and hopefully netizens will get to see a lot more from the two amazing and talented artists in the future.
Watch video: