BTS as a group have recently been named as members of the Business of Fashion (BoF) community, Class of 2023, for the different feats they have achieved in fashion. Jimin was specially recognized as having individually achieved this status much earlier, showing his power in the fashion world.
Business of Fashion (BoF) is the definitive professional index of a select few individuals from all over the world, who are considered to be shapers of the multi-trillion dollar global fashion industry (currently valued at between $1.7 trillion to $2.5 trillion), and thus getting a nod from this community is a very big deal for anyone.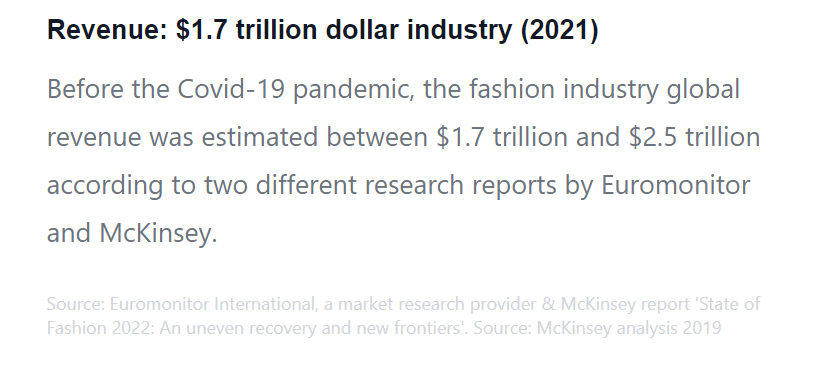 Jimin was recognized as one of the world's top fashionable stars as he made it to the Business of Fashion 500 Class of 2019.

"#BoF500 is the definitive professional index of people shaping the $2.4 trillion fashion industry."#FashionIconJiminpic.twitter.com/eAyLci1TiB

— Jimin Global (@JiminGlobal) October 15, 2021
Jimin's tremendous impact can be felt not just in the music industry which is his main field of profession, but also in the fashion world, having been recognized years ago by powerful individuals in fashion. The elusive recognition from the close knit and exclusive fashion elites has highly been fueled by his incredible ability to blend different styles to create his own unique look.
Moreover, the looks he creates become even more eye-catching when he wears them, given his god-like visuals with the body of a supermodel. His perfect body proportions make everything he wears look appealing to anyone, and often times his fans end up selling out any clothing items and accessories that he is seen wearing during his many airport sightings. This is why he made a name for himself early on, for his impeccable taste and creativity in clothing and accessorizing.
On Oct 7, BTS officially became members of the BoF Class of 2023. This news was published on the BoF website [read here] and in the introductory piece of the group, Jimin was specially highlighted and mentioned as having been considered a style icon earlier than most, earning him a BoF 500 status since 2019. In this publication for the BoF Class of 2019, Jimin was listed both as a 'Model & Muse' and an icon shaping the global fashion industry.
Jimin is the only BTS member, and only 3rd generation idol who is a member of BoF, and second Korean individual overall after G-Dragon.
Jimin was given a special mention in BTS' inclusion in the Business of Fashion (BoF) Class of 2023!

"Jimin was considered a style icon earlier than most, earning him BoF 500 status since 2019"🔥

The fashion industry has always adored Jimin, with good reason!

FASHION ICON JIMIN pic.twitter.com/kVzFm7ZA6j

— JIMIN DATA (@PJM_data) October 7, 2023
Jimin was given a special mention when bts was introduced Among the "Top 500 Leading the Global Fashion Industry" in BoF 500

Jimin was considered a style icon earlier than most, earning him BoF 500 status since 2019 🔥 pic.twitter.com/SVqdU1q35b

— JIMIN MR | DAY3 (@JIMIN_Morocco) October 7, 2023

Presently, Jimin is a Global Brand Ambassador for the biggest French luxury fashion brand, Dior, and a Global House Ambassador for Tiffany & Co. luxury jewelry brand, and has significantly promoted the brands' value with each public appearance for the brands.
The House is thrilled to unveil our new global ambassador, JIMIN from @BTS_BigHit! Pictured here in a colorful look from #DiorSummer23, the singer is now lending his image to creations from Artistic Director of Dior men's collections, Kim Jones. pic.twitter.com/tV3uuczfwd

— Dior (@Dior) January 16, 2023
Introducing our newest House ambassador, Jimin of BTS. The 21st century pop icon wears #TiffanyLock. #TiffanyAndCo #BTS #Jimin pic.twitter.com/VGxRMsOBR6

— Tiffany & Co. (@TiffanyAndCo) March 2, 2023
Fun fact

Dior topped Luxe Digital's annual ranking for the first time (!) in 2023 and one of the reason is collaboration with visual idols and the most influential Dior ambassador is Jimin

Jimin is also the only member of BTS whose impact is recognized by BoF since 2019 pic.twitter.com/yPzLl0JrYb

— Nightshade (@Night110815) October 9, 2023
Jimin's two posts for Dior created $17 million in EMV, accounting for 54% of the brand's total EMV during Paris Men's Fashion Week.

The global ambassador was the top performing influencer during the fashion week. pic.twitter.com/Hvl089XlGE

— Pop Base (@PopBase) January 30, 2023
In the past, yet another luxury brand, Yves Saint Laurent, had actually contacted one of his fan-sites to ask if they could use one of his images for promotions at their Paris headquarters and in Asia region. Additionally, GQ Magazine once selected him among the Top 10 best dressed male celebrities of the week!
jimin wearing Saint Laurent reminds me of the time when he wore a YSL jacket once and they contacted a fansite to ask for permission to hang his picture in their Paris headquarters pic.twitter.com/SHVHIS5sJD

— leo (@itboypop) June 14, 2022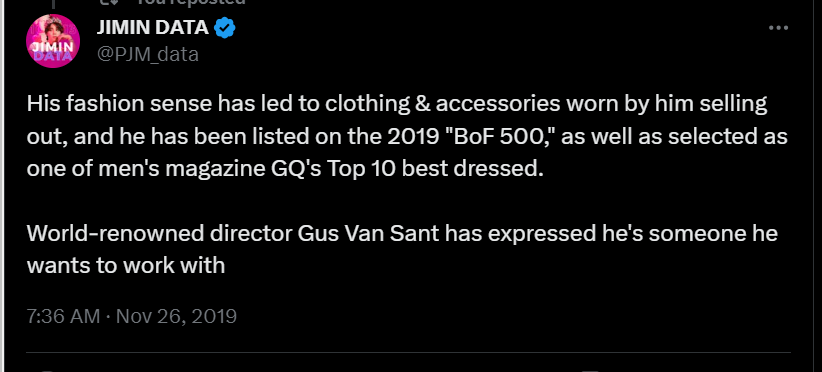 With these and many other examples, it is easy to see Jimin's unparalleled influence in the fashion world, particularly in luxury for the attention he commands among different top luxury fashion brands, and why he individually made it as a member of BoF so early on.
Fans couldn't be more proud of their idol!