Jin of BTS drew attention with his lovely side-tied hairstyle at the Permission To Dance On S
At first, when Jin pulled his hair into a bun, most fans thought it was simply another adorable gift he gave ARMY.
However, after posing his hand, then book your 2 new fans realize Jin was "incarnation" of dolls Younghee iconic in popular drama Squid Game ( Games squid ).
Jin even reenacted the red and green light scenes in the movie and even sang the tune "mugunghwa kkochi pieosseumnida" perfectly. Immediately after
Not only that, but Jin also uploaded on Weverse a photo of himself wearing a Younghee doll's hairstyle and pose, along with the caption, "Mugunghwa kkochi pieosseumnida".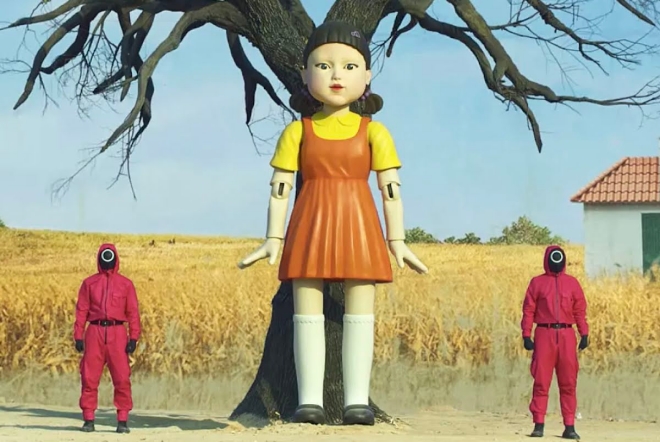 Recently, Squid Game has caused a "fever" around the world when it quickly became one of the movies with the most successful debut on Netflix.
The cast and crew of Squid Game also recently revealed that they are fans of the boys BTS. Through Jin's incarnation, it seems that BTS also has a special affection for the movie as well as the cast and crew of Squid Game !
https://twitter.com/BRILLER__613/status/1465196741485948930?ref_src=twsrc%5Etfw%7Ctwcamp%5Etweetembed%7Ctwterm%5E1465196741485948930%7Ctwgr%5E%7Ctwcon%5Es1_&ref_url=https%3A%2F%2Fwww.koreaboo.com%2Fnews%2Fbts-jin-squid-game-reference-permission-dance-onstage-younghee%2F