Netizens are engaged in a heated debate over a moment between BTS's V and his manager, caught on camera on the idol's way to his recent radio schedule.
According to the footage, V is seen arriving at the MBC building for his schedule as a special DJ on a radio program. The idol waves to fans as he heads to a spot in front of the press, meaning to pose for the cameras before heading in.
However, his manager follows him and stops him, and the two seemingly converse about V's intention to pose for the press. Ultimately, V lightly pushes the manager away and quickly lowers his mask so that the press can take his photo.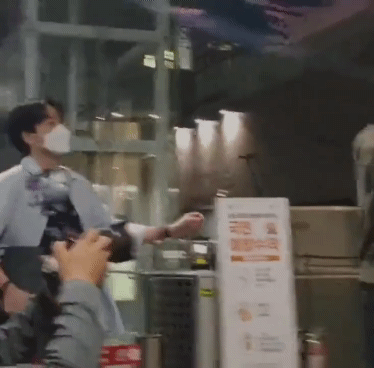 So what's the buzz about?
On one hand, some fans felt that the manager acted "rudely" and "out of hand", when V was simply trying to follow the conventions of such schedules, which often include posing in front of the media reporters to signal his attendance.
These netizens argued that the manager seemed to be pressuring V about time, but ultimately took up more of V's time just by standing in between the idol and the press. Some commented included,
"What is that manager doing? Most celebrities pose for the press before these kinds of schedules. The reporters wait there for a long time so they can take those photos. If V hadn't stopped to pose for them, then the antis would have attacked him for being 'rude' again."
"What kind of manager stands in the way of their artist when he's trying to pose for press…"
"Who is that manager anyway? He doesn't look like V's usual manager."
"Yeah the time that it took for V to say cheese for the press, 1 second. The time that the manager wasted standing in front of V, 20 seconds lol."
"Whoever that manager is, he doesn't know how to do his job. If there isn't enough time for press photos, the manager should have contacted the reporters well in advance."
"The reporters were begging V to come pose for the photo, so V was just doing as they asked."
"This is the first time in my life that I've seen a manager stalk up to the press photo zone to confront an artist."
On the other hand, some netizens wrote comments like,
"He arrived 15 minutes before the life radio started… isn't that cutting it a little too close?"
"He's just doing whatever he wants, he doesn't have any interest in listening to his manager."
"Look at him pushing the manager away, but ARMYs are still shielding him saying that the manager is at fault."
"Even if he wanted to pose for the press, did he have to push his manager away like that?"
What do you think about the argument?