Twenty years ago, a young artist was faced with the realities of being an artist when she had to return home right after graduation from the National School of Fine Arts in Paris due to the IMF that hit South Korea in 1998.
She had to give up on becoming an artist in France and return home. For the next following ten years, she had to face constant difficulties as she was unable to become successful as an artist in Korea and was running out of money. During those times of difficulties, she even asked herself, "What is the point of living?"
That was when her eyes gazed upon the old houses in a poor hillside village in Korea. The tile roofs with sparsely missing corners, cracked cement walls, and the rusty gates… the artist explained that she felt like she empathized with these closely built shacks that were run down compared to the city's splendid buildings. At the same time, she said she felt cozy inside as they brought a nostalgic sentiment.
That is when she decided to paint these 'Daldongnae,' or the 'poor hillside villages.'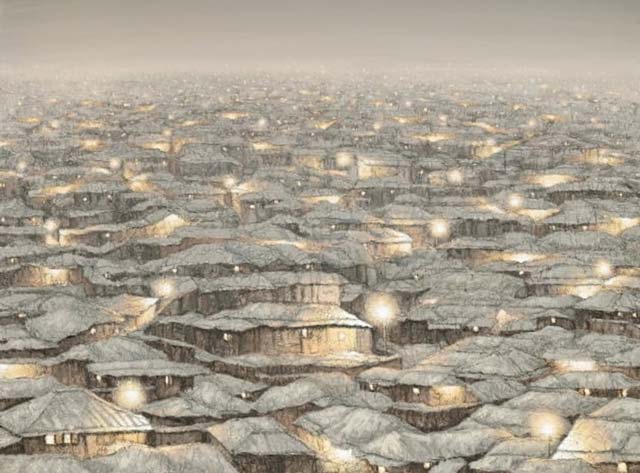 Artist Jung Young Joo held a solo exhibition at the Hakgojae in Sogyeok-dong, Seoul, on the 27th of last month. The exhibit was filled with 28 of her paintings of the 'Daldongnae,' and she is one of the most popular artists on the rise these days.
Back in 2020, artist Jung Young Joo gained much attention after the news that BTS's leader RM had purchased one of her paintings. All her paintings were sold out at the Art Basel in Hong Kong, one of the largest art fairs, last year in May.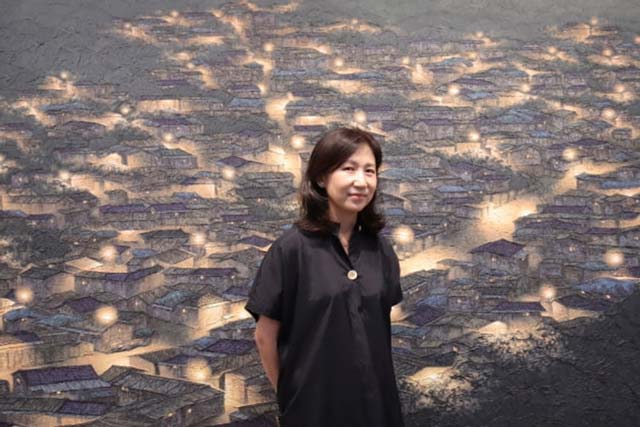 The artist explained that the 'Daldongnae' in her paintings is an imaginary space. Although she referred to the hillside villages in Busan, where she lived as a child, along with Sillim-dong and Bongcheon-dong in Seoul, most of the landscapes in her paintings are imagined.
If you take a closer look, the texture of the Hanji, Korean rice paper, can be clearly seen on the canvas. This is because the 'Papier collé' technique was used in which pieces of these Hanji were cut out and painted over on the canvas.
Artist Jung Young Joo explained she feels that she is creating another world as she builds a village by painting these small houses one by one and also receives comfort from creating her own world