The photos behind the rumors.
HYBE Labels and YG Entertainment have yet to address the latest dating rumors about their respective artists, BTS's V and BLACKPINK's Jennie, that have stemmed from new "leaked" photos. As such, fans have taken it upon themselves to investigate the evidence in the hopes of protecting V and Jennie and dispelling false rumors.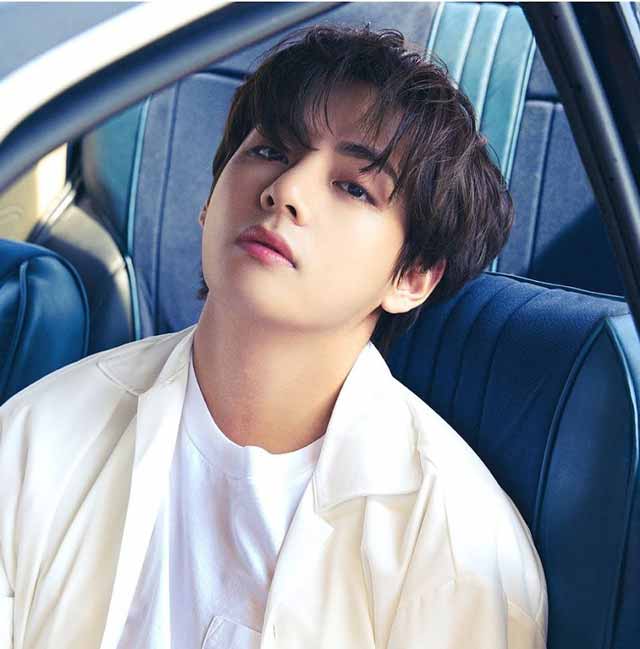 BTS's V | @bts_bighit/Twitter
At present, it is unclear if any of these photos are authentic, but ARMYs and BLINKs are both standing by the idols. Many are defending Jennie and V's right to live freely, while encouraging everyone to support the stars, no matter the rumors' outcome.
BLACKPINK's Jennie | DAZED
1. Jeju Island
Speculation about V and Jennie's rumored relationship began in December of 2021, after V accidentally followed Jennie's Instagram account. The first leaked "dating photo," however, did not surface until May of 2022. At the time, several Korean media outlets reported that the stars had spent time together on Jeju Island, a popular vacation destination for couples, friends, family, and tourists.
An alleged photo of Jennie and V | @dailyfashion_news/Instagram
This is a photo that was sent in today. It might be they're lookalikes, but it is allegedly a photo of two top idols. The female idol, in particular, has been rumored to have broken up with an OG idol member. So fans seem to be more receptive to this photo as true. We won't name any names as we are not able to fact-check the photo.

— Instagram Account @dailyfashion_news
While waiting for an official statement, fans closely studied the car photo for editing flaws and scoured the internet for photos that could have been doctored. ARMYs pointed out the similarity between the car photo and a scene with V and J-Hope from BTS's vacation reality series, BTS In the SOOP.
This is real photo v and j h o p e !!

Stop saying jennie because the photo is edit pic.twitter.com/45dSxCrv6X

— el studying (@123_ilymanoban) May 22, 2022
BLINKs, on the other hand, pointed out that the woman in the photo is wearing Jennie's GENTLE MONSTER sunglasses, but her hair color did not match the color Jennie had at the time she was visiting Jeju.
Xem bài viết này trên Instagram
In response to the photo, YG Entertainment released the following statement:
We have nothing to say.
— YG Entertainment
2. Backstage Mirror Selfie
This week, the first of three new photos of the alleged couple went viral online. In it, a woman who appears to be Jennie snaps a photo of V as a stylist curls his hair.
Alleged photo of Jennie and V
Unlike with the Jeju Island photo, fans could not immediately find existing shots of V and Jennie that disproved the "edited" photo's authenticity. Some fans suspected that the mirror selfie was a real dating photo that had been stolen from Jennie's photo, while others believe the photo could have combined two separate, privately taken photos to create a single "lovestagram" shot. Since fans wouldn't have access to the original photos, any photo manipulation would be difficult to prove.
As some netizens have pointed out, however, Jennie and V were both in Los Angeles at the same time, wearing the accessories seen in the photo.
Clothes and accessories "evidence"
Clothes and accessories "evidence"
3. V's Apartment
The second new "dating photo" of V and Jennie was posted online by user @gurumiharibo, the same person who released the mirror selfie. It shows Jennie and V dressed in matching clothes in the hallway of V's apartment.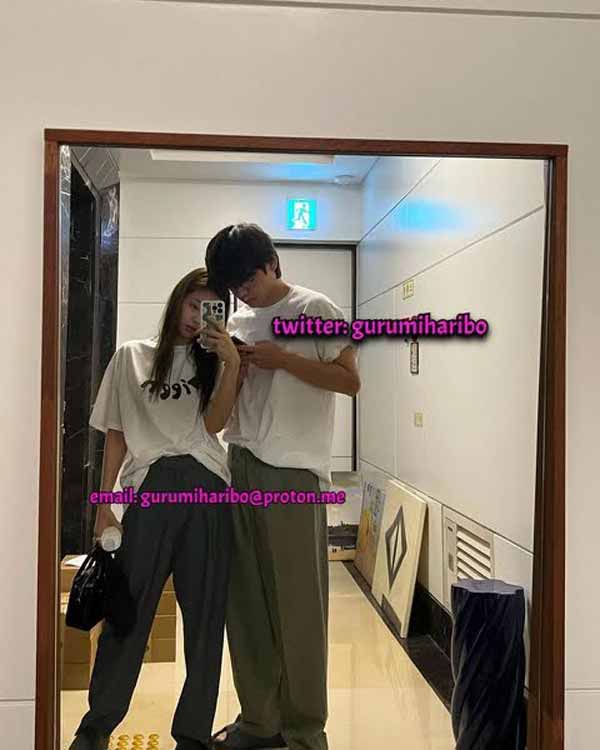 The apartment does appear to be the same one V posted a photo of on Instagram. Once again, fans have struggled to locate the original photo(s), but that does not necessarily mean this photo is 100% authentic.
In a detailed thread, Twitter user Neon claims that the photos' original poster (OP) edited the images to turn a profit. To get to the bottom of the situation, Neon approached the OP via email as a potential customer. They offered to pay the OP to edit two celebrities together; the OP was interested in accepting the job in exchange for a three-figure sum.
⚠️ THREAD : THE DARK TRUTH ABOUT GURUMIHARIBO ⚠️
I send them an email saying I was looking for an edit to create a new scandal. I also let them know that if I was wrong about them, they should just ignore my email. However they replied asking which members I wanted to involve AND

— Neon (@Neon86342259) August 24, 2022
If the photos are fake, it's a sophisticated job that could have involved the use of real, private photos or editing V and Jennie's heads onto strangers' bodies. Even the most skilled photo editors can, however, make errors. Some netizens have zeroed in on editing blunders that they say should discredit the photos.
I would like to point out that the harsh white edges and lines usually point to photo editing js. https://t.co/nweEmw12ky pic.twitter.com/CBtJioqq4r

— Liz (@mystic_mochi7) August 24, 2022
Fans say that the OP has since admitted to doctoring the mirror selfie and apartment selfie.
lol finally the truth came out

Taehyung and Jennie dragged into dating rumors from photos that were edited …..this user admitted that it was the same one who edited them for a friend of his but apparently the taennies shipers believed it was real 🥺 (+) #FREETAEHYUNG pic.twitter.com/7I18NG9MZH

— Wbearthy 🍰 (@KimMoon94254106) August 25, 2022
4. Jennie's Balloon
Earlier this week, Jennie shared a photo of gifts she received from Hera Beauty, including balloons. Before posting, Jennie edited out the background, masking her location.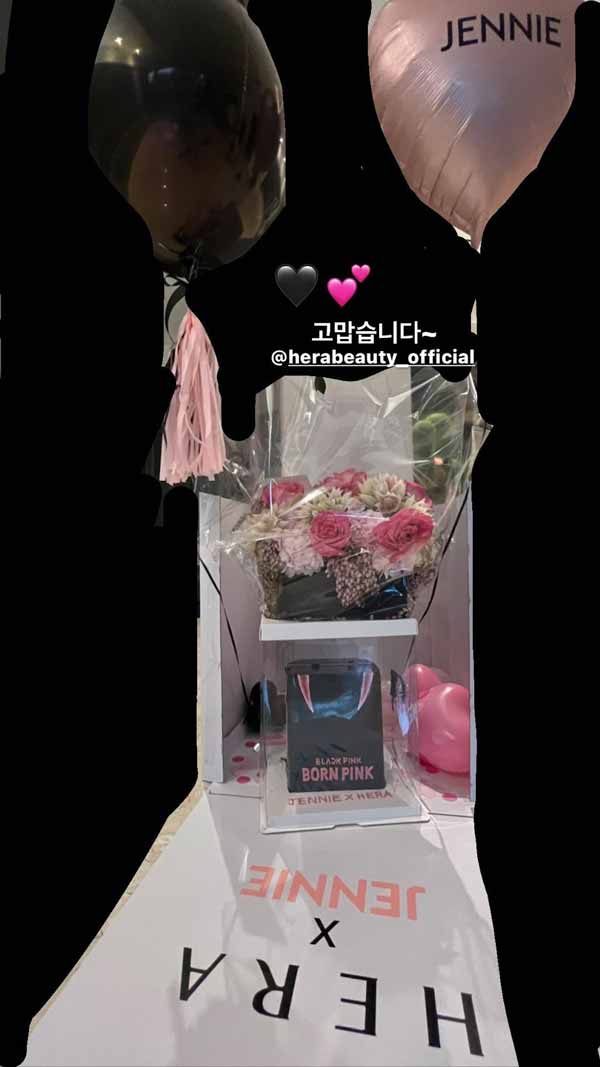 The original photo on Jennie's Instagram story
The balloon on the left reflected what some netizens believe could be V's apartment.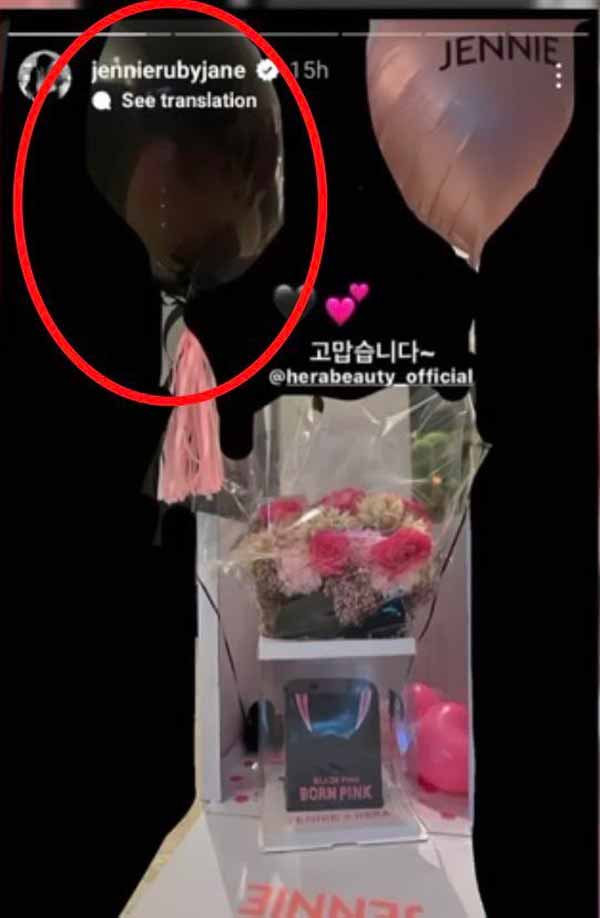 Photo posted on Jennie's Instagram story with balloon circled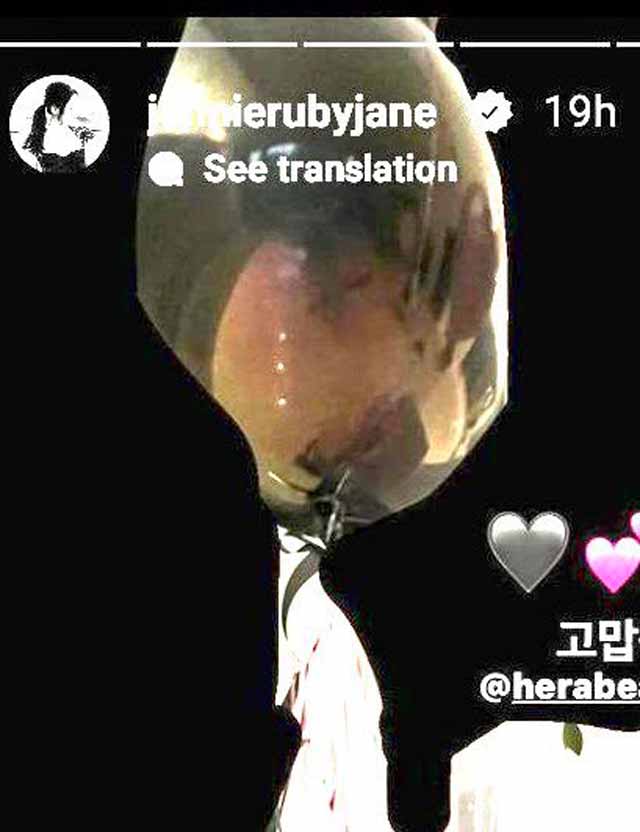 Close-up of the balloon's reflection
Since then, fan-detectives have compared details from the reflection to V's apartment, but nothing about Jennie's location or her decision to erase it has been confirmed.
Alleged evidence of V's apartment in the balloon's reflection
Alleged evidence of V's apartment in the balloon's reflection