During 8 years of artistic activities, BTS members often wear women's costumes, accessories and jewelry.
For many K-pop artists, fashion has no gender gap. Many outfits have long been assumed to be for women, but are always chosen by famous male idols.
BTS has made many public appearances with feminine outfits but still received sobbing praise from the public.
Here are the times when BTS wearing women's clothes is still praised.
1 V
V is a member who often tries out girlish concepts (themes). On the MAMA stage, he used to wear a striking red tweed jacket from the luxury brand Chanel.
The male idol also wore a Tetys jacket of the fashion house IRO.
2. Jimin
At the 2020 Golden Disc Awards, Jimin caused a stir when he appeared with a luxurious appearance, true to the top idols in kimchi. He wore a striking Chanel tweed. It is known that this shirt has a retail price of 7,870 USD.
Another very feminine crop top tweed was also transformed by Jimin into a very attractive jacket.
3. J-Hope
J-Hope also loves the models of women's coats when appearing on stage. The black jacket with the highlight of the pink border was very well coordinated by the guy with the hat of the same tone.
Luxury jackets from Chanel also caught J-Hope's "blue eyes". He teamed this dreamy purple other shirt with light jeans and active sneakers. This tweed is priced at over $10,000.
The Chanel jacket model is also worn by J-Hope with the main black tone set.
4. Suga
Suga chooses a bright white cardboard jacket. This chic design is loved by many girls.
5. RM
RM once caused a "fever" when wearing a cardigan with houndstooth motifs, which is specially made for women.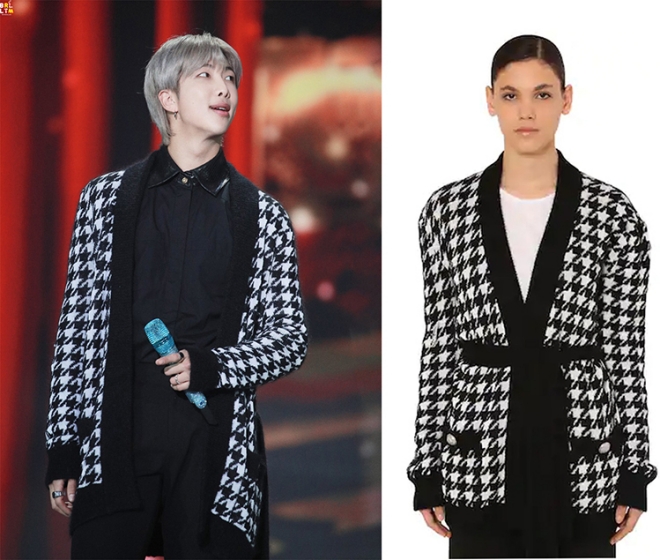 6. Jin
The eldest Jin also wore an IRO tweed jacket. ARMYs couldn't help but praise him in this outfit.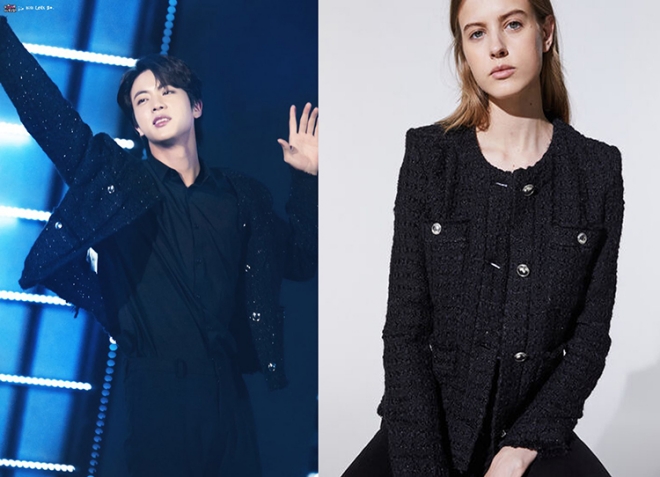 7. Jungkook
The youngest Jungkook used to wear a sweater designed for women by fashion brand Unravel.
It is known that this sweater has a retail price of 221 USD.