Millions of ARMYs around the world have fallen in love with V through online photos. However, in real life…
This person shared his feelings on Weverse and received great attention:
"This video cannot express the beauty of V. In my life, I have never seen anyone with such a high nose. His nose is as high as Mount Everest. Anyone who climbs on that nose will have hypothermia, suffocation and death. Why is there such a beautiful person?" – this employee exclaims.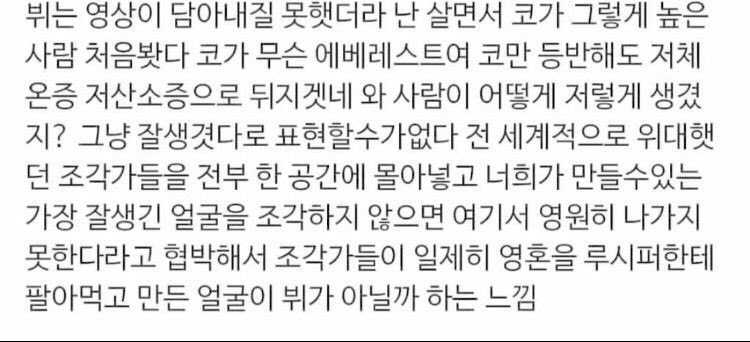 "Saying you are handsome is not enough. It was as if the world's best sculptors had gathered to make the world's most beautiful face and didn't leave until they did. Like these sculptors who sold their souls to Lucifer to create the face of V."
Well said!
ARMYs who have been ecstatic at the image of V online can have a little idea of ​​what he looks like in real life:
– Looking at the picture makes me want to die. If you see something like this in real life, you'll probably faint.
-V's beauty makes men who see it even sigh. What to eat that is so beautiful I don't know!
– Everyone knows that V is beautiful since he was a child, but it's clear that over time, he's become more and more beautiful. That's the beauty of serious labor there!
Even if I climb up and die, I will pray once…
– Face V is the blessing of humanity. That face has the ability to erase all anger, hatred, depression. Undoubtedly the most handsome man in the world. Proud to be an ARMY!
– Get well soon, TaeTae. We need to see your face!
Looking at handsome men prolongs their age. ARMYs just look at V with confidence!