BTS's Q&A "Balance Game" provided detailed information about their workplace habits but also showed Jin, Suga, RM, J-Hope, Jimin, V and how Jungkook is similar and different.
Can you guess which member V matches the most based on their answers?
1. Work-life balance
A) Late to work, late home.
B) Go to work early, come home early.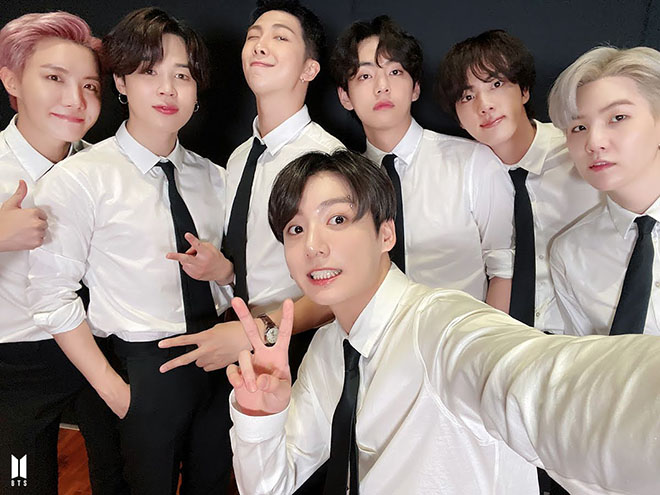 For this question, V, Suga, RM, and Jimin all chose A. Why wake up early if sleeping is an option?
2. Lunch menu
A) Easy Selection! Company cafeteria.
B) On that day you again want to eat from a nearby restaurant.
Some members prefer to dine on-site while others prefer to dine out. V, Jungkook, Jin, and J-Hope all chose B.
3. Priority seats?
A) If you want to enjoy the great view and sunny spot, choose a window seat.
B) If you have to move to go to the toilet, choose an aisle seat.
V, Jungkook, Jin, and Jimin chose B because they're always on the go.
4. Having a pile of work to do, your choice?
A) Get work done today even if it's late.
B) Leave it out as long as I can.
Who are the procrastinators of BTS? V, Suga and RM.
5. If there is a chance to go on a business trip abroad
A) Take the next trip, work in the office.
B) Travel means opportunity. Dynamic with international business trip.
Traveling is fun but most of the BTS guys prefer to work in the office. V, Jungkook, Jin, Suga, and Jimin all chose A.
6. It's finally time to get paid
A) Put most of it into savings.
B) Buy everything.
V is not a wasteful spender of his income. Jungkook, Jin, Suga or Jimin too.
7. If the company requires uniforms
A) Uniform means no more worrying about what to wear.
B) Choose your own clothes to match your own style.
It is not surprising that fashion king V chose B for this question. Jungkook, RM, J-Hope, and Jimin don't want to wear uniforms either.
What is the final score? Jin (4), Suga (3), RM (2), J-Hope (2), Jimin (5) and Jungkook (5).
Based on these answers, at work, V is the best fit for his maknae group – Jimin and Jungkook.