Having just debuted as a solo artist, BTS' youngest member Jungkook immediately achieved unprecedented records.
The pop-ballad single Stay Alive is under Jungkook's name as the OST on the animation site 7Fates: CHAKHO. Since before its release, the #StayAliveIsComing card has dominated the Top 3 global trends.
The top trending Melon also did not escape dominance when Stay Alive ranked No.1 and Jungkook ranked No.2.
As soon as Stay Alive was posted on Jungkook's Spotify, ARMY went crazy, taking #StayAliveCHAKHO to No.1 world trend, and staying in place for 6 hours.
Jungkook and Stay Alive are receiving a lot of warm love around the world. Fans, nonfans, media, music and television platforms… can't stop praising Jungkook's voice. He is setting and breaking many records on charts both in Korea and internationally.
Jungkook just became the first and fastest Asian solo artist to hit an All-Kill in the Top 8 of the biggest music markets with Stay Alive on the day of its release, staying in place for 6 hours. Also in 6 hours, the song also reached No.1 iTunes in more than 70 countries.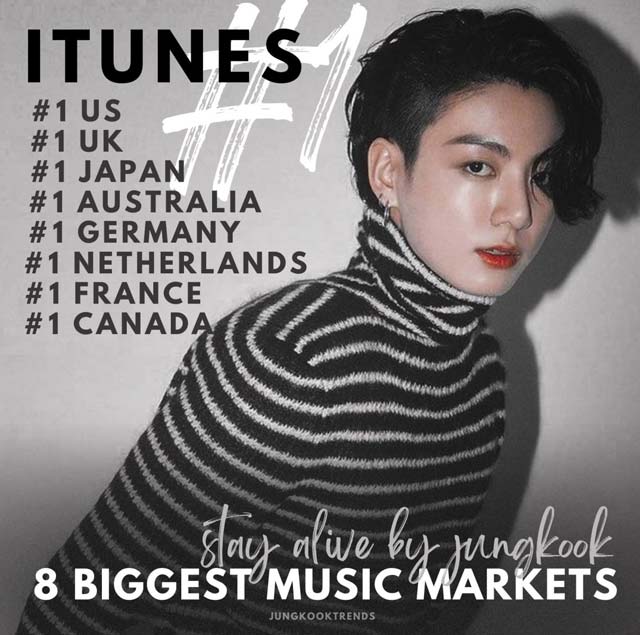 Netizens don't know how to compliment Jungkook enough:
– I stream songs all day at work and make my colleagues addicted to them, racing to stream together. It was a wonderful day. Rockstar Jungkook step up!
– Jungkook possesses a lot of emotions in his voice. Like a symphony orchestra. One of the most beautiful and satisfying vocalists in the world. It is not surprising that he is praised by both critics and non-fans alike.
– A person's voice can say a lot about the path they have taken. It's amazing how Jungkook can sing so loudly at such a young age.
Let's review the "teasing" of Stay Alive :