BTS's V (Kim Taehyung) has now surpassed boy band EXO and has become the 7th most followed K-pop account on Spotify – one of the largest streaming platforms in the world.
V has established himself as a successful solo artist and achieved many records with only 3 Korean drama OSTs associated with his name, which are Christmas Tree, Sweet Night and It's Definitely You.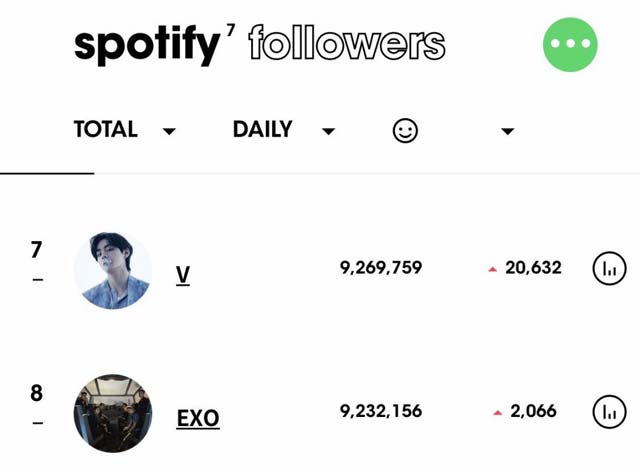 V is currently the only K-pop artist in the Top 10 Most Followed Accounts without an album or mixtape released.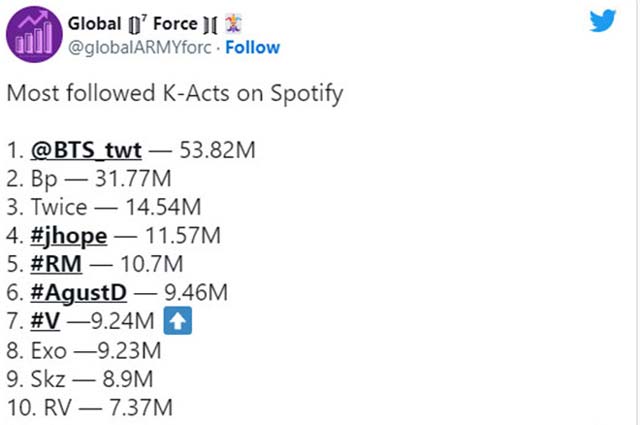 He appeared in the Top 10 with 3 rappers from his group, J-Hope, RM and Suga.
Since his personal musical taste is so different from that of the group, critics and fans are predicting the direction he will take for his solo debut album.
Since V wrote and produced BTS' most successful B-side Blue & Gray , everyone is eagerly anticipating to see his much-improved songwriting and production skills on his upcoming album.