The social media influence of Kim Taehyung or V of BTS is admirable!
Recently, Korean media compared V's brand value using SPEAKRJ – a social network review blog in India, specializing in analyzing, optimizing and tracking the growth of network accounts. society.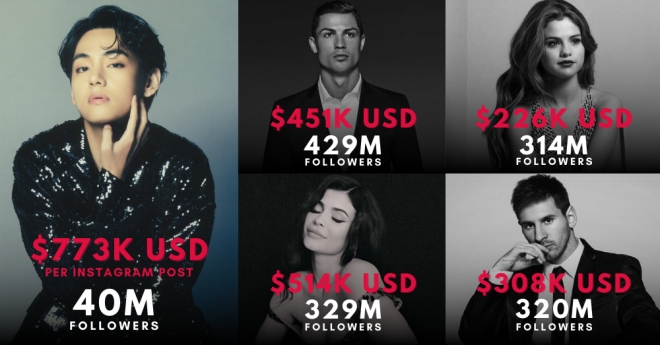 According to the algorithm used by SPEAKRJ, the cost of sponsored posts on V's Instagram account is estimated at $773,000 per post.
$773,000 per post is not only the highest amount among BTS members as well as K-pop idols, but also the highest among celebrities in the world!
V's post is more valuable than global stars like Cristiano Ronaldo ($451,000), Kylie Jenner ($514 thousand), Selena Gomez ($226,000), Kendall Jenner ($362,000), Zendaya ($528 thousand). USD) and Leo Messi (308 thousand USD).
In addition, V also has the highest engagement and likes per post rate. The male idol of BTS has a high engagement rate of 32%, with an average of 12.9 million likes per post.