BTS member Kim Taehyung, aka V, has appeared in many year-end lists of best moments of 2022, proving his explosive popularity and the massive impact he brings to events.
In VOGUE's article, "The Year in Review: Fashion's Biggest Moments of 2022," Taehyung's appearance at Hedi Slimane's Spring 2023 show for Celine was highlighted.
Taehyung only attended the show as Hedi's personal guest, but he drew in a never-before-seen crowd that stunned the fashion world. French media reported that it was the first time they'd seen a crowd that huge at a fashion event.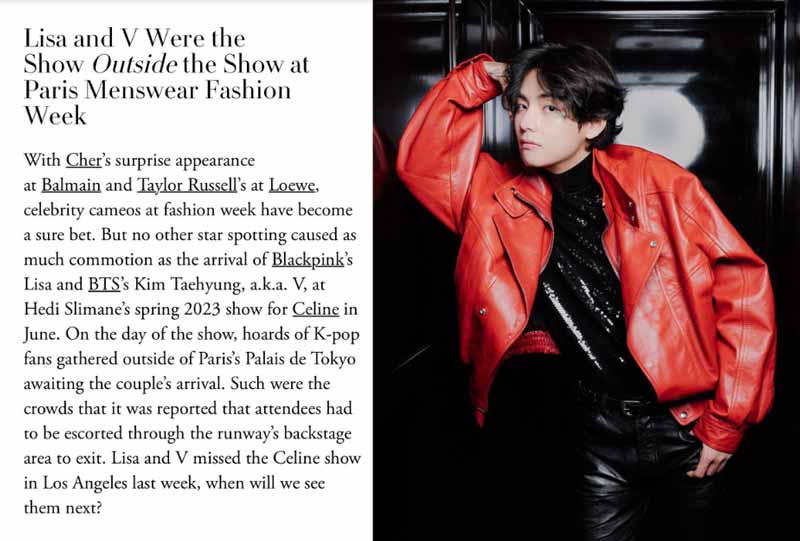 Genius Korea wrote about Taehyung's scene-stealing appearance at the Celine show and his record-breaking 'Vogue Korea' covers as being among the "Best K-Pop Fashion Moments of 2022."
In The Impression's "2022 Fashion Report," Taehyung was the only male artist selected as one of "THE BANKABLES."
Taehyung is considered celebrity royalty for his ability to generate buzz and impressive rates of earned media, his strong engagement with fashion brands, and his ability to capture the elusive attention of Gen Z.
BTS' Kim Taehyung is the only male artist in the list of most bankable and influential stars of 2022 by The Impression. 🔥 pic.twitter.com/Z8il3AidIU

— Spin or Bin Music (@spinorbinmusic) December 18, 2022
Another standout moment of 2022 was at the GRAMMYs when BTS performed their hit song "Butter." Taehyung was named the main character of the night after his performance and interactions with numerous celebrities went viral.
Both MTV and the BBC selected Taehyung and Olivia Rodrigo's interaction as one of the "Best Pop Culture Moments of 2022" and one of the "Five Stand-Out Moments." In particular, it was the scene where Taehyung transforms into a spy and 'seduces' Olivia as part of the skit for their performance in "Butter."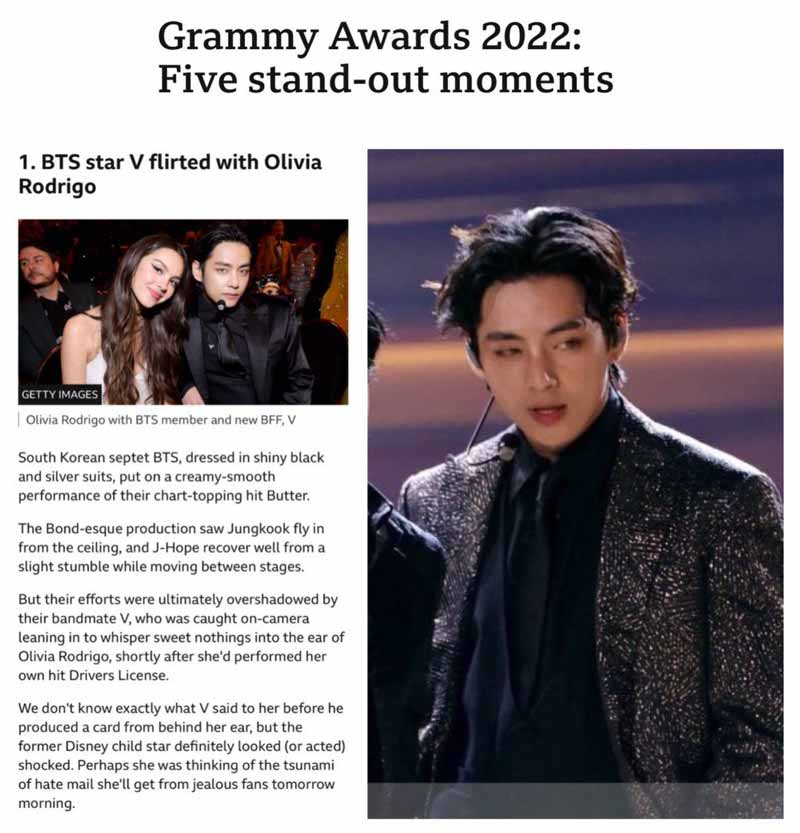 Meanwhile the official account of the Recording Academy highlighted Taehyung's meeting with Lady Gaga as one of the "Hottest Moments" from the 2022 GRAMMYs.
Taehyung's stunning visuals, natural charisma, and immense talent always make him the main event wherever he goes, and we can't wait for the surprises he has in store for us in 2023.