It's no secret that BTS's V loves using Weverse to interact with fans.
While V has also tried using Instagram Q&A as a way to engage with fans, which may have been inspired by Jungkook's recent entertaining Instagram Stories, V certainly feel more comfortable using Weverse.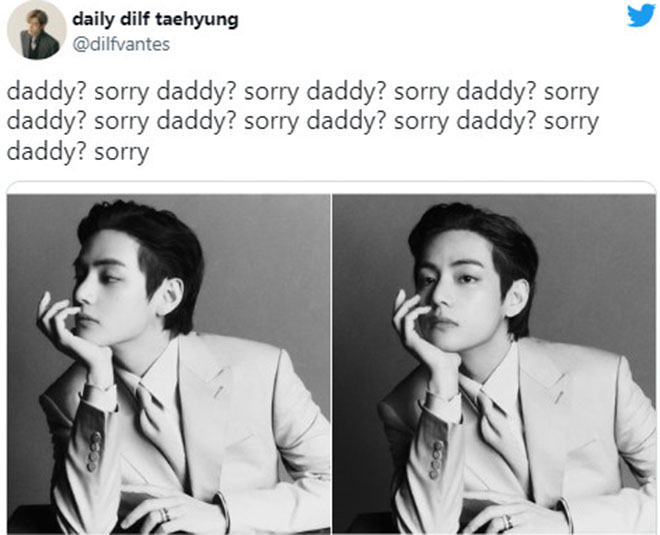 In an interview with GQ, V revealed how much it means to him using Weverse to communicate with fans.
"I haven't been able to spend a lot of time on this lately but I'm so hungry, so much so that I need it to feel like I'm alive and breathing.
I can't see the fans, but I miss them so much. I want to be with them and that's the only way I can spend time with them." – V.
So, when V was active on Weverse, fans took the opportunity to try chatting with the idol.
And with Jungkook's recent flirtatious replies to ARMY's many comments…
Not surprisingly, a fan also tried to flirt with V on Weverse.
One fan was particularly bold with their comment, referring to the "sorry dad" meme. Memes are often used to express someone's attractiveness
And while it's not uncommon to see this meme being used among fans…
But even fans were surprised when someone told V directly like that.
However, the meme seems to have been lost in translation as the original comment was exactly: "Dad? Excuse me, did you say dad? Excuse me, did you say dad? Sorry sorry, did you say Taehyung's father?"
And so, V's response to the comment is really adorable as he may not have understood the intended meaning.
V focused on his desire to be a father, replying "Wow, Taehyung dad.. I can't imagine it. I really hope my future son or daughter is someone cooler than me."
And fans, of course, find V's sentimental answer both humorous with the context…
And very emotional.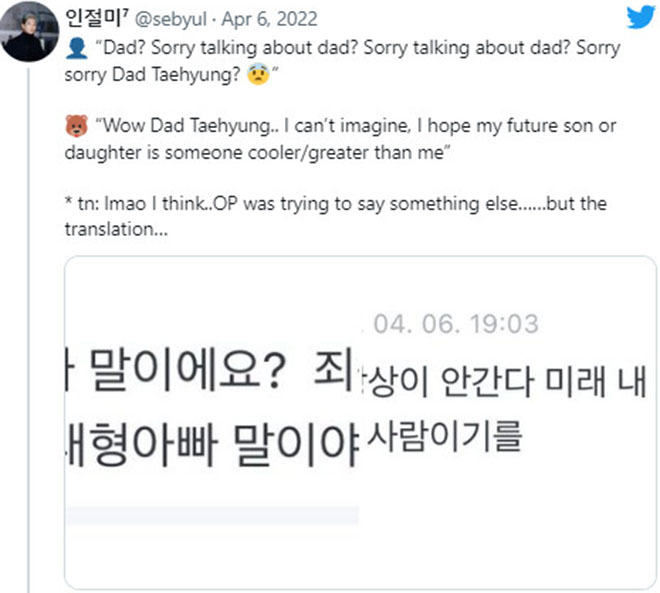 But in the end, fans can agree that they hope V never knows what the fans really mean.