After this information, there are many Jungkook wives, Jimin's wives, etc. to visit HYBE!
Have you ever had an embarrassing moment because of Kpop? Rest assured, you are not alone!
BTS fans have tons of entertaining stories to tell. One of them happens at HYBE INSIGHT – a museum that celebrates the history and music of the artist HYBE.
The thing is, an ARMY recently visited the museum and left an unforgettable impression on the HYBE INSIGHT staff.
"I went to HYBE INSIGHT today but didn't know they would put a nickname on the ticket" – this girl said bitterly. "So I wrote Namjoon's Wife""!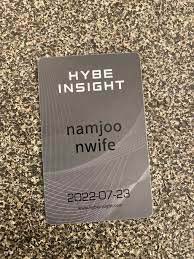 She didn't know that, for a moment, all eyes were on her when she heard that "RM's wife" appeared!
"Girl calling out my name: Um, this is for Namjoon's wife? Oh my god, that's a shame," the girl continued.
The funniest part? Turns out this is not the first wife to visit the museum. An employee reassured her: "It's okay! We met many of Namjoon's wives."
It would have been more fun if a series of BTS wives clashed here! Is there a husband robbery like online?