Many BTS fans are wondering why this group has only one Daesang at the Melon Music Awards 2021 (MMA 2021) despite their explosive achievements in the past year?
On December 4, the Melon Music Awards 2021 (MMA 2021) took place online and was broadcast live on 1theK's YouTube channel as well as on a number of streaming platforms in other countries.
Melon's award ceremony is usually less controversial because it is only based on user data, Korean fan votes, expert scores, etc. In other words, this award clearly reflects musical achievements. number of artists and tastes of domestic music listeners when voting on important categories for international fans is not open.
However, this is a rare year that MMA ends but causes some controversy, especially with the Daesang categories. The reason for this is because BTS – the group that is considered to have had such an explosive year – can only have one Daesang with the fact that 'Butter' won 'Song of the Year' (Song of the Year). ).
It is for this reason that many have wondered why BTS has lost the remaining 3 Daesangs, including 'Album of the Year', 'Record of the Year' (Record of the Year). year) and 'Artist of the Year'. Does the BTC only award the criteria they have set, or is it because BTS did not attend in person, so they also have the right to 'improvise'?
BTS sends a speech to receive Daesang 'Song Of The Year'
Album Of The Year: IU – 'Lilac'
Award criteria: 60% digital + 20% judges + 20% votes
This is the award that BTS still has a nomination for with the album 'BE' released in 2020, but it is still valid because it is counted in the tracking time. However, for MMA, it is the digital music that counts, not the sales, so IU's victory is considered obvious.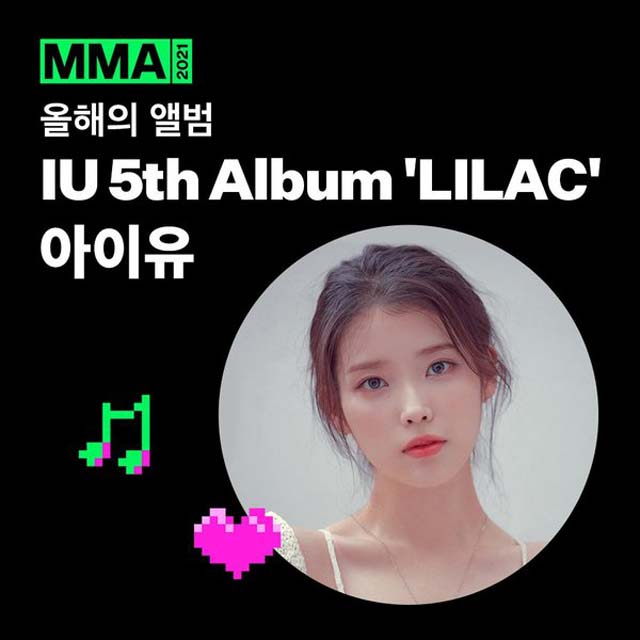 Artist Of The Year: IU
Award criteria: 60% digital + 20% judges + 20% votes (Selected from TOP 10 Bonsang)
This is one of the Daesangs that BTS fans are not really satisfied with. Many people think it is ironic that with BTS's impressive series of achievements in 2021, they were not honored as 'Artist of the Year'.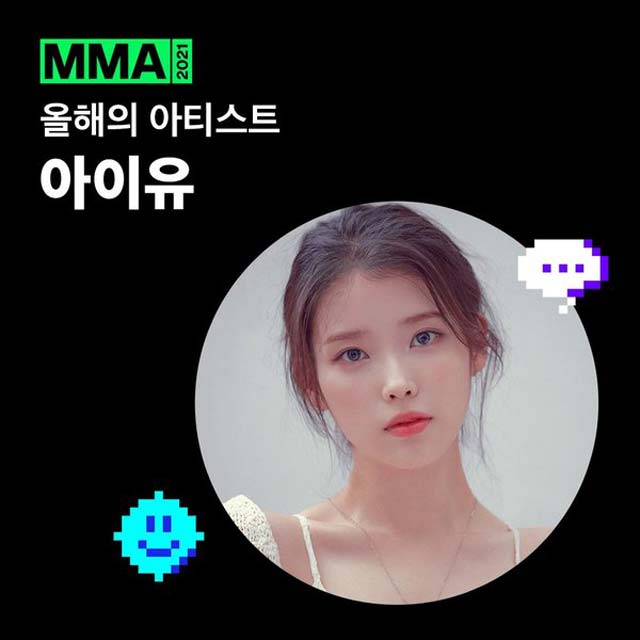 Some fans think that BTS deserves 'Artist of the Year'
However, the controversy over this Daesang soon subsided when the BTS fandom themselves explained to each other that IU completely deserved it.
The reason is that this award still counts Melon digital music achievement, and although BTS' 'Butter' has a very good record, it does not release many music products in Korea in 2021, and the achievement is still not equal to a series of other awards. IU's song.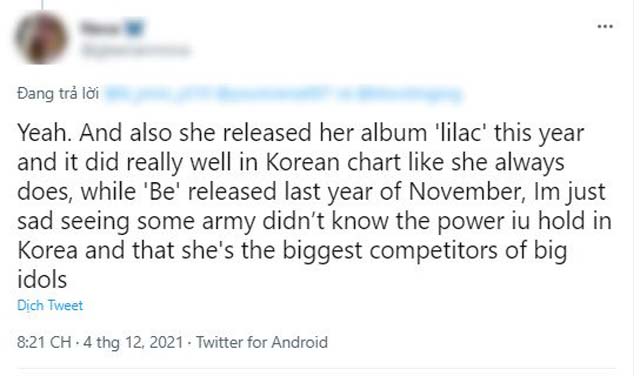 However, many BTS fans have explained that IU's daesang is completely justified because of her digital achievements on Melon
Record Of The Year: aespa – 'Next Level' and 'Savage'
Award Criteria: 100% expert reviewers, nominations are also not announced
This is the most controversial Daesang at this year's MMA 2021. Accordingly, unlike 'Song of the Year', 'Record of the Year' will be awarded to the team that makes the selected song successful, i.e. including the performing artist, composer, and producer involved. v…v… This year aespa won with the great success of 'Next Level' and 'Savage'.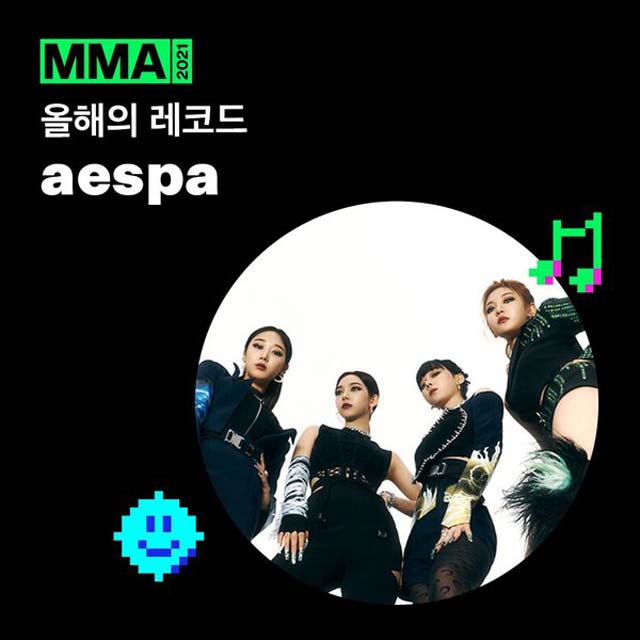 aespa received 'Record of the Year' award
However, many BTS fans felt that this was really a joke, and a way of discriminating against BTS when the group did not attend this year's awards ceremony.
They pointed out that of course 'Next Level' and 'Savage' were very successful for creating trends, but in terms of digital achievement the winning team had to be IU or BTS – with songs already having Perfect All-Kill. (PAK) hundreds of times. Meanwhile, 'Next Level' has no PAK on Melon and 'Savage' has only 4 PAK.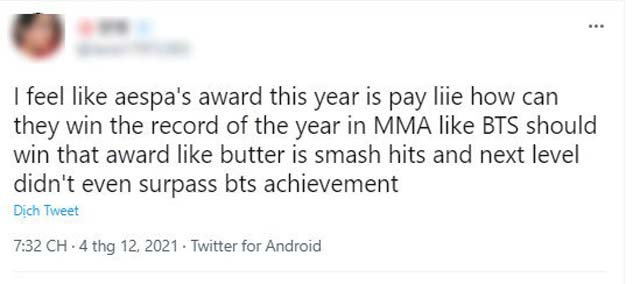 Many people wonder what is the criteria for awarding the 'Record of the Year' award that aespa can beat IU and BTS
aespa sent a video of his speech receiving the 'Record Of The Year' Daesang
Even if we consider the influence more broadly because this is an award with no clear criteria (selected by 100% of experts), BTS's 'Butter' deserves an award for entering Kpop history on the international stage. (Billboard Hot 100, AMAs 2021, with Grammy nominations) and did well in the domestic digital segment (257 times PAK on Melon).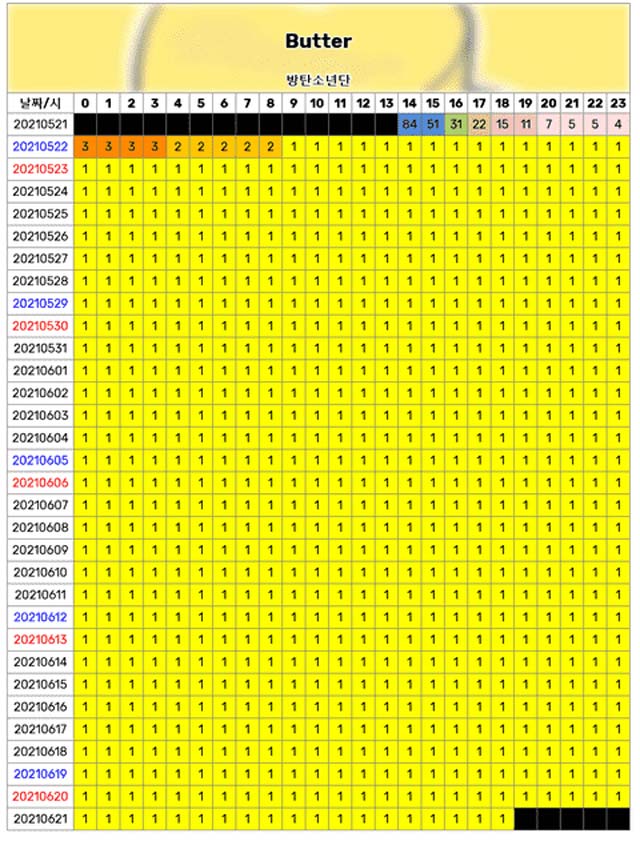 'Butter' tops Melon chart for 1 month despite being an English song
Besides, the sudden reappearance of 'Record of the Year' at this year's MMA is also a big question mark. Originally, Melon did not have this award, and it was only first introduced in 2018 with the first winner being Wanna One.
In 2019, BTS won this award and became the first K-pop artist in all-kill history to win 4 MMA Daesangs in just one night.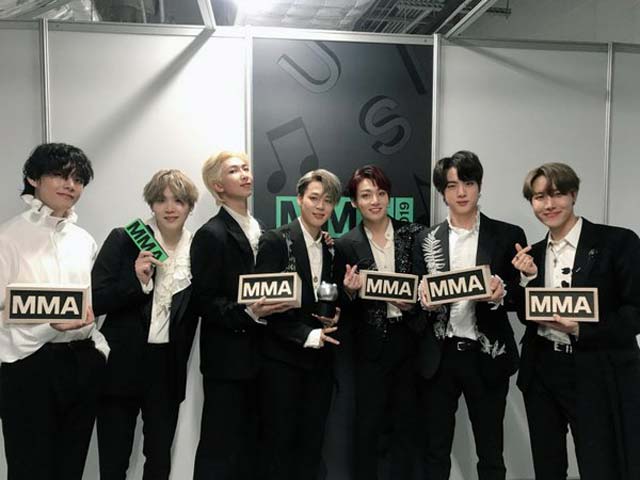 BTS used to All-kill Daesang MMA 2019
However, in 2020, when 'Dynamite' and BTS continue to cause shocks both domestically and globally, the 'Record of the Year' award has disappeared.
By 2021, this award will return to normal. Many BTS fans can't help but suspect that the MMA "cut" this award last year to avoid BTS getting too many Daesangs, and this year they re-appeared to help aespa and the SM team get the Daesang when the awards won't come back. The rest of this girl group can't compete with IU and BTS.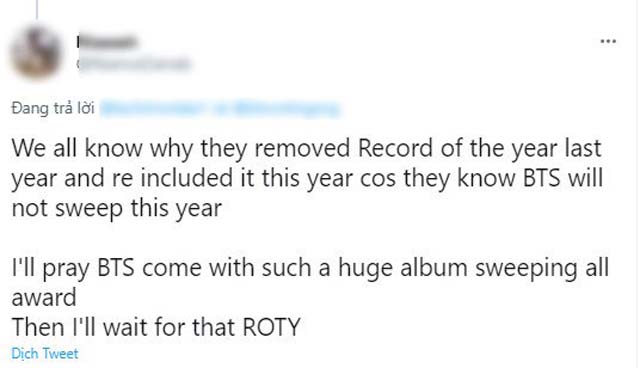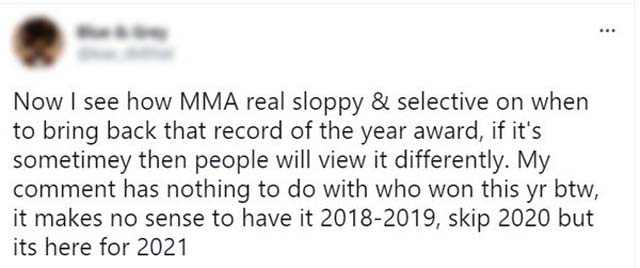 Many BTS fans wonder why 'Record of the Year' was cut in 2020 and then suddenly returned in 2021.
However, the awards were finally awarded, and the above controversies are just subjective opinions of different individuals. Many people hope that at the remaining awards ceremonies, the Daesang awards will not make people feel confused like at AAA 2021 and MMA 2021.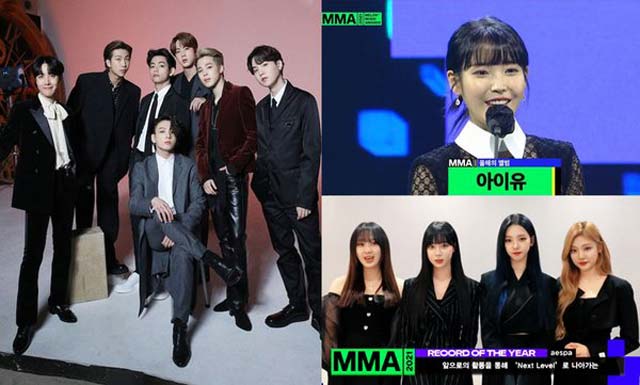 What do you think about the controversy surrounding BTS having only one Daesang at MMA 2021? Please share your opinion.