Being able  to perform live with the audience on the big stage made the member of boy group BTS "think like a dream"!
On November 28 (local time), boy group BTS held a global meeting before the Permission To Dance On Stage concert at SoFi Stadium in Los Angeles, California (USA).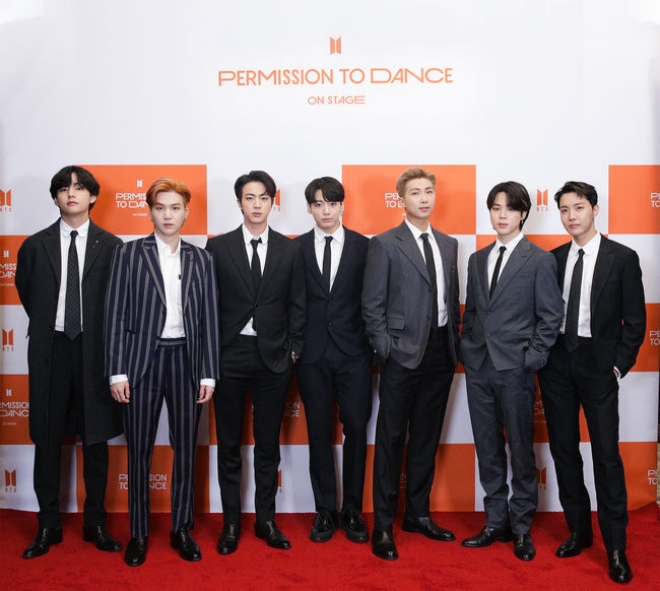 During the press conference, the oldest member Jin expressed, "This is the first time we hold an overseas press conference since Wembley Stadium, so I'm very nervous and excited. We hope. that with this concert, we will be able to hold more concerts with ARMY.After this concert, I have a desire to hold a concert in Korea so please look forward to our performances. ".
The youngest Jungkook added, "I thank you for having a meaningful time together. We have received a lot of love this year.
We have released songs that contain true feelings and difficult when the pandemic started, in return we have more strength because so many people love them. We will put all our energy into today's performance."
Meanwhile, leader RM shared, "I was very emotional after meeting with fans yesterday. We recently won Artist of the Year at the AMA and was nominated at the Grammy. Because So, it's been a meaningful year as an artist…
Doing this concert is the beginning of a new chapter. The past two years have been a difficult time for everyone, but we also wanted to show how BTS has grown over the past two years with this concert."
Suga emphasized, "I'm very excited to hold a concert for the first time, after 2 years since the Covid-19 pandemic raged. When performing yesterday, I thought, "Is this a dream? are not?".
"After standing on stage for the first time in a long time, we feel like we're back where we belong. I hope that next time everyone can get back to where they are. and start over," said Jimin.
"It's been a long time since we held an offline concert, and fans not only from the US but also from Korea have come to participate. So we hope that they can forget the feeling of fatigue. , bored and just having a good time" – J-Hope expressed.
Jin and RM responded at the press conference
V made many ARMYs happy by saying, "I came here with a lot of excitement and I want to give happy energy to ARMYs".