Among fans and Korean media, BTS' Jimin is known as a "concert king" with outstanding performances in every BTS concert.
Not to mention, Jimin is also known as the "viral king" because his fancams from concerts always go viral on different social media platforms with eye-catching and engaging performances that make fans happy. admire as much as his ethereal beauty.
Now fans are once again witnessing Jimin's "concert king" after BTS' Yet To Come performance in Busan (October 15), proving Jimin's impact as an idol. master of his craft.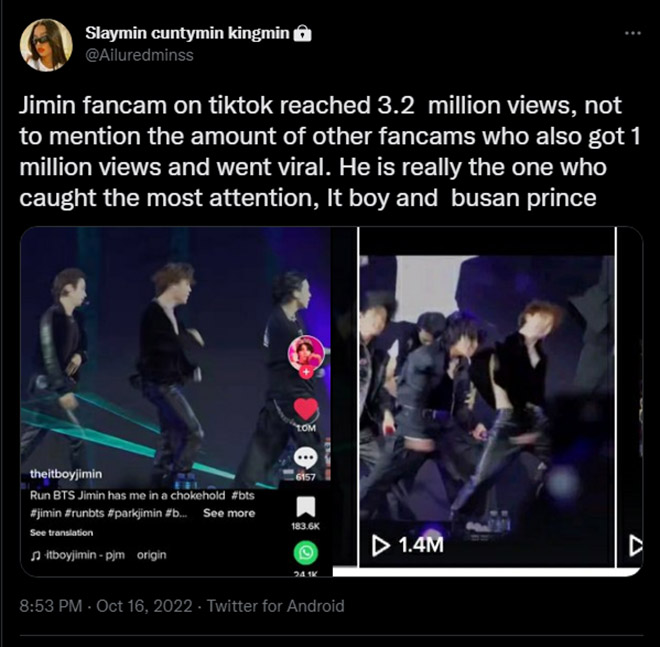 As previously reported, Jimin has captivated fans and netizens with his powerful yet graceful dance moves as well as his steady and flawless pitch even though he is performing an extremely choreographed choreography. strong.
Not forgetting that he appeared on stage with his sculpted beauty, glowing skin, and perfect body proportions.
Fans and netizens can't stop talking about Jimin in all aspects and he became the most talked about guy with the highest number of interactions on social media during the concert.
As the concert took place, fans posted video clips/fancams on various social media platforms.
Jimin's individual fancams showing off their seductive choreography, mesmerizing vocals, and striking beauty have all garnered a lot of attention, especially on Twitter and TikTok.
Within 24 hours of being uploaded on these platforms by various users, some of his fancams went viral, receiving millions of views, while others had hundreds of thousands. watch and like on both platforms.
The situation is the same on Twitter , with fans going wild over Jimin's performance and visuals.
Many people confessed that they couldn't stop watching Jimin's individual video clips over and over because they were so excited about his performances, especially the choreography of Run BTS – the group's first time performing.
Likewise, they marvel at Jimin's beauty and can't stop praising him.