He's kept it since 2013.
ARMYs watched as BTS boarded their flight on the way to meet with the United States President Joe Biden at the White House to discuss anti-Asian hate crimes, racial discrimination, and the importance of Asian representation and inclusion.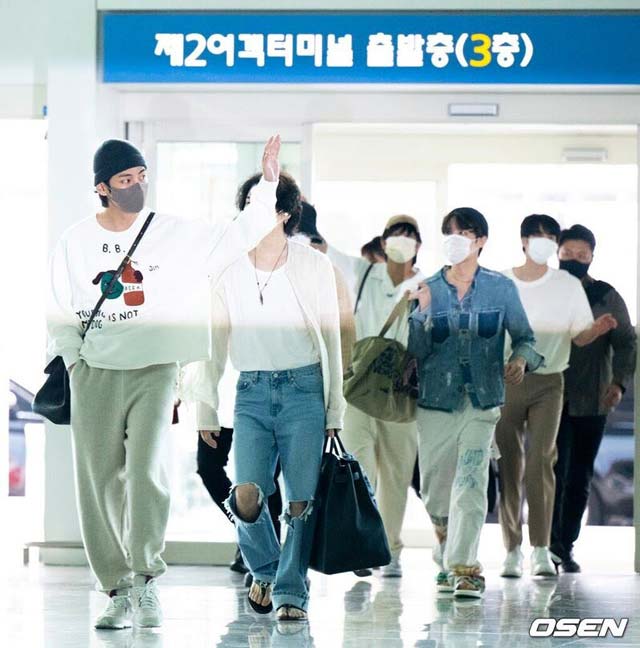 BTS's Jungkook took off a flight a day earlier than his fellow members. On the way to his flight, Jungkook caught fans' attention with his visuals and kind manners.
Fans also noticed that he was carrying a drumstick case, which has ARMYs hoping for the return of "drummer Jungkook."
When the rest of the group arrived at the airport the next day, fans spotted a touching detail among the photos of the six members. It was the necklace BTS's Suga was wearing.
Suga was wearing a Tibetan Dzi bead necklace. Dzi beads are believed to act as a protective amulet when worn. They are also said to attract positivity and bring good fortune while blocking negative energy.
Fans revealed that this necklace was gifted to Suga by his mom before he debuted. He's been spotted wearing it numerous times, and his mom told him that she hopes it makes all of his wishes come true.
K-armys are talking about the necklace yoongi is wearing, it's the same necklace that yoongi's mom gave to him and told him it would make all his wishes come true😭it's been along time since he wore it since debut days😭😭😭 pic.twitter.com/yC7Rj3Tpg1

— army forever bangtan forever 🍓🧸 (@bluesideIover) May 29, 2022
This is especially heartwarming, considering Suga has previously shared his parents weren't always supportive of his dreams.
As they head across the world to discuss Asian inclusion and representation and address anti-Asian hate crimes and discrimination at the White House, Suga made sure to bring a little comfort from home.