On January 6, the Yeoncheon Military Training Center, belonging to the ROK Army's 5th Division, revealed on-site photos of new recruits undergoing outdoor training sessions such as CBR (Chemical, Biological, Radiological and Nuclear) defense training, hand grenade training, and more.
BTS member Jin, currently receiving his basic training at the Yeoncheon Training Center, was also spotted in the photos. In one photo, a fellow soldier helps Jin wash his face off with water after CBR training. In another, the BTS member is captured from behind as he launches a hand grenade toward a target.
Meanwhile, Jin's expected discharge date from his mandatory military service is June 12, 2024.
#Jin's enlistment is #8 in the Top 10 News headliners in South Korea in 2022
Jin's enlistment became shocking news for many people. This topic was covered by well-respected media outlets, such as The Washington Post, BBC, The New York Times, and many more. CNN even sent a special reporter to the place of Jin's departure on December 13.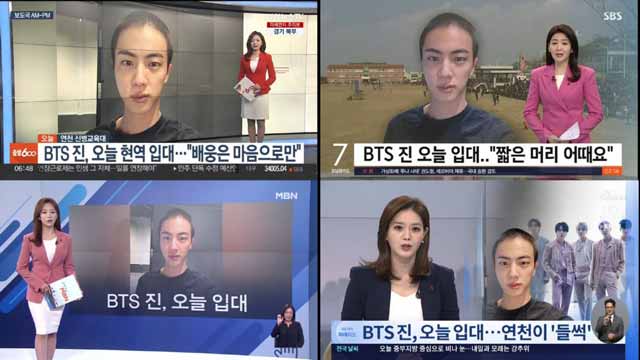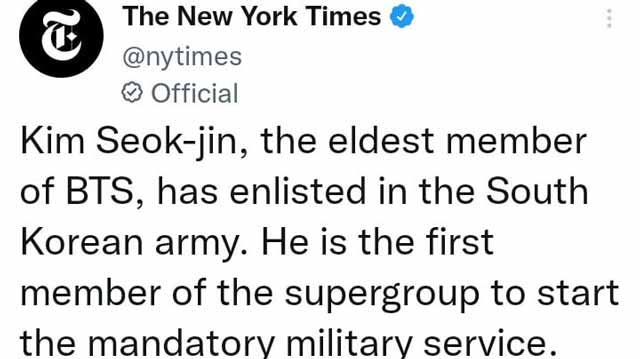 The Korean Government received backlash for not giving an exemption to BTS members. Jin's brave decision was praised not only on K-forums but also on Korean TV News. He received lots of support, love, and positive attention. Even now, thousands of K-netizens comment on how young, handsome, and manly Jin looks in the pictures from his camp.
In fact, I have never written about military news on my SNS till now. But news all over country was shocked by his brave decision. It's realtime breaking news in korea. I'll talk his influence is how incredible today.
Look at embarrassed faces of media!
WE WILL WAIT FOR YOU JIN — star_jin (@nightstar1201)
The news about Jin's enlistment was trending #1 on Naver, each article regarding him was easily getting over 100k views in a few hours. Some gained over 300k and 500k views. As a result, Jin's enlistment made it into the Top 10 News headliners in South Korea in 2022 (#8).
Here is the full list:
1. Halloween disaster (in Itaewon)
2. Inauguration of Yoon Suk-yeol
3. Suspicion of Daejang-dong
4. Complex economic crisis
5. Opening of the Space Age
6. World Cup
7. Coronavirus
8. BTS's Jin enlistment
9. Power of People party wins Local Elections
10. Stalking Murder
Jin's enlistment became urgent news in Korea, and everyone wished him all the best in the military.