How did they do it all without leaking spoilers?
BTS's performance at Grand Central Station on The Tonight Show with Jimmy Fallon is definitely one of the group's most impressive productions to date. Only 20 to 30 major shoots are accepted at Grand Central Station each year, making BTS one of the lucky few. But how did they manage to do it all without getting caught by the public and spoiling the song? Here are the three shooting secrets that made it all possible.
1. Shooting after hours
The first step to planning this special episode was choosing when to shoot it. The team at Metro-North Railroad decided a Saturday was best, since weekends are much quieter. Though BTS's performance was filmed on February 8, 2020, Metro-North Railroad revealed that the shoot has been in the works since December 2019.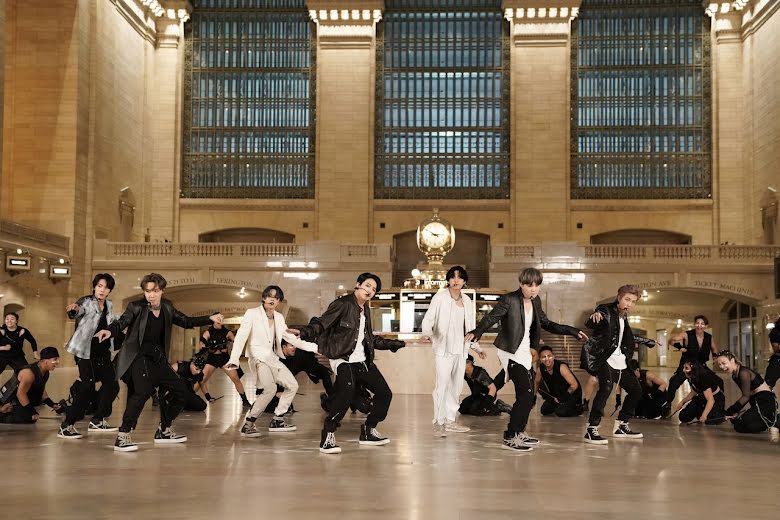 But more important than the date was the time. Given how many visitors pass through the station every day, it would be impossible to shoot a performance during regular hours without getting caught and disrupting everyone's travel plans. So, the crew didn't even begin setting up the shoot until 10PM.
2. Hiding the members
Of course, there are still travelers commuting through Grand Central Station at 10PM, since the train lines don't close until 2AM. So, the film crew needed to make sure they hid the members until the time was right.
While the crew began setting up the cameras at 10PM, dancers from THE LAB and the Blue Devils marching band rehearsed in various rooms at the terminal. The BTS members didn't arrive at the terminal until 12AM.
[🎥 IG​ Story​: bts.bighitofficial]​@BTS_twt X FALLON pic.twitter.com/4ZgR4JdEnU

— BTS Thailand (REST) (@BTS_Thailand) February 25, 2020
The members were kept hidden in areas not open to the public until the terminal officially closed. Then, at 2AM, BTS made their way to the main floor. The narrow window between the terminal closing and the cleaners arriving for the morning opening meant they had just two hours to get the shoot down perfectly. Lucky BTS are such professionals!
3. Using a special train
Then, there was the segment of The Tonight Show where Jimmy Fallon conducted a Q&A with BTS on a moving subway train. Filmed on the afternoon of Monday February 10, the shoot took 8 hours to complete. So, how did they manage to do it during operational hours without commuters getting on and blowing their cover?
They used a special subway car that's rented out solely for special events, including filming and training. During the shooting, two train drivers moved the car back and forth along a track between Bowery and Canal Street.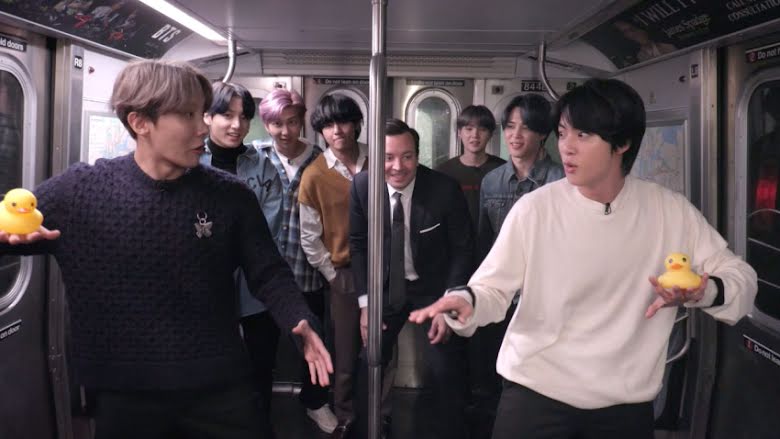 Relive the amazing performance again here!