He broke down why the Recording Academy has continually failed to recognize BTS.
Every year, hopes are raised and severely dropped as BTS continue to be included in the GRAMMYs but never awarded.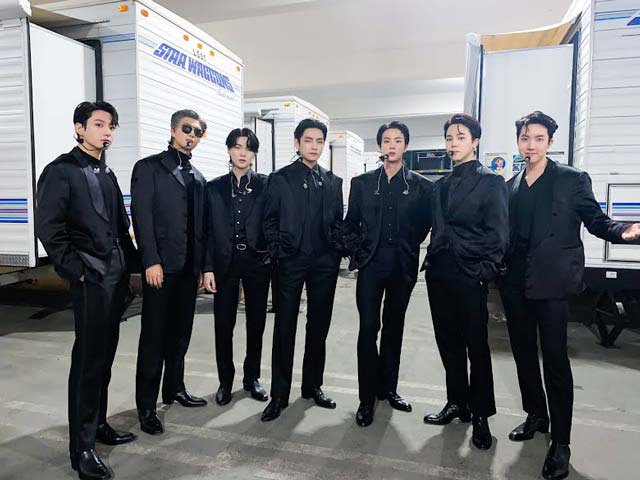 Recently, BTS delivered a truly phenomenal performance at The 2022 GRAMMYs (also called The 64th GRAMMY Awards). Yet, the group did not win their one nomination, and many felt BTS were snubbed once again by not receiving an award.
Both Suga and RM have addressed the controversy. And, now DFSB Kollective President Bernie Cho is speaking about it.
Following The 2022 GRAMMYs, Bernie Cho appeared on Arirang News Center for the K-ENTERTAINMENT&BEYOND news segment, and he broke down why the Recording Academy has continually failed to recognize BTS.
Bernie Cho explained that the GRAMMY Awards does not select winners based on music fans' choices like other award shows do. Rather, it is the music industry's insiders and influencers' voting.
We have to take a step back and understand and realize, and I … arguably respect, that the GRAMMY Awards is not a popularity contest for fans, listeners, or viewers. It's a popularity contest for the industry insiders.
— Berni Cho
While BTS has many fans, including within the music industry, there are still many, primarily in the Recording Academy, that may not be so aware of just what a talent BTS truly is. So, Bernie Cho reflected on BTS's previous appearances at the GRAMMY Awards.
And the reality is that over the years, from 2019 until just a few days ago, BTS has really never had a really proper first impression kind of showcase. In 2019, they were on stage briefly to give out an award. In 2020, they were on state briefly to cameo, collaborate, with Lil Nas X for 'Old Town Road,' and then last year, they had their first official performance, but that was actually pre-recorded from Seoul.
— Berni Cho
Cho believes that it was crucial that BTS have the opportunity to perform live in front of the industry insiders at the GRAMMYs in order to make a mark to be recognized in the future, and that they truly did.
The reality is that BTS is nice to look at on video but amazing to watch live, and when people were watching their performance live, I think it really floored a lot of people in the audiences, the people that are voting for the GRAMMYs, and in many ways, the Twitter just lit up in terms of impressions.
— Berni Cho
After BTS's performance at The 2022 GRAMMYs, everyone could not stop talking about it. It was talked about for long after too.
This was the first time I heard the term 'the jacket air guitar,' the move that they made where all the jackets were in sync, tied up, and then somehow unraveled… I'm still trying to do the slow motion to figure out how that worked.
— Berni Cho
While ARMYs have been well-aware of BTS's unfathomable abilities in performing live, many witnessed it for the first time that evening. So, those who are deciders in who wins finally saw BTS's unmatchable skills and energy firsthand.
But more importantly, when you talk about boy bands and live, there's always this assumption that they're lip-syncing. It was very obvious that they were doing this live to perfection, and one of the things that came out on Twitter was, 'These guys are super fit. How can they dance like that and sing like that and not break a sweat or be out of breath?'
— Berni Cho
Bernie Cho believes that BTS's "Butter" performance at The 2022 GRAMMYs was the powerful statement the group needed for the music industry to recognize them finally fully. No one could match BTS's performance.
So, I think they really made a powerful statement to the industry that these guys are for real. This is the reason why they're not just the biggest boy band in the world but the biggest band in the world, period. …It blew people away, and the next morning, the media has the BTS performance at the top of at the, very much near the top of hands-down best live performances, and that says a lot.
— Berni Cho
Still, there are a lot of biases BTS have to go up against in terms of winning a GRAMMY award. Bernie Cho mentioned two big ones.
The GRAMMY Awards historically and traditionally has not been so friendly to foreign acts. Definitely, there is a bias built against… Maybe towards boy bands.
— Berni Cho
Not only do American award shows have a bias against foreign acts, especially non-English, but there is also a huge bias against "boy bands." While BTS has proven they are more than that, industry insiders still view them as such.
And, so when we look historically at other bands that BTS have been compared to so, for instance, the Backstreet Boys or *NSYNC… In the height of their careers, they had maybe nine nominations in each, but none of them came away with a GRAMMY award, and before BTS was the biggest boy band in the world… Prior to that, in the UK, there was One Direction. They never got nominated; they never won at the height of their popularity.
— Berni Cho
Many artists associated with "teenybop," including boy bands such as One Direction and even Justin Bieber, are oftentimes not taken seriously by the music industry.
Again, if we even look a little bit sideways to artists like Justin Bieber, who is a HYBE labelmate, he rolled into the GRAMMYs with the second most nominations; he has had over 22 nominations over the years. Yet, he has only won two.
— Berni Cho
Nevertheless, BTS have overcome biases and odds against them before, and they'll do it again.
I think with BTS, their appearance this time was really a statement that they're here, they're real, and there's more to come. And, I think, again, we all know that BTS is not going to stop making music anytime soon, and so I think that it's not so much a matter of 'if' but maybe a matter of 'when' they'll win a GRAMMY.
— Berni Cho
Watch the full news segment below: