BTS' Jimin has revealed a behind-the-scenes look at his music video shoot for Taeyang's "Vibe".
In the making-of above, Jimin speaks with the camera on set, hangs out with Taeyang, and more. "Vibe" depicts the fluttering feelings of attraction between two people through the expression itself, "You know we got that vibe," and it's the Big Bang member's first solo release in 6 years.
Watch Jimin's behind-the-scenes of the "Vibe" MV above, check out the MV here, and make sure to turn on the English captions.
Many are praising Jimin's Paris Fashion Week appearance and purchasing Dior products following news of his Global brand ambassadorship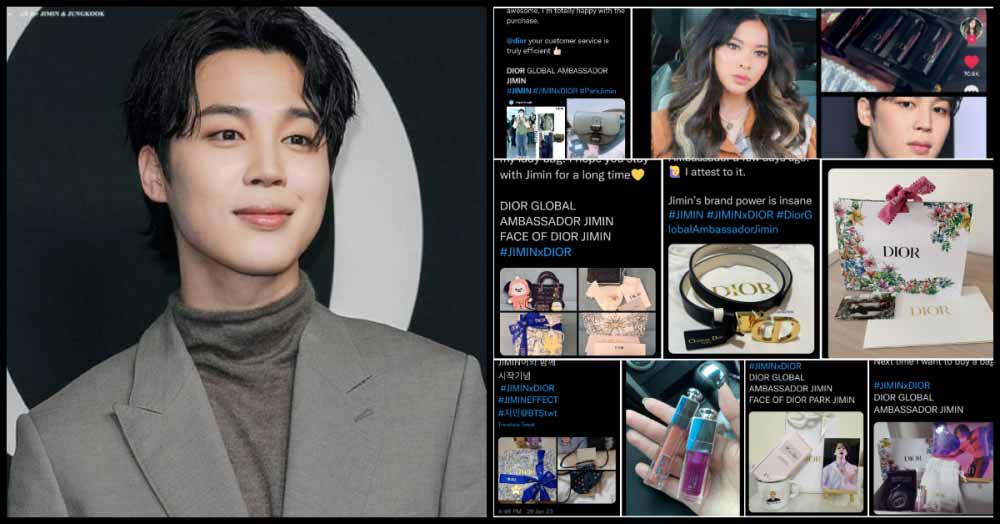 It has been a little over a week since BTS' Jimin was announced as the global brand ambassador for the French luxury fashion house, DIOR. The news drew great attention from fans, fashion designers & executives (Frédéric and Alexandre Arnault, Versace's Donatella Versace and Marc Jacobs); high-end brands (Givenchy, Tiffany, and Co); the press corps, and the general public.
Within just a day, the official posts shared to announce his appointment set unprecedented engagement records, and stocks for the fashion house grew to all-time highs of 789 Euros per share. The media cast their spotlight on the matter, highlighting the global it boy's power.
On his first attendance of the Paris Fashion Week for the Dior Winter Men's show, Jimin was greeted by massive cheering crowds and a bevy of reporters. Additionally, he became a trending topic on social media as well as Google trends. The media and economic outlets reported on the great success of his attendance, getting Jimin an earned media value of $16.7 Million on his posts within just a few days.
With all these impressive milestones, one must not forget the fans, as they were the happiest about this new development. As a result, they took to social media to show off the Dior products purchased in support of the idol; some of them have decided to buy from Dior and forsake all other brands, while others showed off their first-time purchases from the brand.
my most prized possessions 💕 thank you jimin @dior#JIMINxDIOR pic.twitter.com/efZqKBsCIW

— vibe (@essiepjm) January 27, 2023
Once again, buying @Dior products because of DIOR GLOBAL AMBASSADOR JIMIN
This time, I have a little shopping companion. 🥰🥰🥰#JIMINxDior
FACE OF DIOR JIMIN#JIMIN pic.twitter.com/IM2KuzBUhD

— ⭐️💙💖 ~ Cas ~ 💖💙⭐️ (@sCasmin13s) January 26, 2023
My first time buying @Dior Shower Gel all because of our Jiminie. 🥰

I absolutely love it & look forward to adding more #DIOR products to my beauty care routine. 🥰#JIMINxDIOR
DIOR GLOBAL AMBASSADOR JIMIN
FACE OF DIOR PARK JIMIN pic.twitter.com/9nSY1yT0yj

— be.with.jimin (@bewithjimin5813) January 27, 2023
There are those who usually want to dress and own what Jimin has; these, in turn, shopped for the items that he wore, from the makeup to the outfit/bag he was spotted with at the airport. Moreover, there have arisen requests from fans for Dior to introduce Jimin photo cards with special products as this would ensure even higher sales. On TikTok, there is a #DiorxJimin trend with videos of fans unboxing their Dior goods bought thanks to Jimin. Popular Filipina YouTube personality Heart Defensor "ThatsHeart" even shared a TikTok with Dior products captioned with, "You guys weren't kidding about the Dior global ambassador Jimin photo cards hahaha 🥲."
Heart Defensor, Popular Youtube Personality best known for her channel "ThatsHeart" posted a Dior product on her Tiktok account with a caption "you guys weren't kidding about the dior global ambassador jimin photocards hahaha 🥲"

———-
O.M.G 😍😍 pic.twitter.com/qN8FyAplke

— PJM ANGELS¹³ PH🇵🇭🔥 VIBE 01.13 (@PJMAngelsph13) January 28, 2023
My new baby Jimin's @dior olive mini gallop bag at home. The natural color of the bag is so pretty and the material is amazing. Some asked about my purchase process, here it is 🤩

DIOR GLOBAL AMBASSADOR JIMIN #JIMINxDIOR #JIMIN #지민 pic.twitter.com/Mf706vl38S

— ✮DawnieJiminie.VIBE.DIOR ✮ (@DawnieJiminie) January 20, 2023
The olive mini gallop bag Jimin has is mine now 🤩

Jimin's choices are always so awesome, I'm totally happy with the purchase. @dior your customer service is truly efficient 👍🏻

DIOR GLOBAL AMBASSADOR JIMIN#JIMIN #JIMINxDIOR #ParkJimin pic.twitter.com/hdeyAeiFcS

— ✮DawnieJiminie.VIBE.DIOR ✮ (@DawnieJiminie) January 18, 2023
On the popular Korean community, TheQoo, netizens also received the news well. While many met Jimin at the airport as he left for Paris, they praised his all-Dior look, as well as his show-stopping and breathtaking appearance at the fashion week event from the outfit, visuals, and model-like posing. There were numerous posts regarding this trending in the Hot Category with thousands of views and comments, among them, for example:
I'm so proud of you.
Jimin is so pretty.
Our Prince Dior is cool, he wears pretty clothes well.
You survived the unmerciful Getty.
Your skin looks really good.
The Dior suit you wore today is really good it's a human Dior.
Hey, it's crazy, he has a good style and he's a world-class star so it's amazing even knowing that he's popular.
[trending] Multiple posts under TheQoo's HOT category regarding Jimin's appearance at the Dior Menswear show at Paris Fashion Week as the newly appointed Global Ambassador pic.twitter.com/85cxPPNv16

— daily jimin VIBE OUT NOW (@pjmfilmz) January 20, 2023
Are there any Dior products that you would like to buy now that Jimin is the Global Ambassador? Let us know below.